Singapore's Marano Furniture unveils two of its latest collections titled "Vienna" and "Lumi", comprising 14 statement pieces inspired by the architecture of 1890s Vienna Secessionists and the elegant fusion of ethereal hues and futuristic designs to create home living spaces beyond imagination.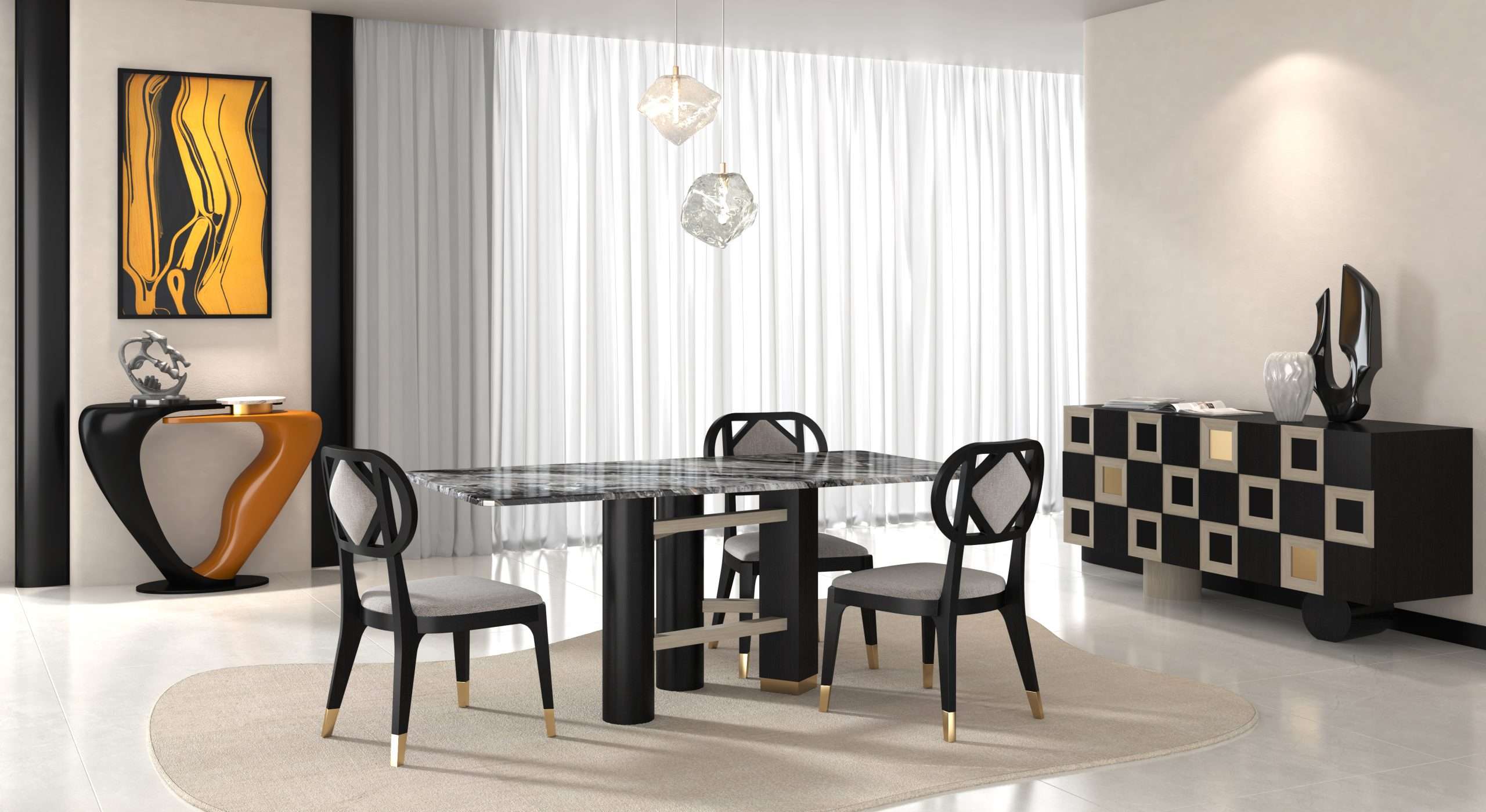 Taking Marano's hallmark avant-garde, show-stopping designs to the next level, the new collections bring to life the blend of organic shapes and modern silhouettes along with central themes that characterise the defiance of the Austrian Secession era. Meticulously handcrafted by a team of young underrepresented designers, each statement piece adheres to Marano Furniture's hallmark innovative design principle to create an otherworldly charm of aesthetic functionality.
Established in 2019, Marano Furniture aims to revolutionise the conventions of furniture design by bringing together young designers across Asia to create innovative thematic designs made with quality craftsmanship and showcase their works on a global platform.
The Vienna Collection
The new Vienna collection emulates the sentiments of the Vienna Secession era using contrasting hues of black, grey and amber to create distinctive styles that celebrate the cusp of heritage and modernity in the 1890s – a period of time when artists broke away from traditional artistic styles in Austrian modern art. Through the use of geometric designs and simple clean lines, each statement piece amalgamates timeless aesthetics with practicality, incorporating art into the functions of everyday life.
"It started with a visit to a small town in Italy where I chanced upon a local market auctioning off Secession chairs. It left an indelible impression on me – a delicate and simple piece of furniture that still retains its rich heritage and character. Beyond incorporating the design principles of its era, the collection showcases the complexity of making classic designs sophisticated through bold colours and simple contours. This unique style mirrors Marano's vision of pushing the boundaries of design while retaining practical features to create showpieces for inspired living," shares Christopher Lim, Managing Director of Marano Furniture.
More notably, the iconic LUDO Console and BERINI Sideboard of the collection pay homage to renowned artist Gustav Klimt – one of the leaders of the Vienna Secession movement. Contrasting the spectacular display of square and clean lines of the BERINI Sideboard inspired by Klimt's portrait "Adele Bloch-Bauer I", the LUDO Console is a bold statement piece that features an opulent upholstery, adorned with slender contours as observed in Gustav Klimt's masterpiece – "The Kiss". The vibrant amber colour contrasts with the obsidian black, evoking the sense of polarity amongst Vienna's cultural elites at the time with a subtle artistic flair.
Discover the perfect pieces that reflect your discerning taste at https://maranofurniture.com/vienna-collection/
The Lumi Collection
Jimmy Yin, Chief Designer of Marano Furniture adds, "The Lumi Collection is Marano's first exploration beyond its signature line-up of bold artistic pieces. Inspired by the organic harmony of the natural environment, the collection encapsulates the essence of an ethereal and cosy sanctuary through the use of luscious curves and textures, with brighter colour tones to imbue the living space with energy. This shift in design also beckons to our brand's intent to offer more home-friendly pieces that align with contemporary lifestyles."
From the splendour of walnut wood textures to the incorporation of organic chenille yarn fabric, the captivating allure of the Lumi Collection is inspired by elements of nature. The soft contours and velvety textures of LUMI's statement pieces come together to create a cosy sanctuary, with warm neutral palettes that exude a natural whimsy for the contemporary connoisseur.
The GIRONDO sideboard, ORSIN armchair, and LORMA coffee table come together to create a haven for relaxation and tranquility. The ORSIN Armchair features irregularly textured bouclé fabric intertwined with polyester in an uneven texture of loops and curls, resulting in an exceptionally soft material, matched with warm hues to add a touch of liveliness to the warm wooden ensemble. The combination of natural design elements in these distinctive pieces captures the lush landscapes of nature to create a living, breathing sanctuary of beauty.
Embrace a new dimension of design excellence with captivating natural wood grains and savvy curves at https://maranofurniture.com/lumi-collection/
In Marano Furniture's effort towards a more sustainable future, all pieces across its collections are also handcrafted with E0 graded materials which are one of the highest Formaldehyde Emission standards to be used in interior environments.