The Silhouette collection is inspired by the aesthetics of light and shadow play, creating intricate lines and curves of mystique and beauty. From the majestic flow of rolling mountains to the exquisite patterns on paper lamps, we bring to you the harmony of brilliance and shade.
Beautifully handcrafted from eco-friendly raw materials that have been processed according to the principles of sustainability, the collection creatively minimises resource waste as part of our bold initiative towards sustainable living. The space-saving Silhouette collection range is also suitable for small interior spaces so that every home can enjoy quality, environmentally-conscious designer furniture.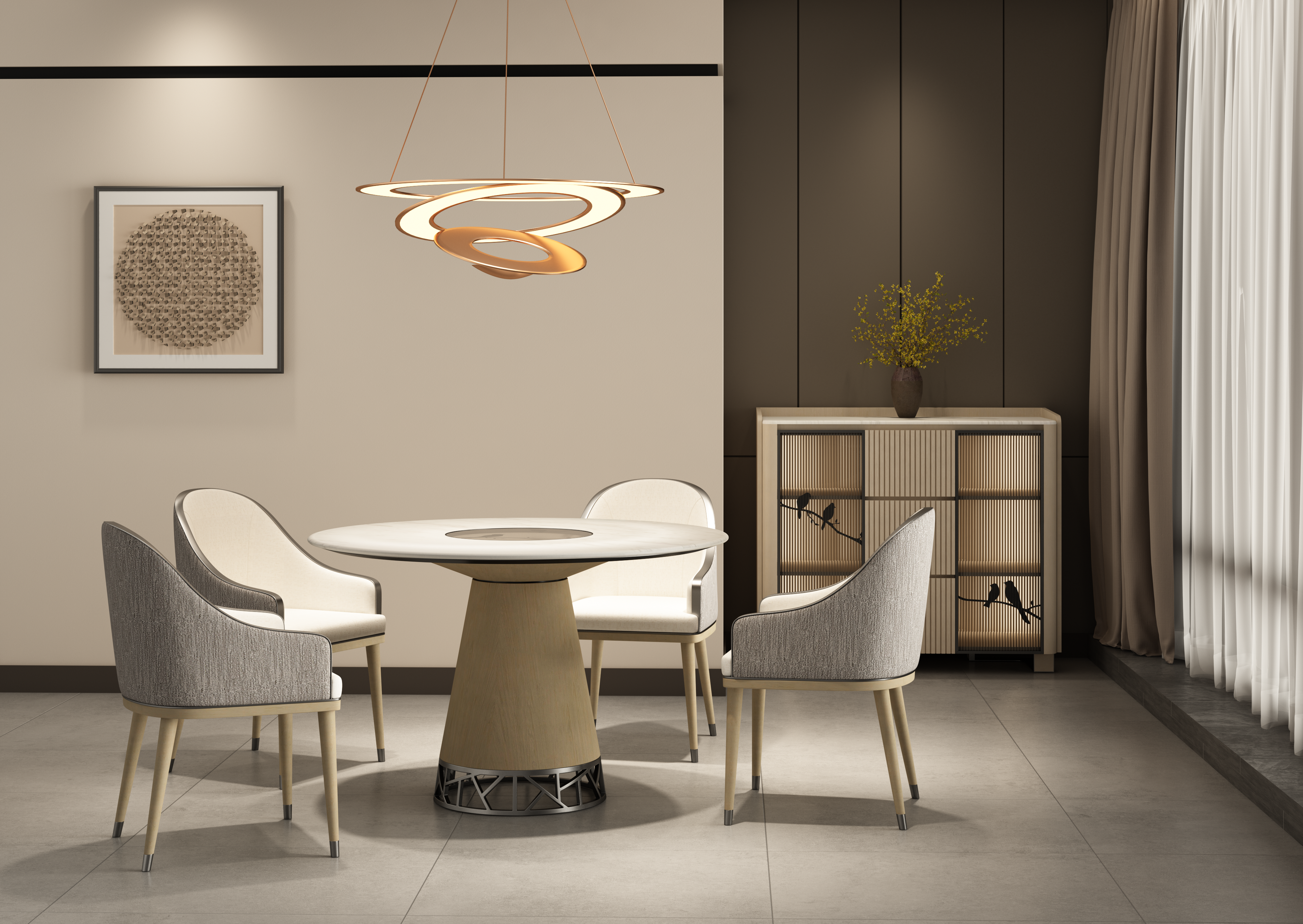 Our BLOM Dining Table is made from E0 grade formaldehyde-free ecological plywood and finished with natural oak veneer, ensuring both functional and aesthetical durability. Showcasing our artisans' precision craftsmanship, it comes as a 4- or 8-seater and features a UV print table top inspired by the art of shadow theatre, with a homely design of birds at roost.
Complement with the comfortable yet sturdy BLOM Dining Chair, a combination of woven and twill upholstery set upon an elegant frame of curves and lines, and the VELASO Sideboard featuring a natural marble top, an oak veneer and tempered fluted glass body, and a spacious interior that provides ample storage space for your dining ware.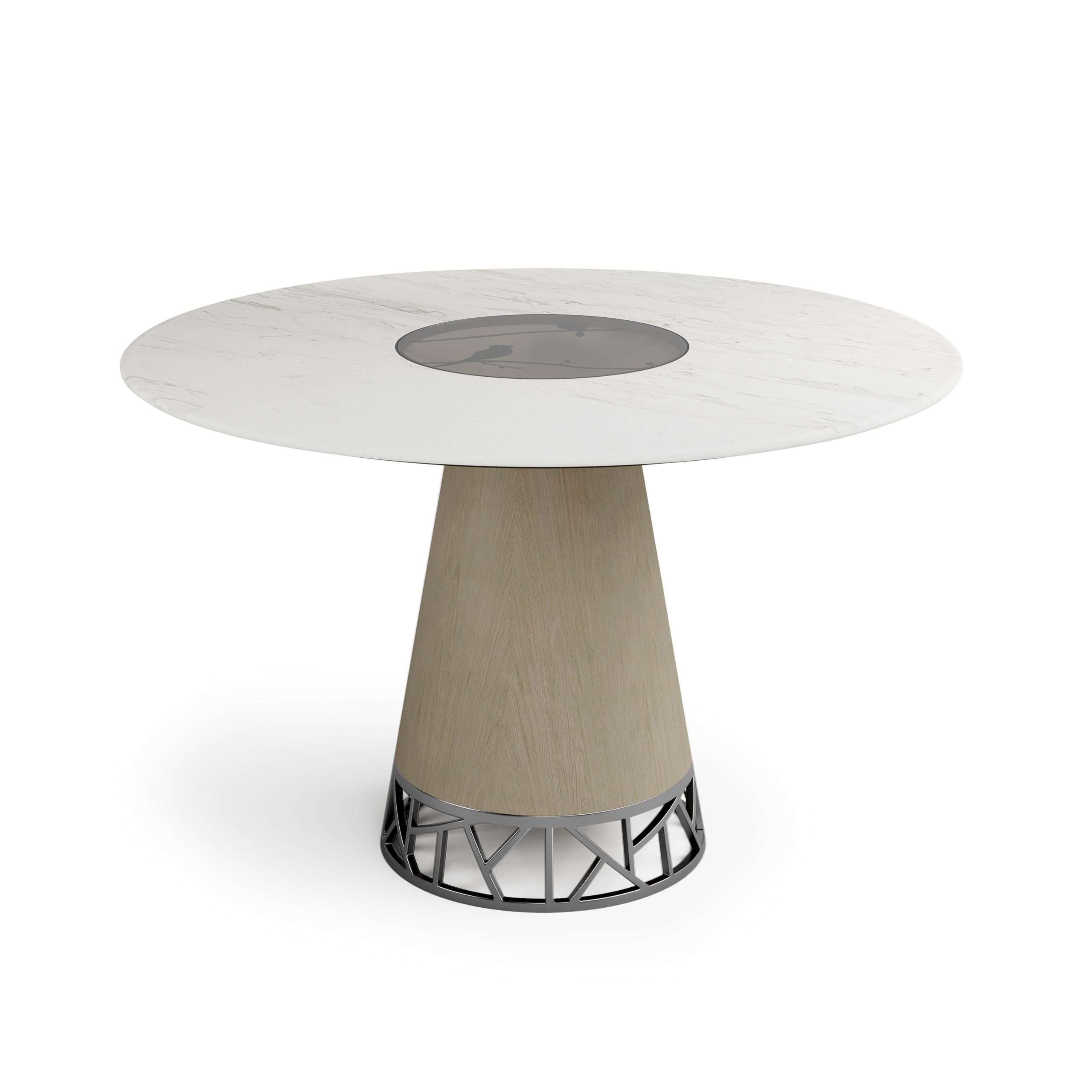 BLOM Dining Table – Riveting your gaze is the ornamental circular base, showcasing geometric lines in a modern grille of gun metal hairline finish, juxtaposing perfectly with its smooth oak veneer body.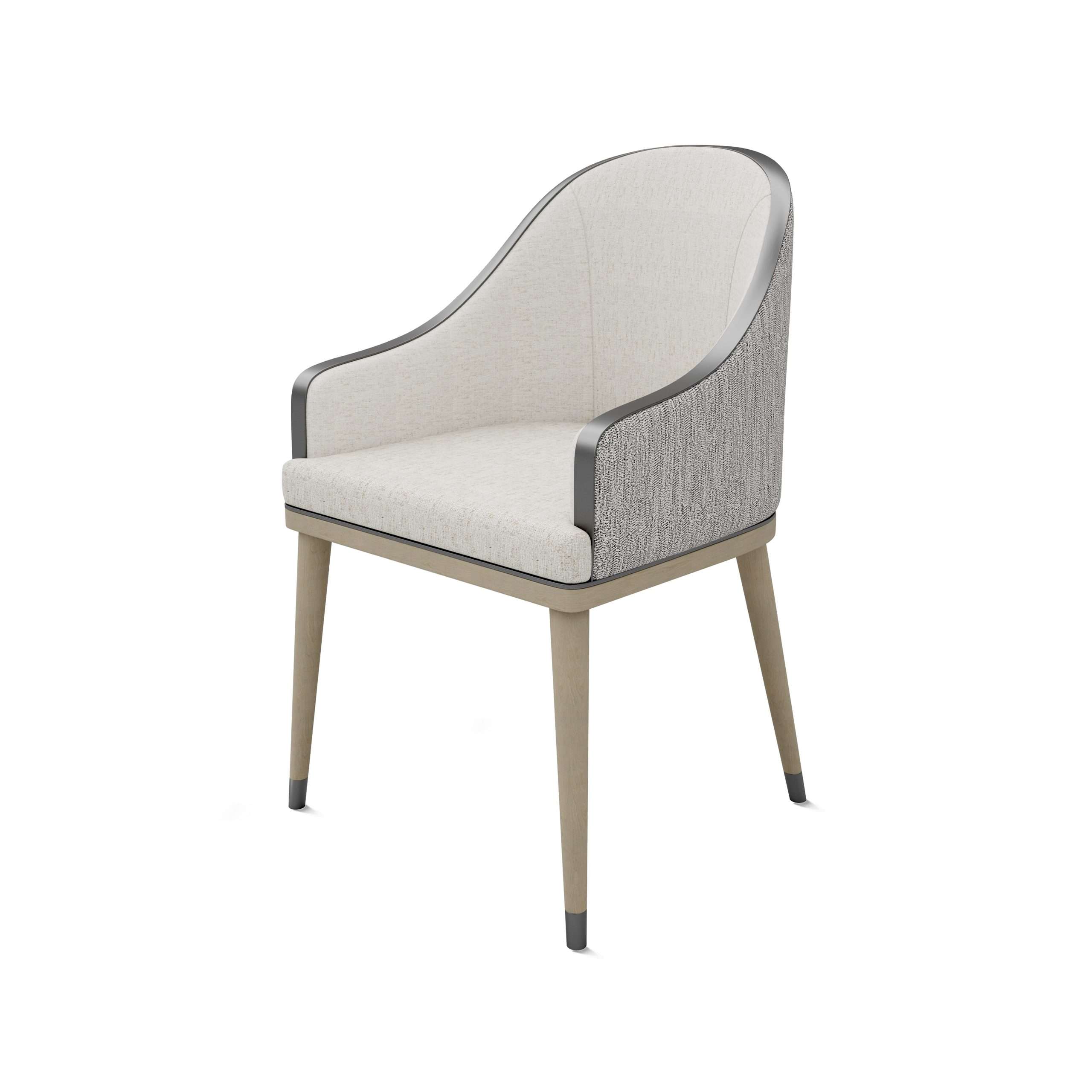 The BLOM Dining Chair showcases a curved frame in elegant gun metal hairline finish and a matt oak veneer backrest. Upholstered with a classic herringbone fabric for a relaxed yet chic look.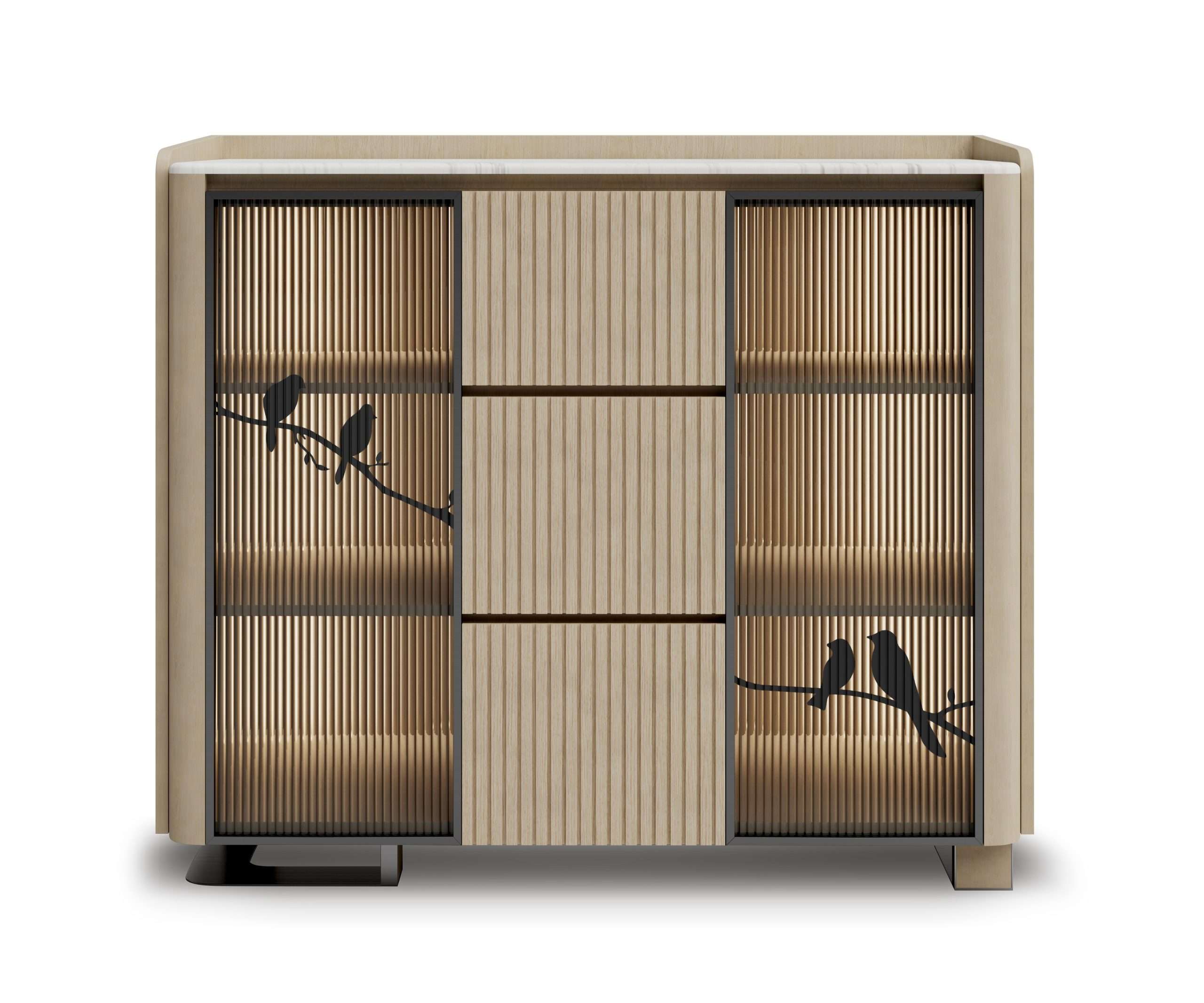 The VELASO Sideboard makes a suave impression with alternating panels of oak veneer and tempered glass. Finishing with an elegant natural marble top, this sideboard will be the artsy yet handsome piece in your abode.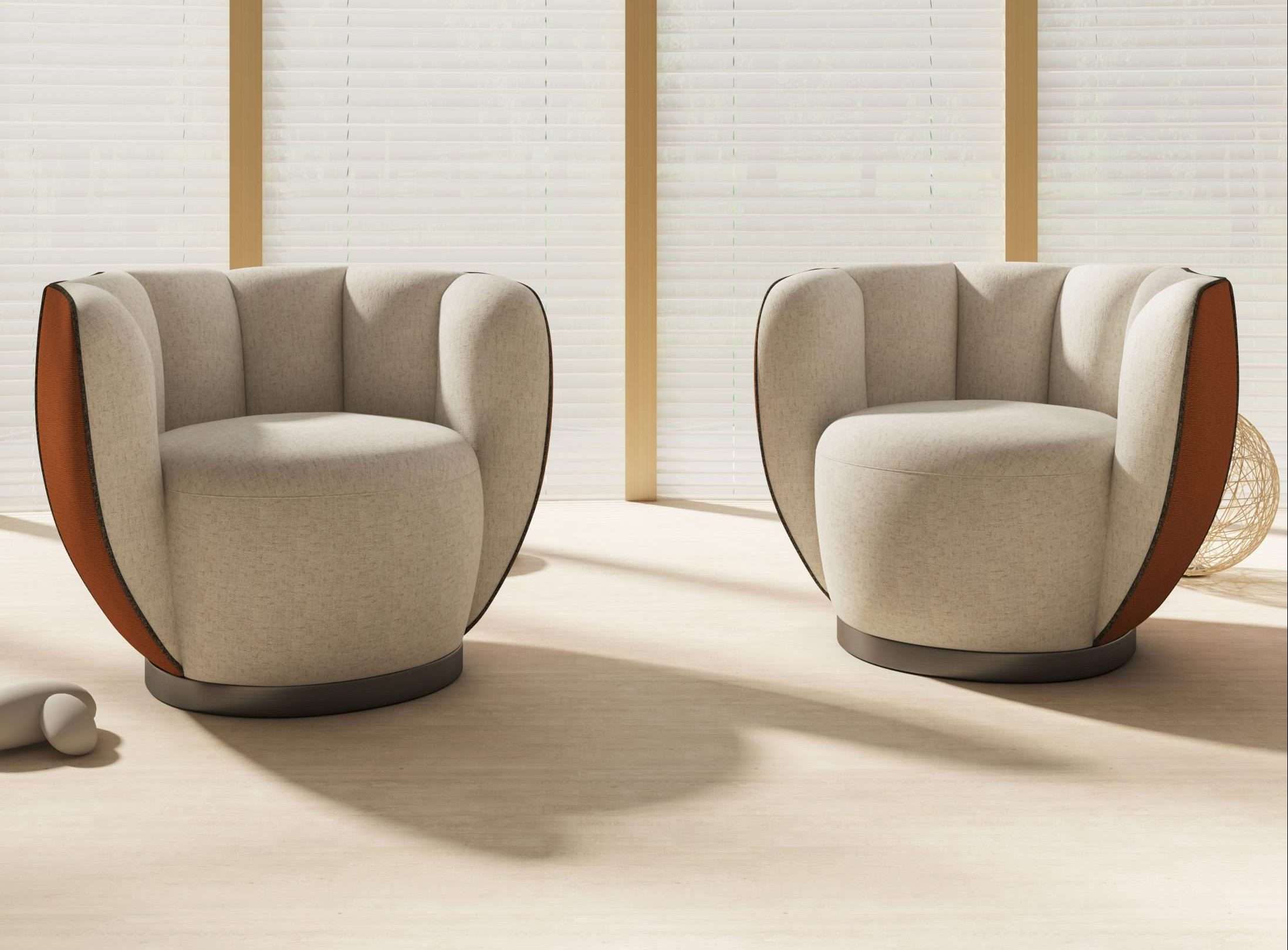 The TOLADO Armchair is a creative interpretation of paper lamps, with a back of symmetrical panels, and upholstered with mesh woven fabric that is durable yet easy to care for. Its cushioning employs eco-friendly high density foam for maximum comfort and lasting form, and is supported by an E0 grade formaldehyde-free plywood frame that is both sustainable and also promotes healthy living.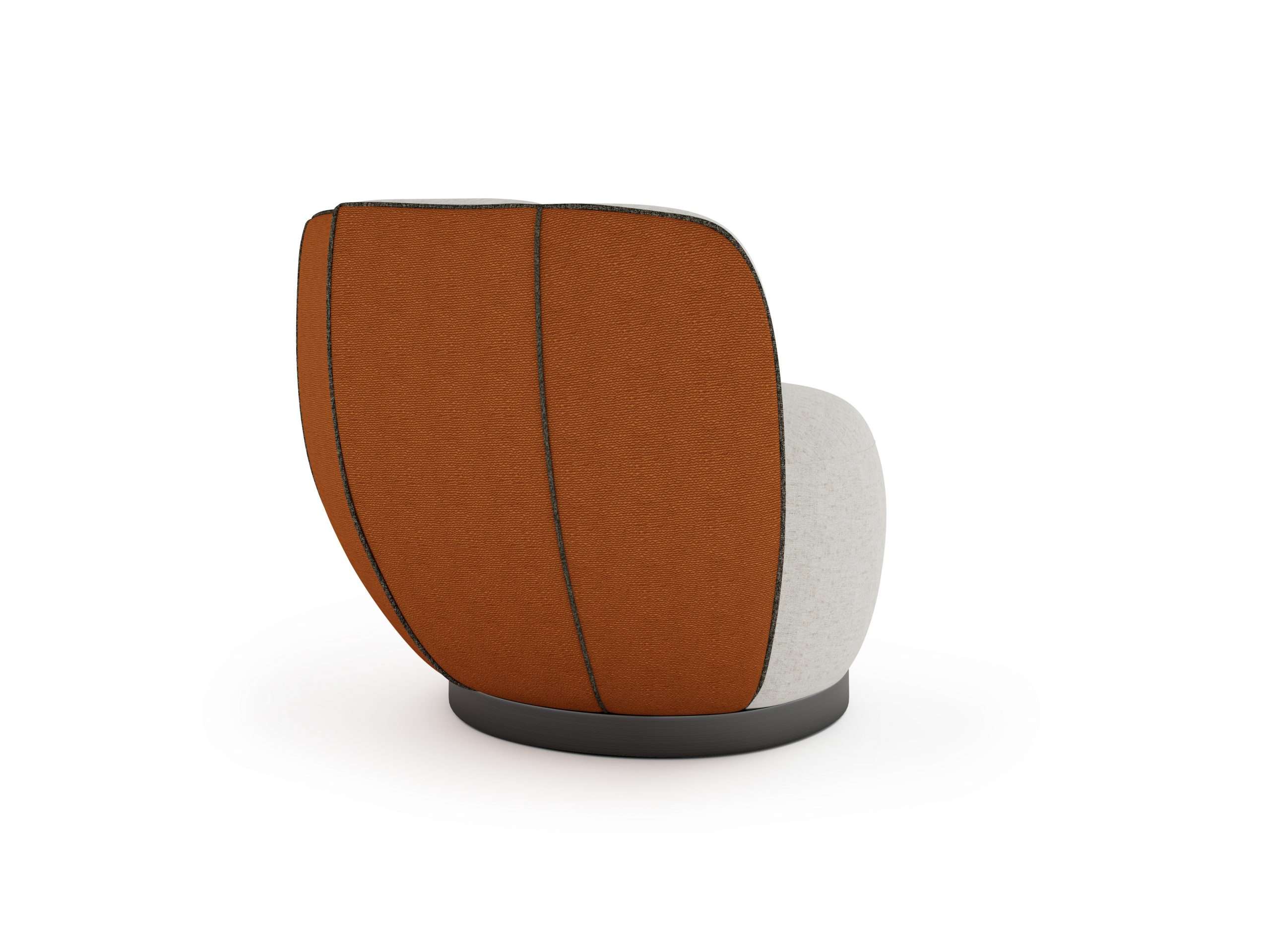 Be similarly enthralled by this armchair's curved body, featuring a deep natural orange exterior encasing a contrasting white seat, the TOLADO Armchair is a distinguished yet lovely piece to behold.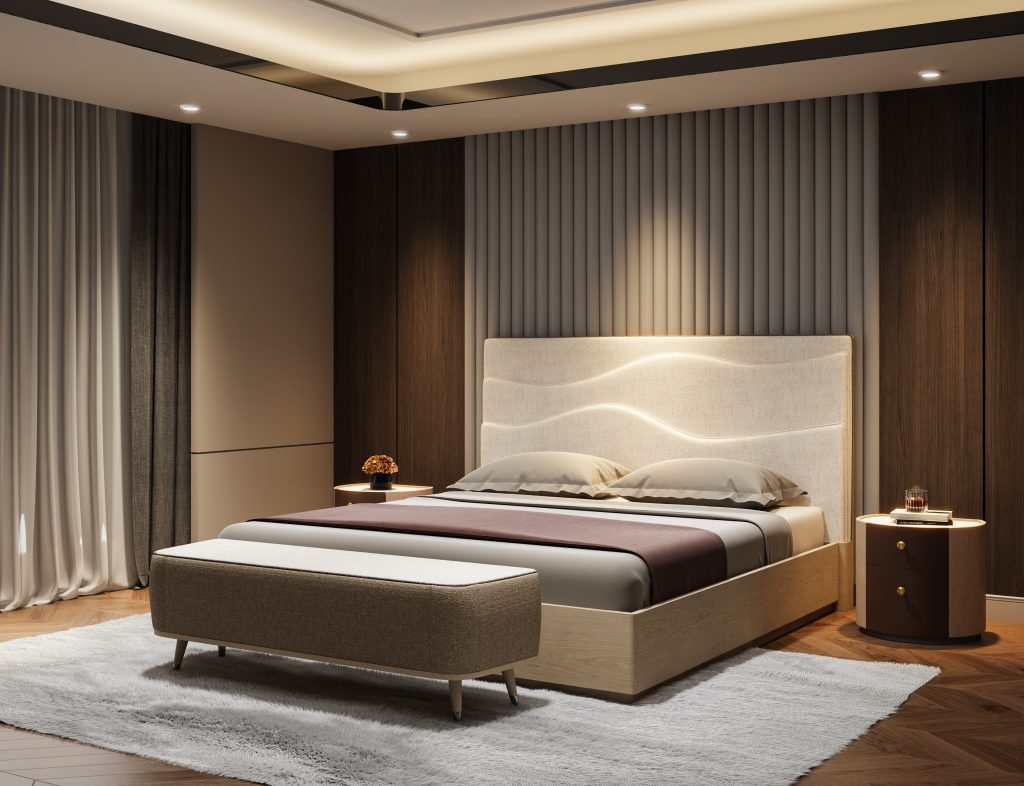 The bedroom is where we rest and indulge in idyllic moments, and the quality of our beds is of utmost importance. Made from chemical-free and sustainable resources, the PIATRO Bed, complemented by the PIATRO Bedside Table and the PIATRO Bedside Bench, makes a wonderful companion as you lounge and laze. The PIATRO Bed presents beautiful flowing lines created through layered weaving of ramie yarns and a sturdy frame of solid beech, supported on plywood and oak veneer legs in matte finish. 
The PIATRO Bedside Table is a beautiful combination of natural wood and marble within a pleasing design of curves and lines, while the PIATRO Bedside Bench completes the look with an elegant contrast colour upholstery, eco-friendly high density foam seat filling supported on a frame of plywood and matte oak veneer, and set upon matte oak legs in gunmetal hairline finish.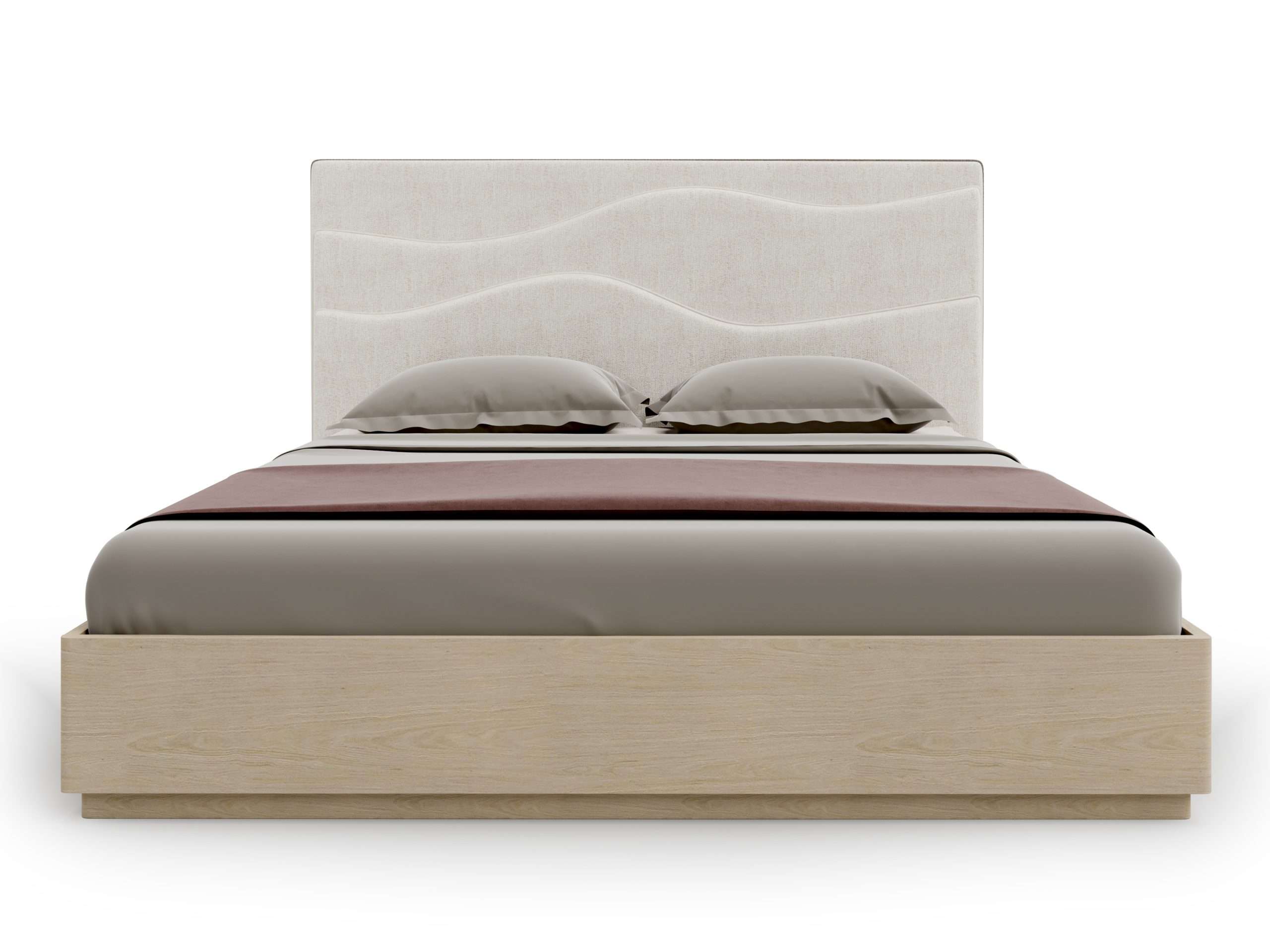 The mesmerising lines and layers call to mind the silhouette of breathtakingly scenic sunset mountains of ethereal paintings, achieved through the interspersing of light and shadows on the handcrafted headrest on the PIATRO Bed.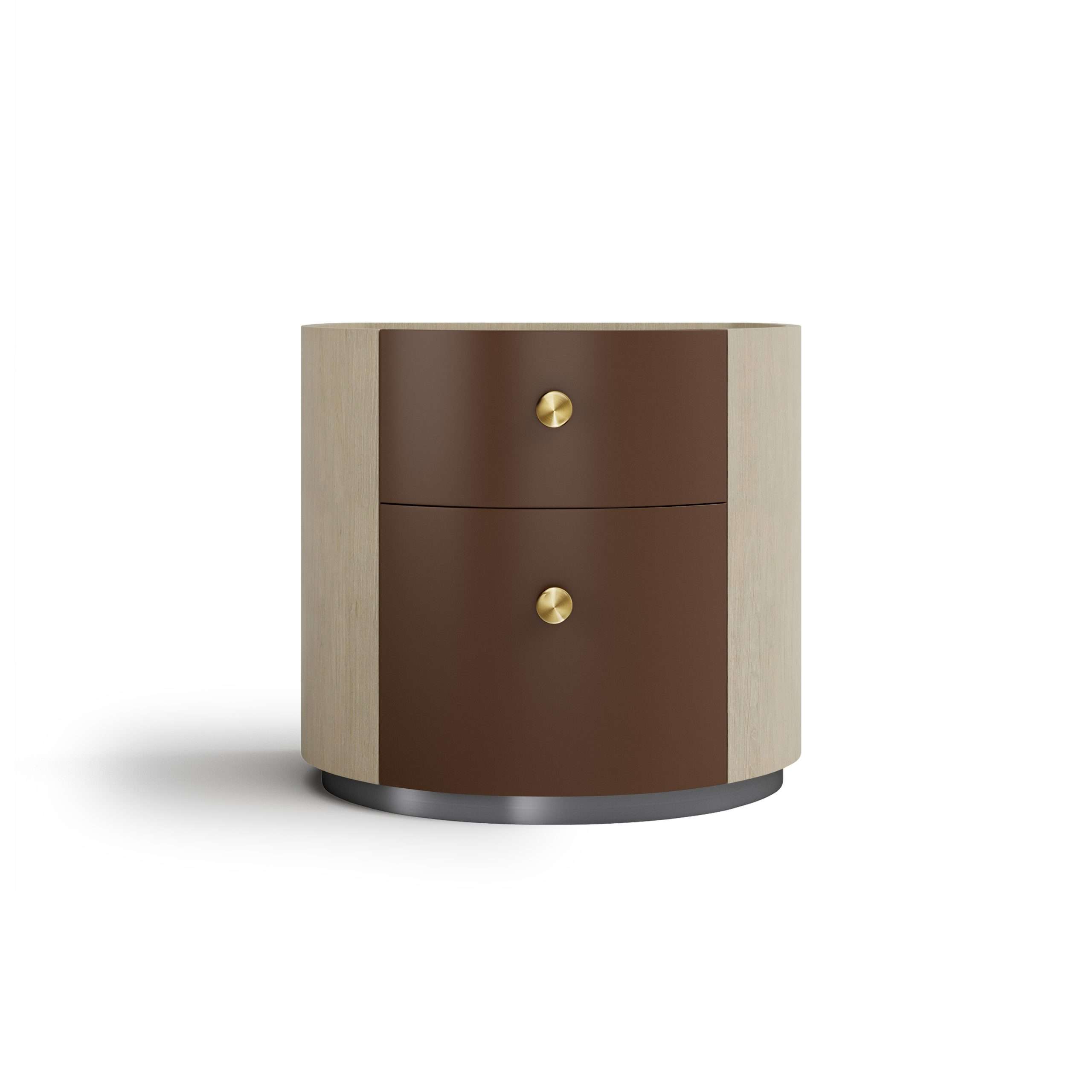 PIATRO Bedside Table – Its body features a harmonious combination of high-grade grain and painted oak veneer, topped with refined natural marble that is smooth and soothing to the touch, it is a compelling visual of curves and lines.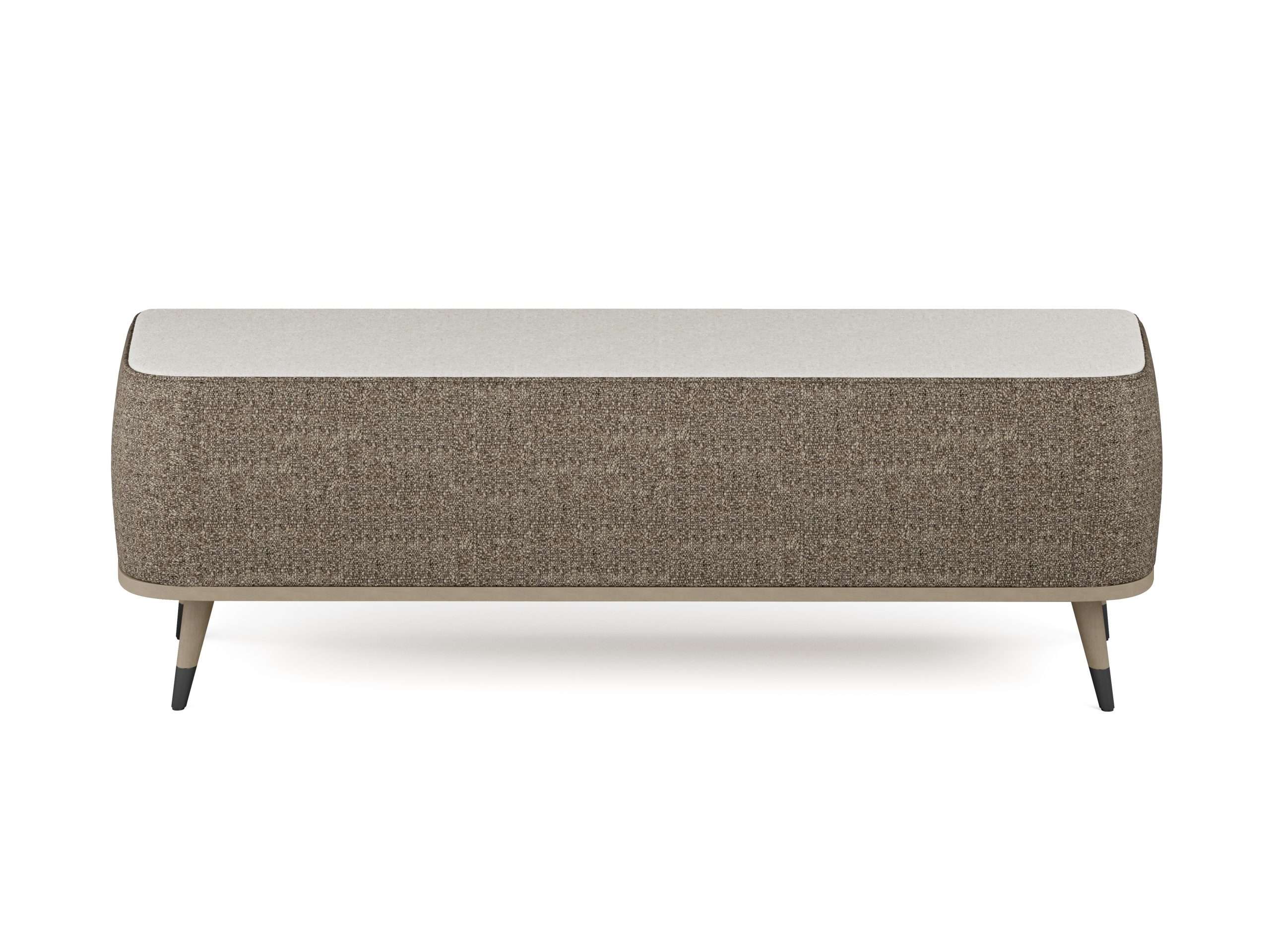 PIATRO Bedside Bench – Pastel earthy shades lend a minimalist chic to clean lines, while the high elasticity sponge cushioning makes for excellent support and unparalleled comfort.
Enliven your living space today with the versatility and beauty of The Silhouette collection and be inspired to make a conscious step towards sustainable living. Make an appointment to experience it firsthand at our showroom at https://maranofurniture.com/showroom-booking/#book-showroom
The Silhouette collection is also available for purchase on Marano Furniture's website. Augmented Reality is available to facilitate you in designing and visualising it in your living space.
About Marano Furniture
At MARANO, we transform cherished homes Into fascinating mindscapes, redefining interior spaces to evoke your inner nobility.
Every piece of furniture we create is an expression of our artists' heart and mind, a showcase of talent and mastery, from conception to outcome. Our designers draw inspiration from the world around us, and our artisan craftsmen lend a meticulous touch in their every skilful stitch and finish. We breathe life into designs we love, creating beautiful furnishing that lasts.
Adept at creating high-quality retail furniture for renowned international luxury brands since inception, MARANO materialised our own collections of luxury furnishing of exquisite craftsmanship, and are poised to seek out and inspire more talented Asian furniture designers and artisans, bringing imagination and refinery to life. Discover our story at https://maranofurniture.com/our-story/
Marano – Redefine Your Mindscape.