Stepping into a new and vibrant 2023, we look forward to opening our hearts and homes, welcoming family and friends into our abode in style. Our in-house designers have curated five key furniture design trends to inspire your creativity for the new year.
1. Sustainable Biophilic Design
Our intimate connection with our natural environment inspires us to constantly explore sustainable ways of living, maintaining the perfect harmony between ourselves and our world. MARANO's furniture is created with this in mind. As part of our sustainability strategy, we advocate biophilic design, design that is closely connected to nature, using eco-friendly materials from sustainable sources to fully utilise them in crafting beautiful and sustainable furniture.
In 2023, natural materials and finishes continue to take centre stage in MARANO's eco-friendly furniture, where less is more: clean lines, natural shapes and simple designs of understated elegance that shine through. Our products are designed for minimal environmental impact and made only upon order, as part of MARANO's strategy to reduce wastage. Durability extends product life, reducing expenditure on furniture replacement, and allows us all to contribute towards bettering the environment.
Let our lush Rainforest Rhapsody collection immerse you in the calming effects of a soothing rainforest, with the LIVISE sofa set comprising the LIVISE 2-seater Sofa, LIVISE Armchair and LIVISE Coffee Table, or enthral guests with the charming functionality of the PORTICA Dining Table, showcasing a regal textured oak leg resembling the majestic rainforest tree trunk, complemented by the PORTICA Dining Chair that features a fabric weave pattern inspired by the foliage of the traveller's palm.
Watch this clip to find out more about MARANO's sustainability efforts and our eco-friendly premium furniture. 
2. Lounging in Comfort
The new year brings optimism and opportunities, and while life resumes normalcy, taking on a hybrid home-and-office pattern, we continue to spend more time in our abodes working, socialising and entertaining. Every moment at home should be an enjoyable one, enhanced through comfortable furniture that is also aesthetically pleasing. 
The core elements of 2023 furniture trends are elevated everyday experiences emphasising soothing colours, luxurious touch and harmonious ambiences. Wake up each day to beautifully crafted designer furniture that accentuates your personal style and heightens your sense of well-being through the harmony of colours and functionality. Indulge throughout the day in stylish comfort, be it working at your desk or having a cuppa in a favourite armchair, then unwind at the end of your day lounging in sumptuous MARANO sofas.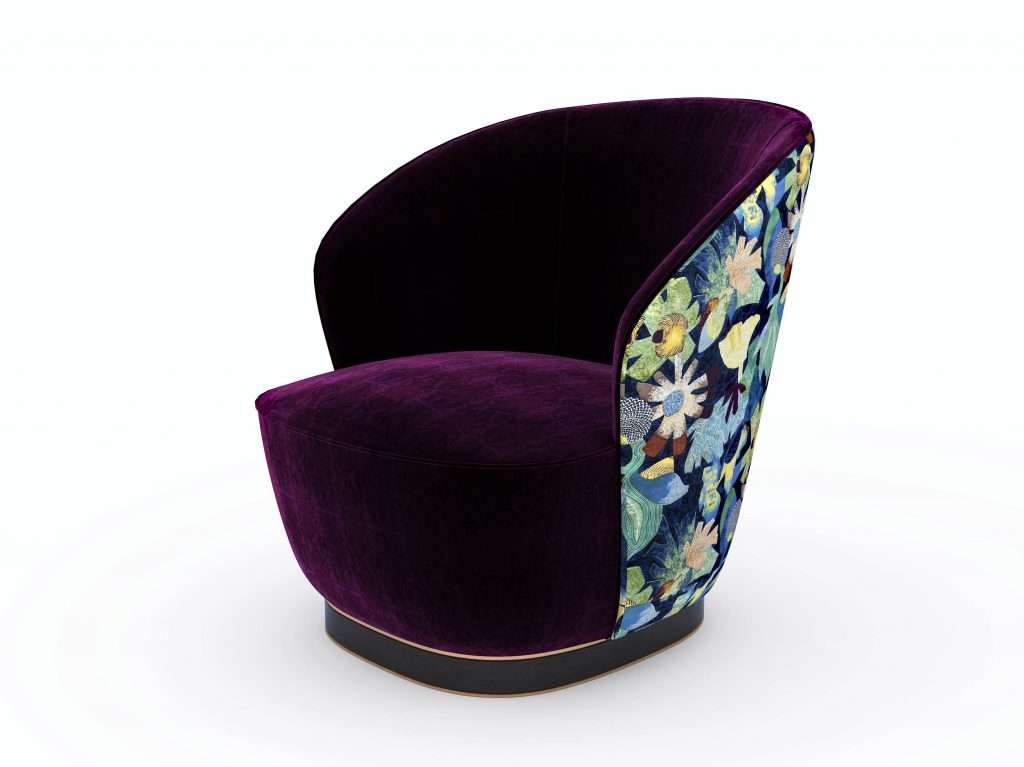 The MAURIS Armchair features a seat resembling a blooming flower in deep purple, a striking and delightful addition to complement your avant garde home interior design. Made with cotton velvet and Lelièvre fabric from France, and filled with eco-friendly high density foam, it will be the eye-catching piece in your living room.
3. Bold and Beautiful
Individualistic themes continue to abound in 2023 as we dare to be different in our unique choices. Our homes are extensions of our personalities, and what better way for self-expression than showcasing furniture pickings that reflect our personal preferences? Brave accent designs, juxtaposing lines and curves, as well as bold colours and patterns are the main trends in the new year.   
The BAZANI Bar Cabinet features a distinctive art UV print of contrast scatter design. An eye-catching centrepiece with bold accents of ornate gold lines and beads radiating from a gleaming nexus, accentuated by its sleek black exterior with an elegant bronze hairline finish, reminiscent of morning rays piercing through ancient windows to illuminate the dark.
Accents, Textures and Patterns
Sometimes, all it takes is a well-chosen piece of designer furniture to add flair to your living space. Much like an exquisite accessory that complements an outfit, a designer piece can markedly enhance a room's ambience. Other than furniture styles, express yourself through your choice of textures or patterns. 
Trending in 2023 particularly is the reeded texture, a convex ornamental carving. It lends a touch of classic timelessness in contemporary furniture, as seen on our sideboards, featuring reeded or fluted tempered glass. Take a look at how it is designed into homes or follow us on Facebook to see it first-hand in our upcoming launch.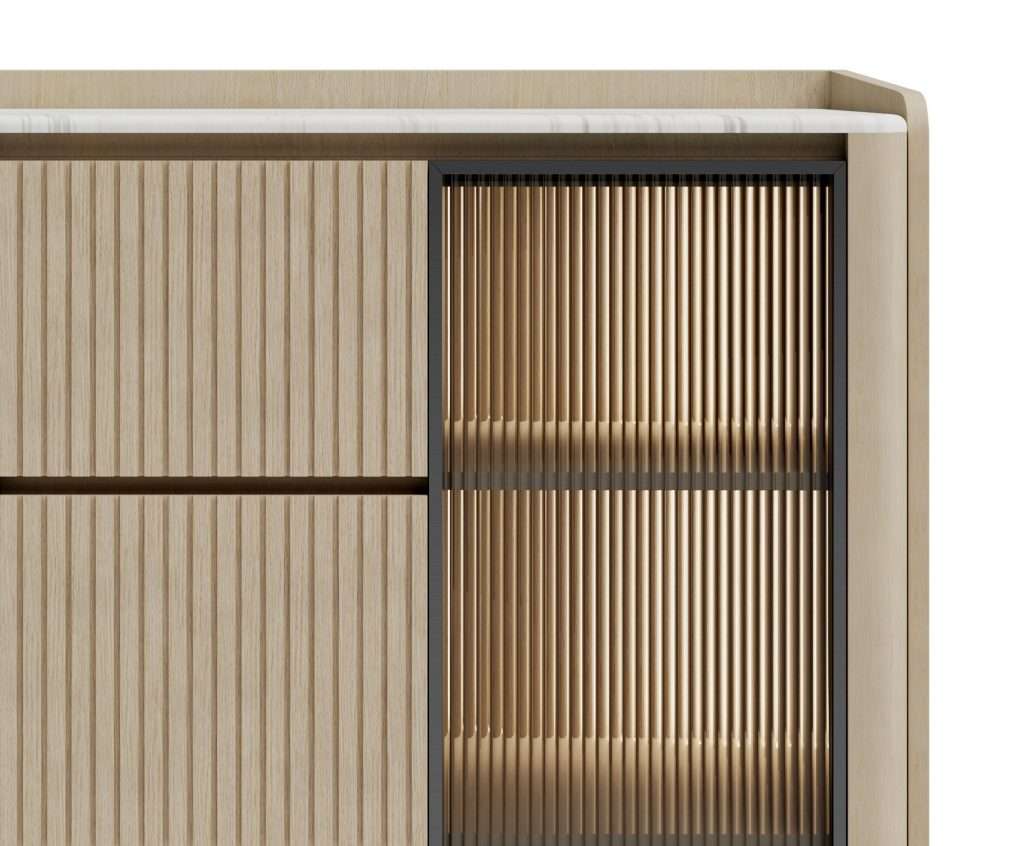 Patterned furniture strikes a vogue impression, which can be introduced through jacquard prints in an array of designs, from dramatic ornamental damasks to florals, stripes, chevrons, or geometric patterns. MARANO's choice is Lelièvre Paris, a purveyor of beautifully patterned fabrics that speak of vibrancy and life, which fabrics are used in our dynamic pieces such as the KATTEN Armchair, an artistic interpretation of the costume of the Dan role in Beijing Opera, a creative fusion of modernity and tradition.
The KATTEN Armchair features a seamless curved frame, carefully made from heat bending a single strip of solid beech wood, finished by hand via precision smoothing, a spectacular piece to complete your living room with an arresting touch of avant-garde.
The EMSTRA Armchair features back upholstery from Lelièvre Paris, France in a beautiful jacquard weave and a customised design reminiscing of the magical landscape of Alice in Wonderland.
Curves and Lines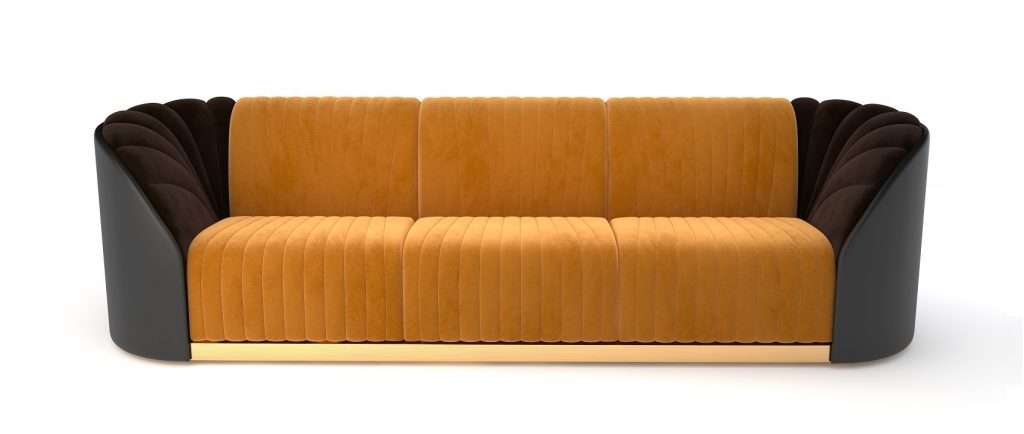 The VEDRANO 3-seater Sofa comprises a sturdy frame and impeccable hand-stitched upholstery of vibrant colours, making it the quintessential centrepiece of lasting beauty for your living room. This charismatic piece is a composite of 50,000 Martindale value cotton velvet and eco-friendly high density foam, flaunting your sophisticated taste in designer furniture.
Soft alluring curves create an invitingly intimate mood. Juxtapose with straight lines for a refreshing setting of contemporary sophistication, as seen in our VEDRANO 3-seater Sofa, a striking contrast of amber lines against dark-toned curves. The EMSTRA Armchair is an elegant masterpiece featuring deep button tufting within a curved silhouette, a dramatic eye-catcher with a classic twist. Take pleasure in the ergonomically rounded MAURIS Armchair, upholstered with a lively floral print, or the elegant curvature of the MOROSI Dining Chair, making a visually arresting statement with the elegant lines of the MOROSI Dining Table.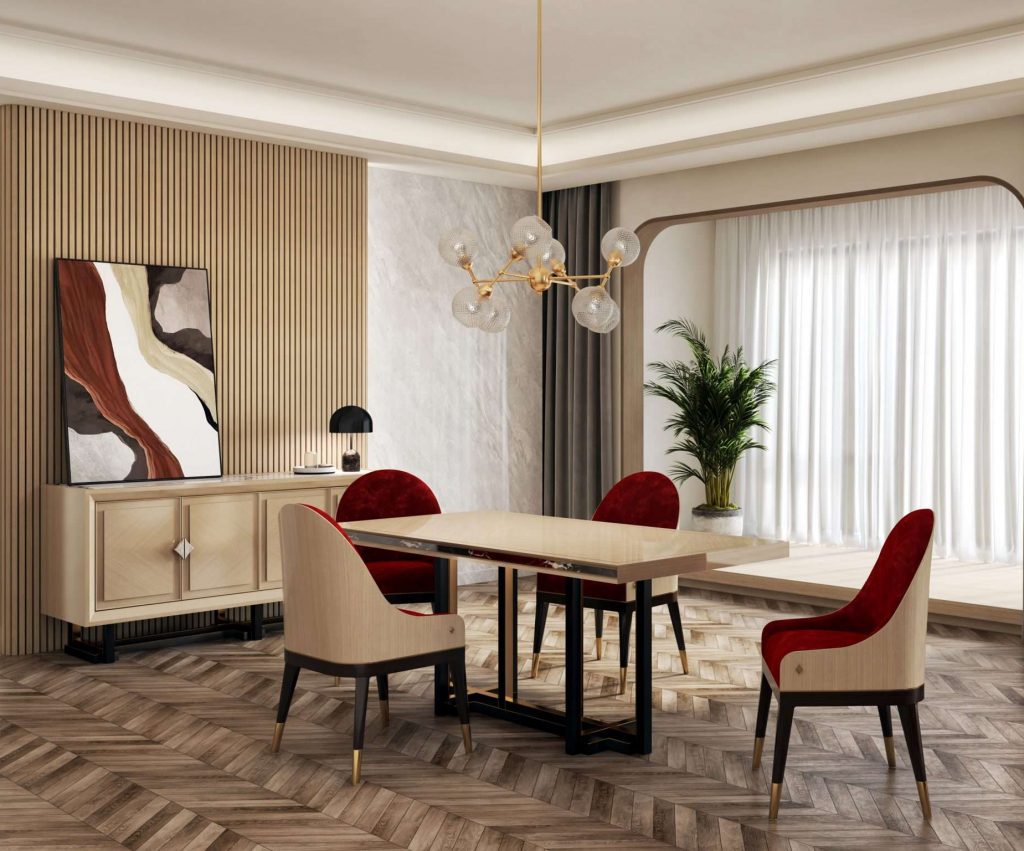 Bold Splashes of Colours
Vibrant colours and eye-catching shades continue to be popular themes in 2023, with deep greens and blues, luscious reds and pinks, and earthy beiges and greys. Discover MARANO's bold and vivacious colours in our collections, such as the deep velvets of the RANUCI collection and the rich browns and cool tones of our KOEN sofas.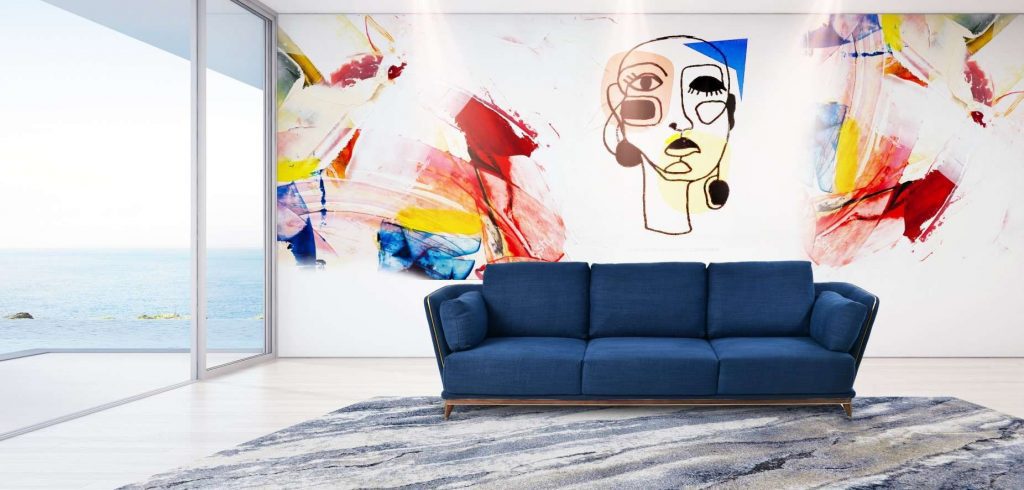 The OZZOLI 3-seater Sofa is a classic piece made of DEDAR fabric from Italy. This high quality fabric features a slub linen plain weave with the characteristic irregularity of natural fibres that are elegantly soft yet wear-resistant. Take your pick from its range of cool colours that exude an air of stylish timelessness.
Make a unique, eye-catching impression with our solo pieces, featuring the elegant colours of the OZZOLI 3-seater Sofa or the lush pastels of the TIERA 3-seater Sofa, and match them up with other charming pieces. For a start, complement the chic MALDI Sectional Sofa in solid colours with the MENDO Side Table of natural marble for a refreshing combination of contemporary flair and classic beauty.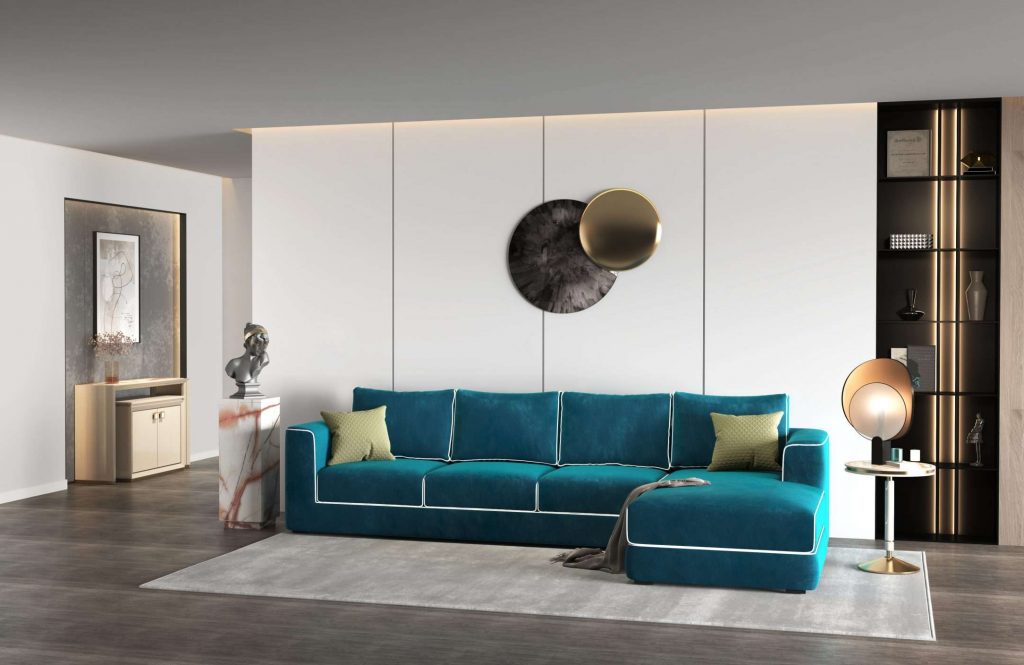 The MALDI Sectional Sofa features matt shimmer dark green velvet upholstery from Germany with sound absorption treatment, for quiet lazy days and peaceful unwinding nights. Sumptuously sized with a dimension of 325*203*70 (cm), and filled with eco-friendly high density foam for comfort that lasts.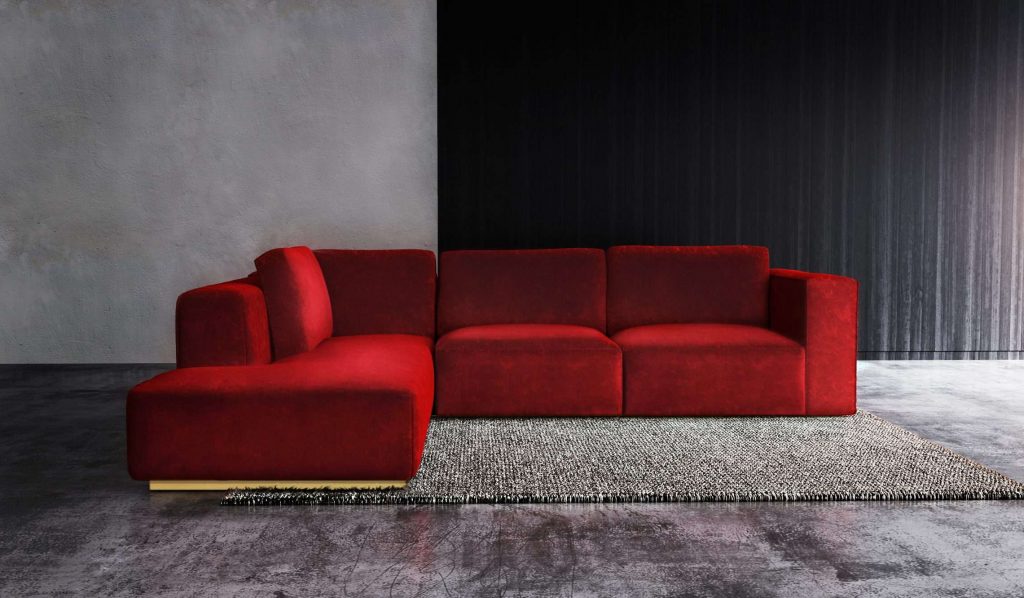 The RANUCI Sectional Sofa boasts a generous dimension of 297*220*84 (cm), a plush and indulgent choice for long hours of entertaining. Made of Dedar premium high pile velvet from Italy, at 30,000 Martindale value, and eco-friendly high density foam, it is an exceptionally comfortable piece that will impress your guests from the first touch of its refinery.
4. Scale It Up
As scale continues to be an important aspect in 2023, larger-scale furnishing for home entertaining needs continues to be the focus. Contrary to popular belief, one does not need to scale down furnishing for a smaller apartment size. Done correctly, overscale furnishing can actually make a space feel larger, evoking an air of warmth and comfort when you apply unified colour schemes. The rule of thumb is to make sure that all your furniture pieces are similar in scale and can complement the room well.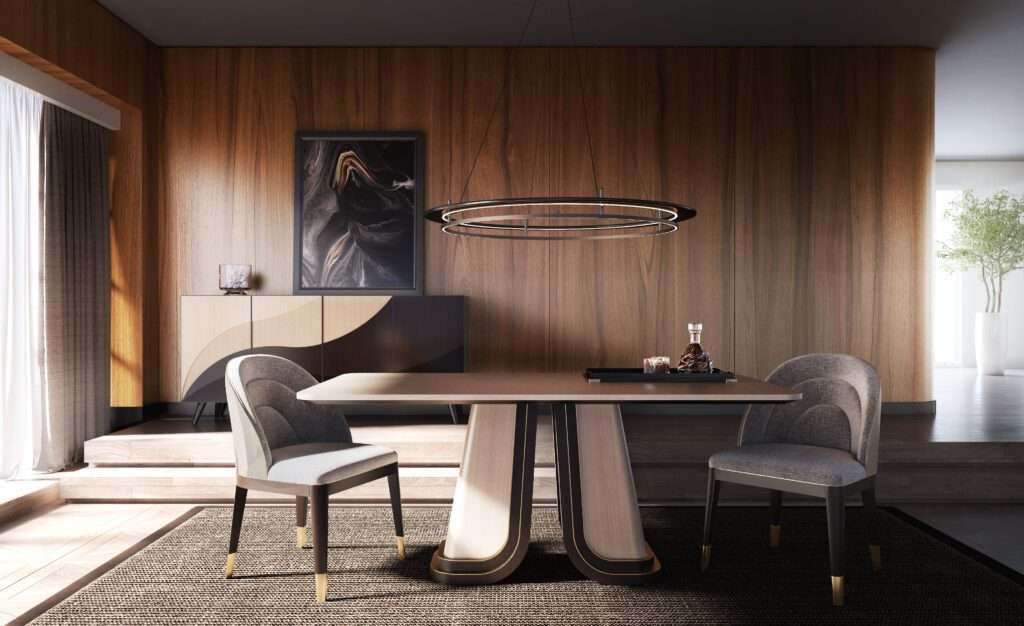 MARANO's PICCO Dining Table is an impressive work of art featuring contrasting yet complementing colours and comes in two sizes to seat 6 or 8 people. Crafted by hand through stringent engineering, it is a durable yet beautiful piece for your dining needs. Browse more tables here to find the perfect one for your dining room.
5. Something Old, Something New
With the current popularity of mid-century modern design, retro and vintage-inspired furniture are expected to make its rounds in the furnishing arena. The retro-modern style is associated with the 1950s and 1960s, and the era's passion for life is reflected in its furniture designs. Retro furniture design reflects a vintage architectural quality and strong geometry with plain and simple forms.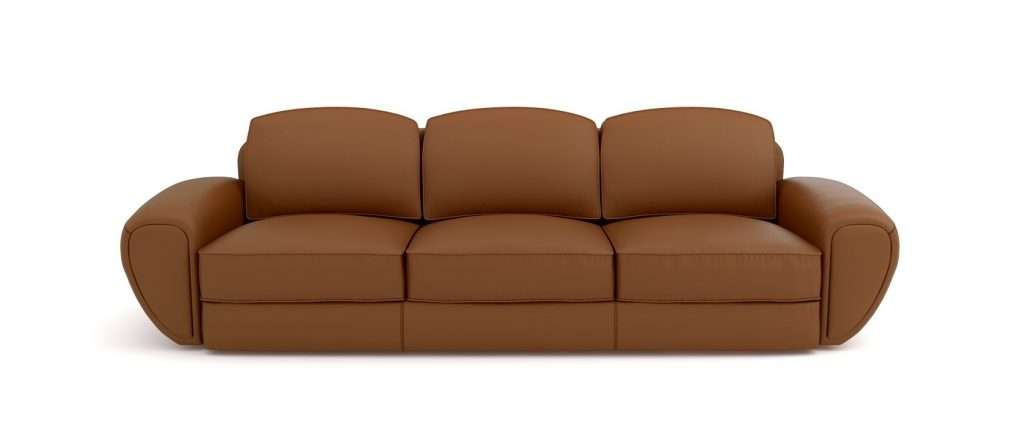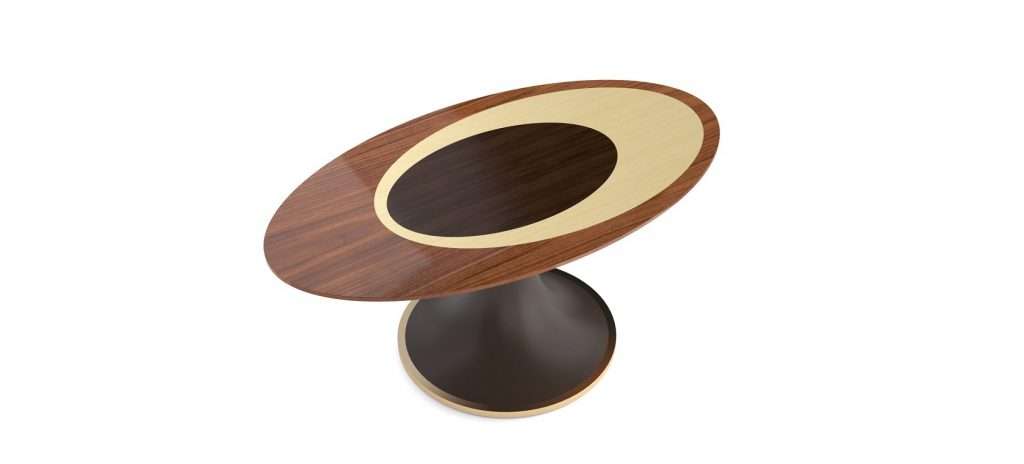 Lend a hint of vintage to your modern decor with a few mid-century inspired pieces, such as a retro minibar, or make a centrepiece statement with vintage-inspired furnishings from our KOEN collection. Complement your main vintage piece with accessorising items – may we recommend the OLNA 3-seater Sofa matched with the ARICO Coffee Table – for more prominent retro vibes.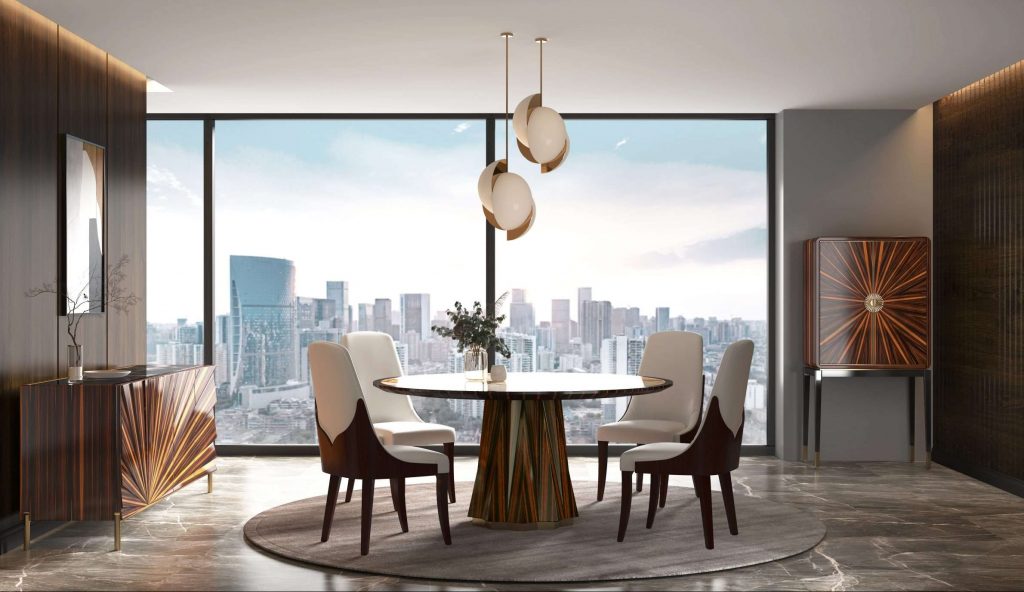 Jazz things up with a design Art Deco piece, short for Arts Décoratifs, characterised by rich colours, bold geometry, and decadent detail work. Having reached the height of its popularity in the 1920s, 1930s and 1940s, this style speaks of glamour and luxury within symmetry and shapes. Making a comeback in recent years, Art Deco lends a sense of timelessness to your interior.
Take your pick from the Art Deco pieces from our Fireworks Collection, inspired by the enchanting dazzle of fireworks, such as the intricately crafted CUCCO Sideboard and the ALONA Dining Table featuring a beautiful leg reminiscing of interweaving twines, complemented by the elegant ALONA Dining Chair. Delight in the flower-shaped handle feature of the DOVICO Bar Cabinet, set against an artistic presentation of natural contrasting parquet grains for a touch of striking elegance. Discover more Art Deco inspirations from our Rose Window and Evolution of Time collections, and let your mindscape come to reality in the brand new year.