Planning to buy a new dining room set for your home? How should you set up your dining room to look chic and contemporary, so that you can host the perfect dinner parties?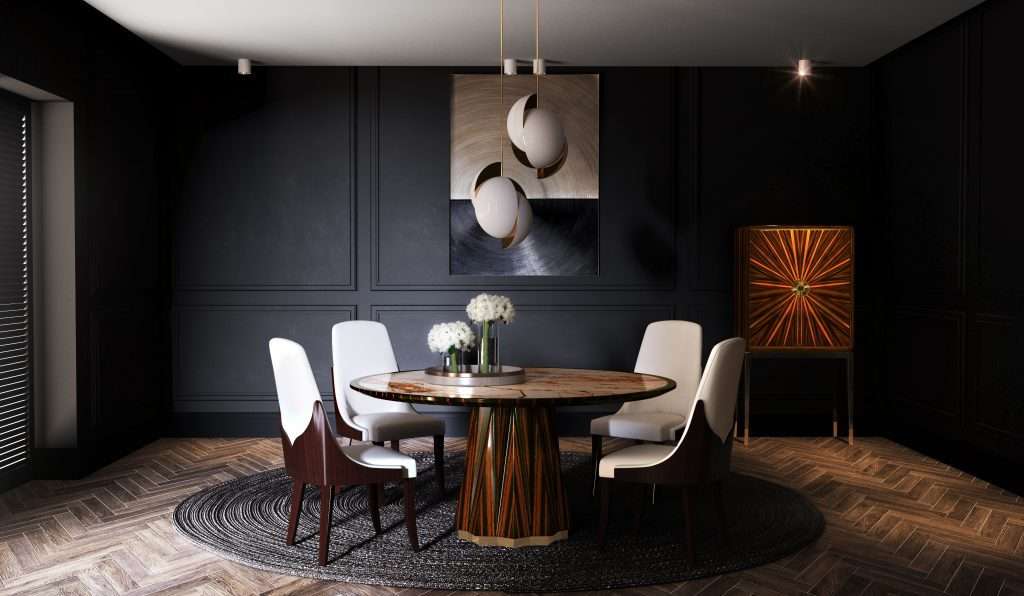 If you are starting with a blank slate, a 'mood' or inspiration board is the best way to discern what pleases you aesthetically. You can put this together by compiling magazine clippings, or saving online photos of dining rooms, as well as designs from restaurants, bars, and cafes that have caught your eye.
Once you've amassed a decent collection, look at your pictures to see if you can spot any similarities or patterns to what you've liked. Perhaps you favour rooms with strong colours, or furniture with unique shapes and distinctive surfaces. Or you may prefer muted tones and classic lines.
You should also decide on the primary purpose of your dining room. Do you intend to use it mainly for hosting dinner parties? Or do you prefer to reserve the space for cosy family meals?
Here are some helpful questions to think about:
How often will you use the dining room for family meals? How many people will be seated at the table?
How often will you use the dining room for entertaining? How many guests will you typically have?
With this in mind, read on as we guide you through the process of choosing dining tables, dining chairs, and other furniture and accessories to fill your dining space.
The Best Dining Table Sizes for Large Spaces
Looking for the right dining table sizes and shapes to host a dinner party or a big family?
Most dining tables are either rectangular or round—there are also square and oval dining tables, but these dining table shapes are less common.
For larger dining room arrangements, choose larger dining table sizes to fit your needs. An elegant arrangement is to have a large rectangular dinner table in the centre of the room.
If your dining room is very spacious and you plan to entertain regularly, having two large dining tables can open up new possibilities for you. For instance, when you are co-hosting parties with a partner, each of you can attend to the needs of one table, creating a much more intimate experience for your guests. You will also have the option of pushing two tables together—some hosts prefer this as it makes all of their guests feel included, and better achieves the objective of bringing everyone together.
To ensure that there is enough space for movement in your dining room, here's what some experts recommend:
Minimally, there should be at least 36 inches (slightly over 0.9m) of space between a table and the wall
Each guest needs about 24 inches (0.6m) of space to sit and eat comfortably
Ideally, a table should be about 48 inches (slightly over 1.2m) away from the doorway
Below are some large rectangular dining tables from Marano Furniture that may suit your dining space. These tables can seat six to 10 guests: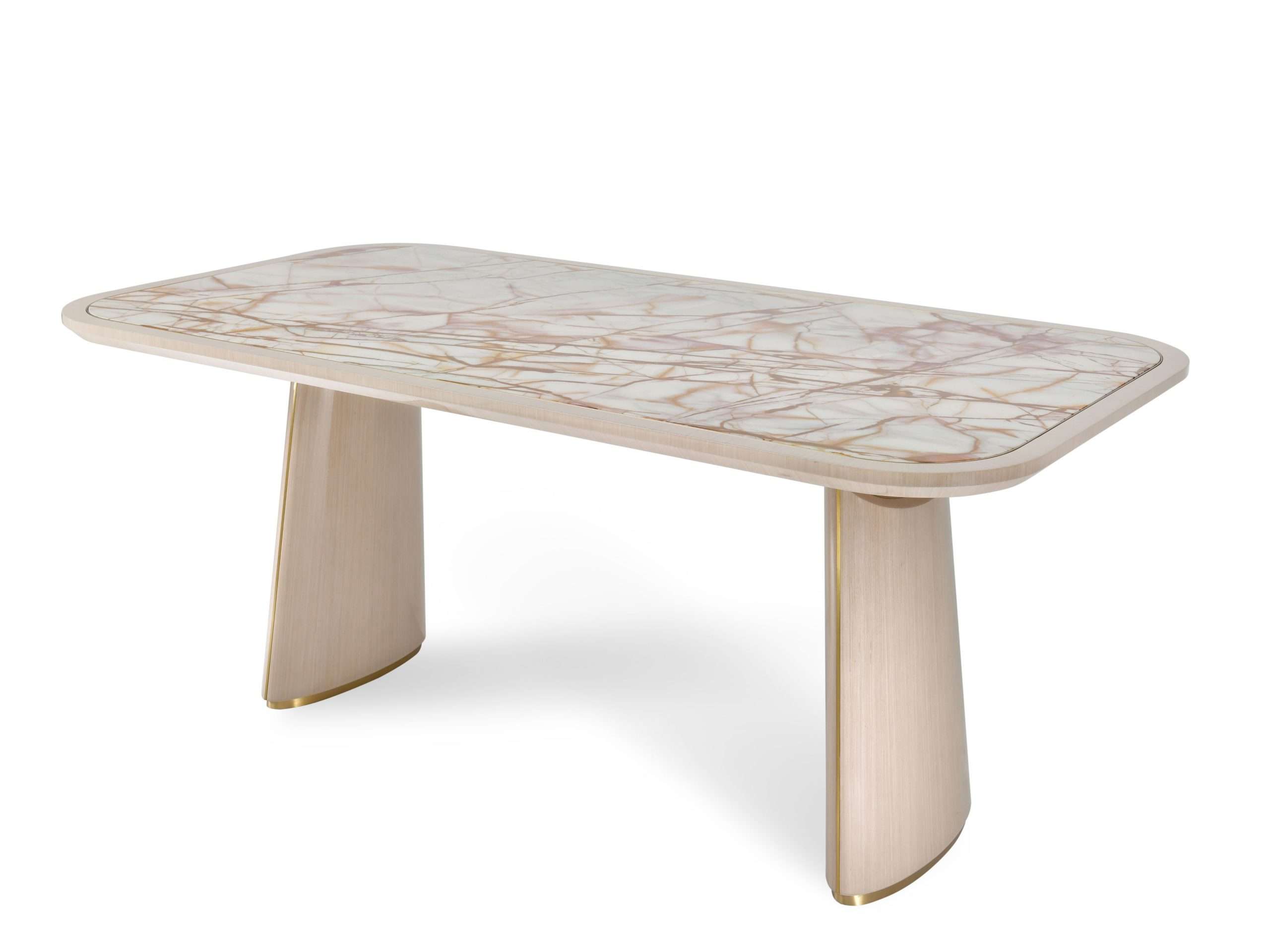 Reminiscent of the grandeur of ancient Rome, the MENDO Dining Table features natural luxury marble with brilliantly patterned grains and rounded edges for rustic elegance. Bordered with hardwood veneer and bronze strips with a hairline finish, this piece brings classy chic to your dining space.
| | |
| --- | --- |
| Seatings | Dimensions |
| 6-8 Seater | 160*90*78 |
| 6-8 Seater | 180*95*78 |
| 8-10 Seater | 200*100*78 |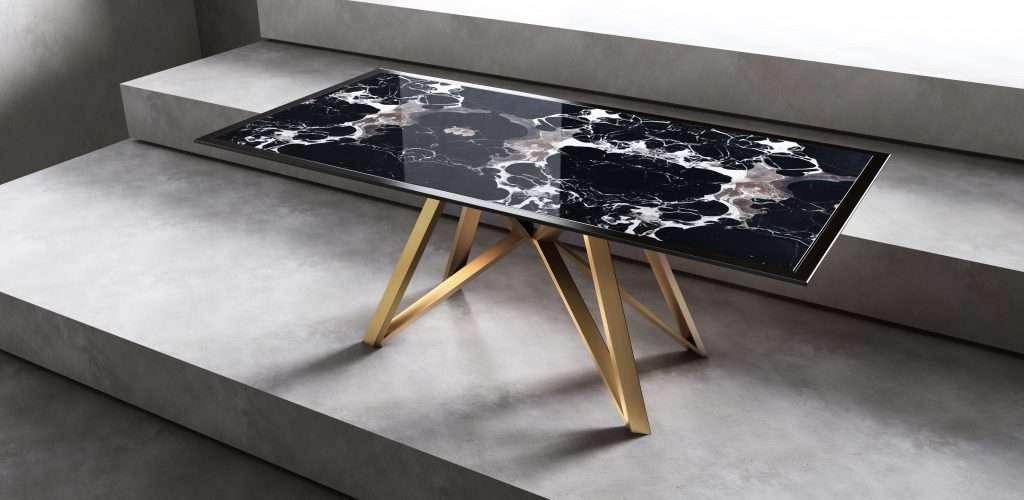 The LERUS Dining Table is a sleek showpiece, featuring frost-resistant natural black marble with white grains, supported on an M-shaped brass-capped base—this is inspired by the letter M in Marano Furniture, but it could certainly represent your family name! Functional yet beautiful, the LERUS Dining Table will be the eye-catching centrepiece of your dining ensemble.
| | |
| --- | --- |
| Seatings | Dimensions |
| 6-8 Seater | 160*95*78 |
| 8-10 Seater | 200*100*78 |
| 8-10 Seater | 220*100*78 |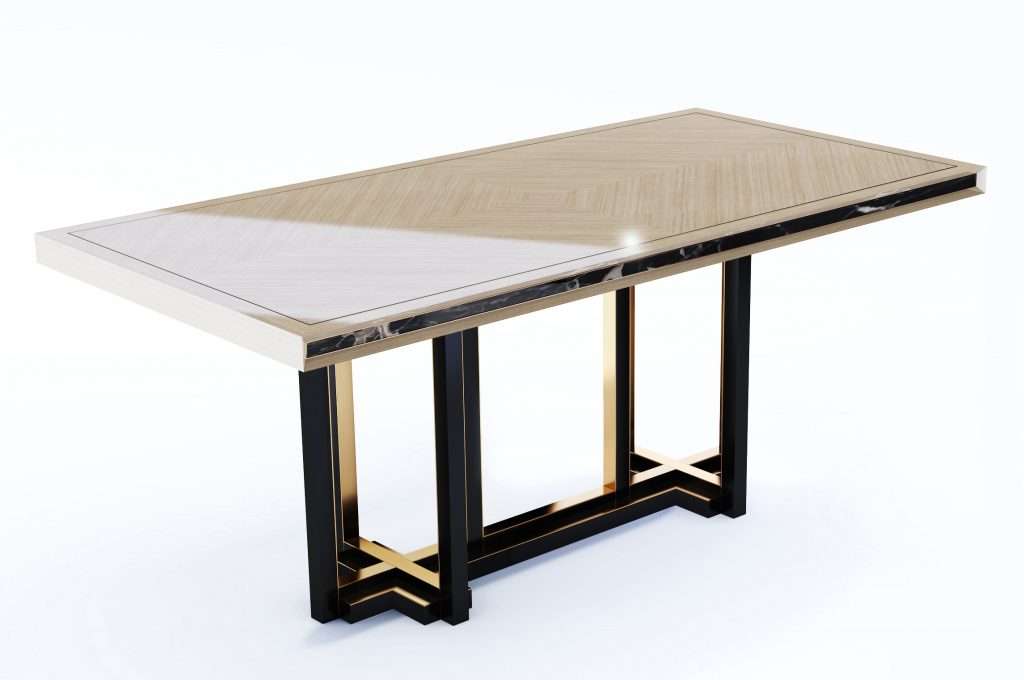 The MOROSI Dining Table comprises a beautiful table top with a diamond-shaped motif of parquet veneer, juxtaposed with exquisitely marbled sides and stainless steel legs. The result is a masterpiece of wood, metal, and stone in perfect harmony.
| | |
| --- | --- |
| Seatings | Dimensions |
| 6-8 Seater | 180*90*76 |
| 8-10 Seater | 220*105*76 |
The MIRAN Dining Table plays on the imagery of opening an ancient book to behold historical records and mythological tales of yore. With a striking leg column composed of black, gold, and dark walnut, and an elegant marble top, this table exudes an air of mediaeval nobility.
| | |
| --- | --- |
| Seatings | Dimensions |
| 6-8 Seater | 180*90*78 |
| 8-10 Seater | 220*105*78 |
How To Choose the Right Dining Table Sizes for a Small Space
What are the best dining table size and designs for a smaller space?
To maximise your dining room arrangement for a small space, most designers recommend that you opt for a round table. You can either place your table in the centre of the dining room or off to the side if space permits, allowing you to create a separate gathering area for your guests.
These are two round table designs from Marano Furniture that you can consider, both of which can seat six to 10 guests: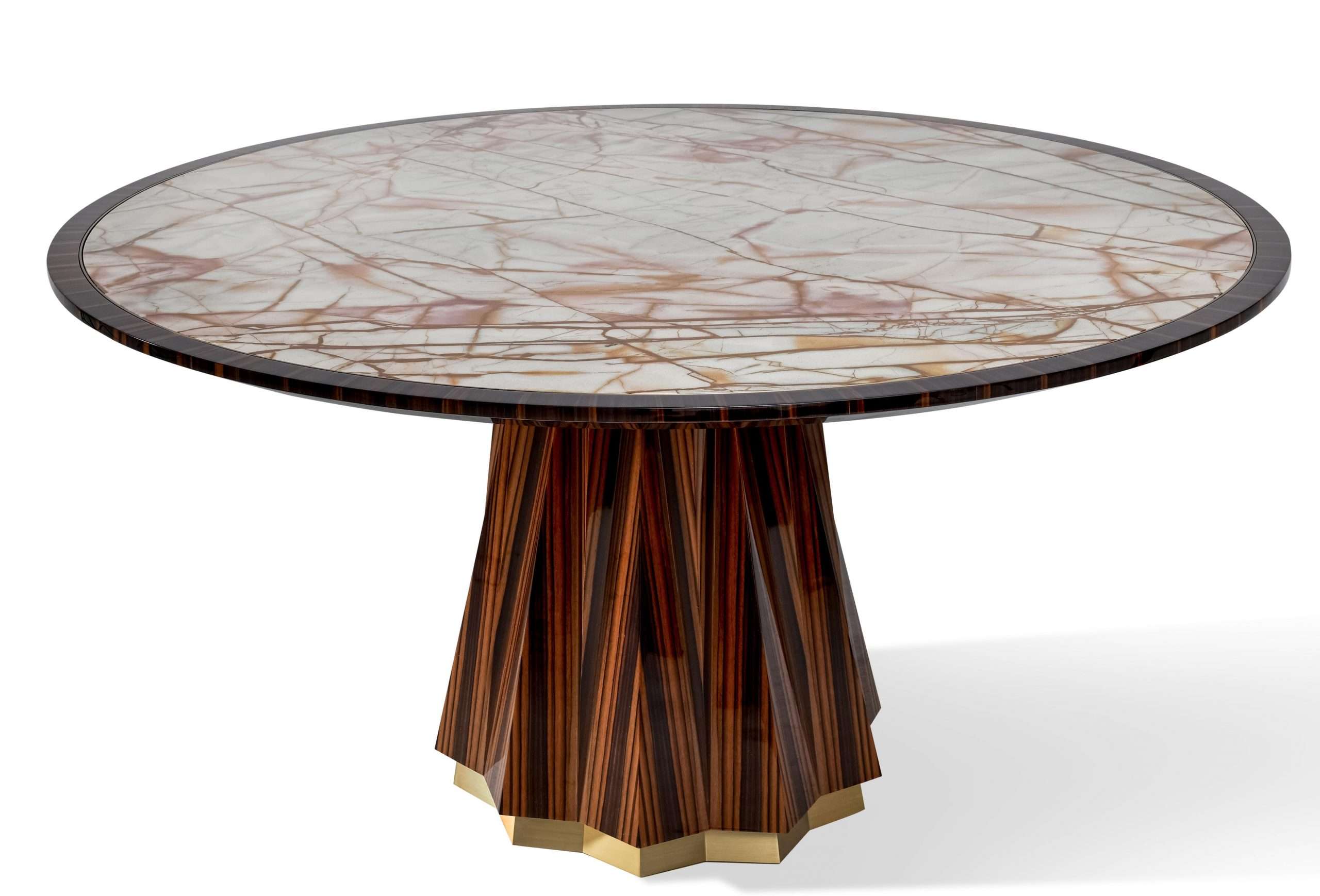 The ALONA Dining Table is composed of a natural marble tabletop, supported on an ebony veneer base that mimics interwoven twines. It is a beautiful showpiece that will lend your dining space a romantic touch.
| | |
| --- | --- |
| Seatings | Dimensions |
| 6-8 Seater | 130*78 |
| 8-10 Seater | 160*78 |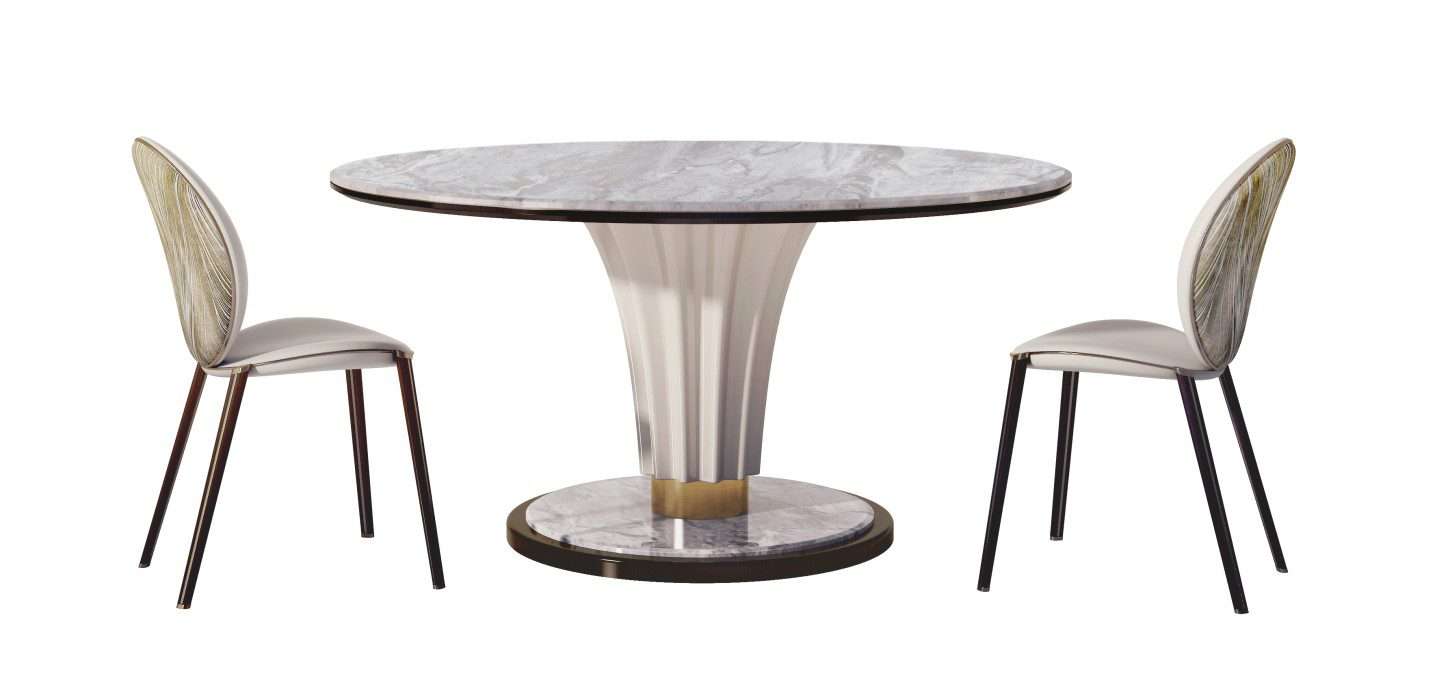 If a lighter hue is preferred, our PORTICA Dining Table is subtly elegant, featuring a natural marble top supported by a textured leg of oak—resembling a regal rainforest tree with an intricate trunk. The table leg is sealed with protective white lacquer and rests on a splendid gold barrel for a touch of luxurious decadence.
| | |
| --- | --- |
| Seatings | Dimensions |
| 6-8 Seater | 130*77 |
| 8-10 Seater | 150*77 |
How to Choose Elegant Dining Chairs for Your Dining Room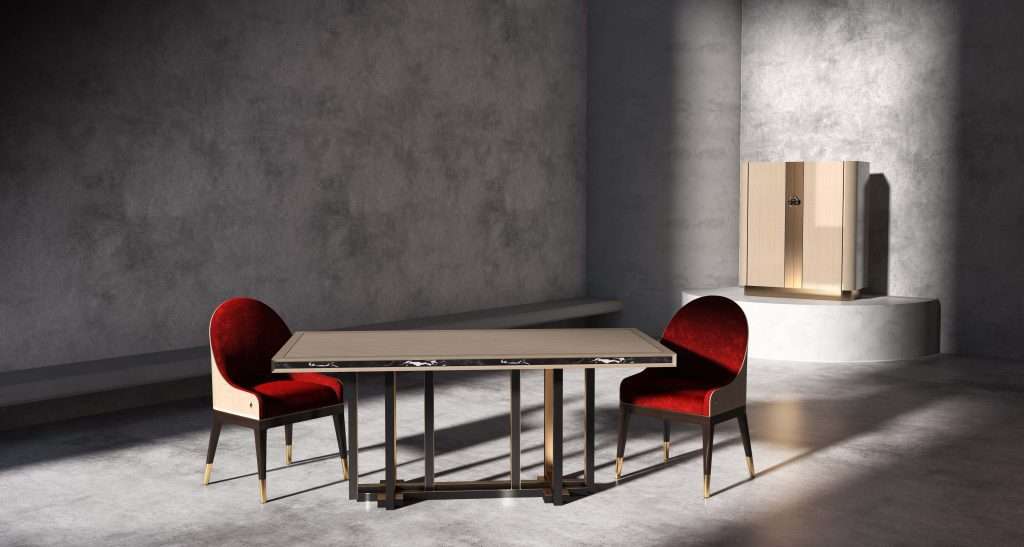 Should you get a complete dining table set with chairs, or should you mix and match chic and elegant dining room furniture?
There's no crime in being safe with your selections, so by all means go ahead and purchase a full dining table set with dining chairs—you can't go wrong with this decision!
But if you are willing to be adventurous, you can create a visually compelling look that is unique to your home. A smart compromise is to purchase your dining table and chairs from the same furniture brand (such as Marano Furniture) so that there is consistency in quality and design.
To select elegant dining chairs for your dining room set, picture them as supporting characters, existing to make the 'star' of the room—your dining table—look even better. Ideally, your chairs should be in a different material and colour from the dining table to add visual variety. At the same time, they should not be overly dramatic, lest they steal the 'spotlight.'
If you have already selected a table from Marano Furniture, you can certainly find dining chairs to complement your table. Visit our website to browse our tasteful dining chair selections, or better still, book a showroom appointment so that we can better advise you on choosing compatible pieces to create a show-stopping dining space.  Our chairs are suitable for office lounges as well, and the designs are flexible enough such that they can also serve as bedroom dresser chairs or any other purpose that you might have in mind.
Here are some extra comfortable pieces that can serve well as work-from-home chairs
More Dining Room Design Ideas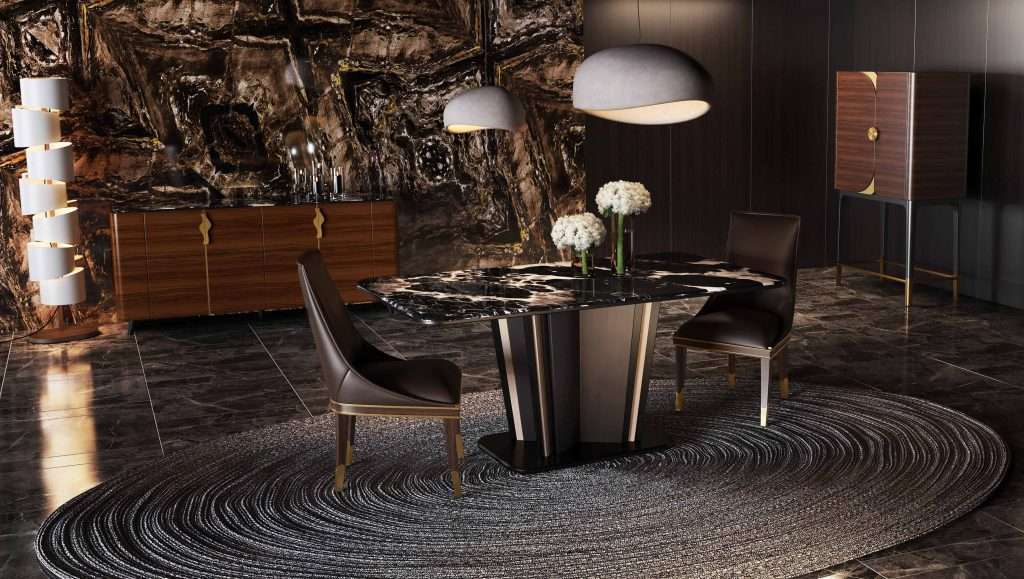 Apart from a dining table and dining chairs, what else does a dining room need?
More than any other factor, the size of your dining room will dictate your range of furnishings. If yours is a larger dining room, you can allocate an inconspicuous spot for a bar cabinet with a bold design, which provides leeway to decorate the space with colour and other flourishes. Alternatively, you can choose a bar cabinet with a subtle design, which can seamlessly blend anywhere into your dining room. (Read our guide to choosing bar cabinets.)
Need storage space in your dining room? Consider a sideboard, where you can store dining table supplies such as plates, cutlery, napkins, and even candlesticks. The top surface of a sideboard can also be used to display art or other prized items, or as a food serving space when you entertain guests. (Browse Marano Furniture's sideboards here.)
Other dining room design ideas include:
Choosing the right flooring
Planning your dining room lighting
Deciding on the colour scheme of your dining room
Adding texture to the room, such as with wallpaper or fabrics
Adding personality to the room, with art and other collectables
If you have hired an interior designer to help you build the perfect home, rest assured that an expert will be guiding you through the above decisions.
Prefer to be more hands-on when it comes to design? Refer to the many useful resources online, such as this guide on how to design a dining room If you are viewing our dining room selections on our website, you can use our AR function to visualise each product in your dining space. All you will need to do is use your mobile device* to browse.
As all of our products at Marano Furniture are made-to-order, we recommend that you plan your orders early. For delivery lead times, please refer to the respective product pages, or book a viewing appointment with us to find out more.
*Viewing 3D models in AR on mobile devices requires relatively recent hardware and software.
iOS: iPhone 7 and newer or iPad 5 and newer, running iOS 12+
Android: Devices with ARCore 1.9 support on Android 8+