Wondering if you should buy a bar cabinet in Singapore? How do you choose the best bar cabinet for a home, office, hotel, or other venues?
Creating your own home bar offers the perfect solution for hosting guests, eliminating the need to venture out to crowded bars or restaurants. Indulge in the luxury of sipping your favourite beverage within the confines of your personal space, completely devoid of concerns about commuting or intricate arrangements. Transform your home bar into a vibrant hub for socialising, be it for lively gatherings, game nights, or any social occasion.
For many, a home bar stands as an oasis of tranquillity, providing a haven to unwind and destress post a tiring day. Imagine reclining in an armchair, cradling a glass of exquisite red wine, relishing moments of serenity. Naturally, beyond the realm of wine, a plethora of libations await. The question then arises: How can you tastefully and professionally organise your assortment of beverages and necessities?
Also known as a wine or liquor cabinet, a bar cabinet may not be a common sight in Singapore homes or offices. Instead, homeowners who regularly host dinner parties might set aside a large space, or even an entire room, for a home bar. Likewise, it isn't uncommon to see bar counters in staff lounges at high-end workplaces.
That said, if you have space constraints or prefer a more subtle approach, you can create an inviting experience for savouring a drink, just by placing a designer bar cabinet in your dining or living room, or at the staff lounge.
However, bar cabinets come in many different styles and sizes, and choosing the right one can be tricky. To help you pick the best bar cabinet in Singapore, here are some questions to consider:
#1 How much storage space do you need in your bar cabinet?
First and foremost, bar cabinets serve a practical purpose—to store the following:
Liquor
Wine
Glassware
Home bar tools, such as cocktail shakers, jiggers (for measuring liquid ingredients),

bottle openers, corkscrews

, and strainers

Ice buckets, mixing glasses and spoons
To stock your bar cabinet, focus on the drinks that you enjoy. After all, the objective is not to rival a professional bar setup but to create a space for appreciating the wines and spirits that you already love.
For beginner drinkers, you can read about the difference between beer, wine, and spirits, and find out how to select wines and spirits that will be gentle on the palate. Do note that beers are best stored in a fridge at colder temperatures.
When choosing an appropriately sized bar cabinet, bear in mind that a small but fully stocked bar cabinet will be more pleasing to the eye than a large, mostly empty cabinet.
Plan to entertain regularly—at home, in the office, or in a recreation corner? Do note the following:
A standard-sized bottle of wine is 750ml or about 25 ounces. This means you'll get approximately five (5 ounce) or six (4 ounce) glasses out of a bottle.
If you plan on mixing drinks, a rule of thumb is that mixed drinks typically contain a 1.5-ounce (45ml) serving of liquor per drink, so a 750ml bottle of liquor will last for about 15 to 16 drinks.
Not a fan of mixed drinks or hard liquor? Simply estimate how many bottles of wine you might go through in a month, and base your storage needs on that.
#2 Should you get a short or tall bar cabinet?
Would you like the top surface of your bar cabinet to double up as a counter space, on which you can showcase some of your favourite bottles and glassware, as well as pour yourself a drink? If so, opt for a short bar cabinet of about 35 to 42 inches high (approx. 90cm to 110cm).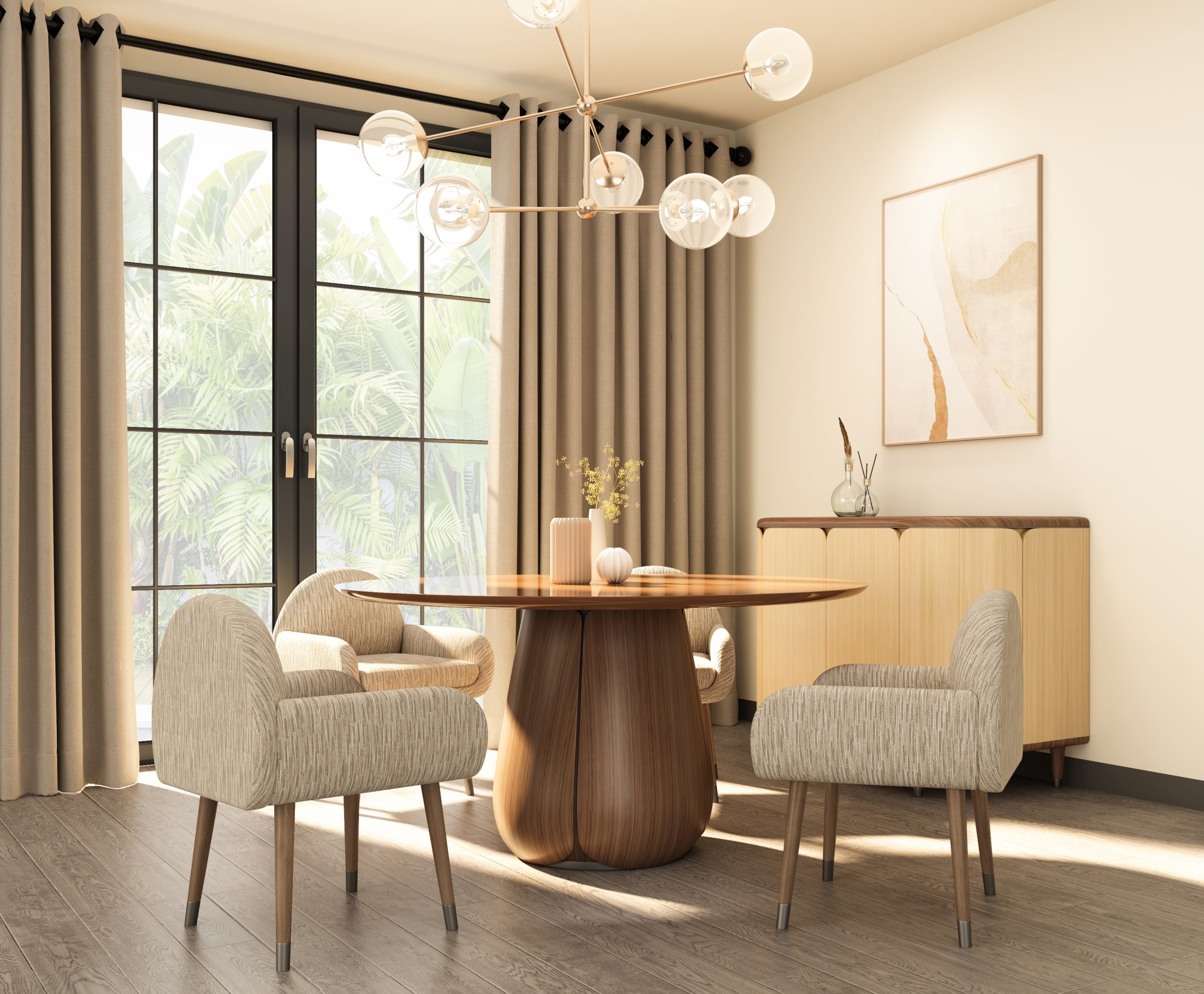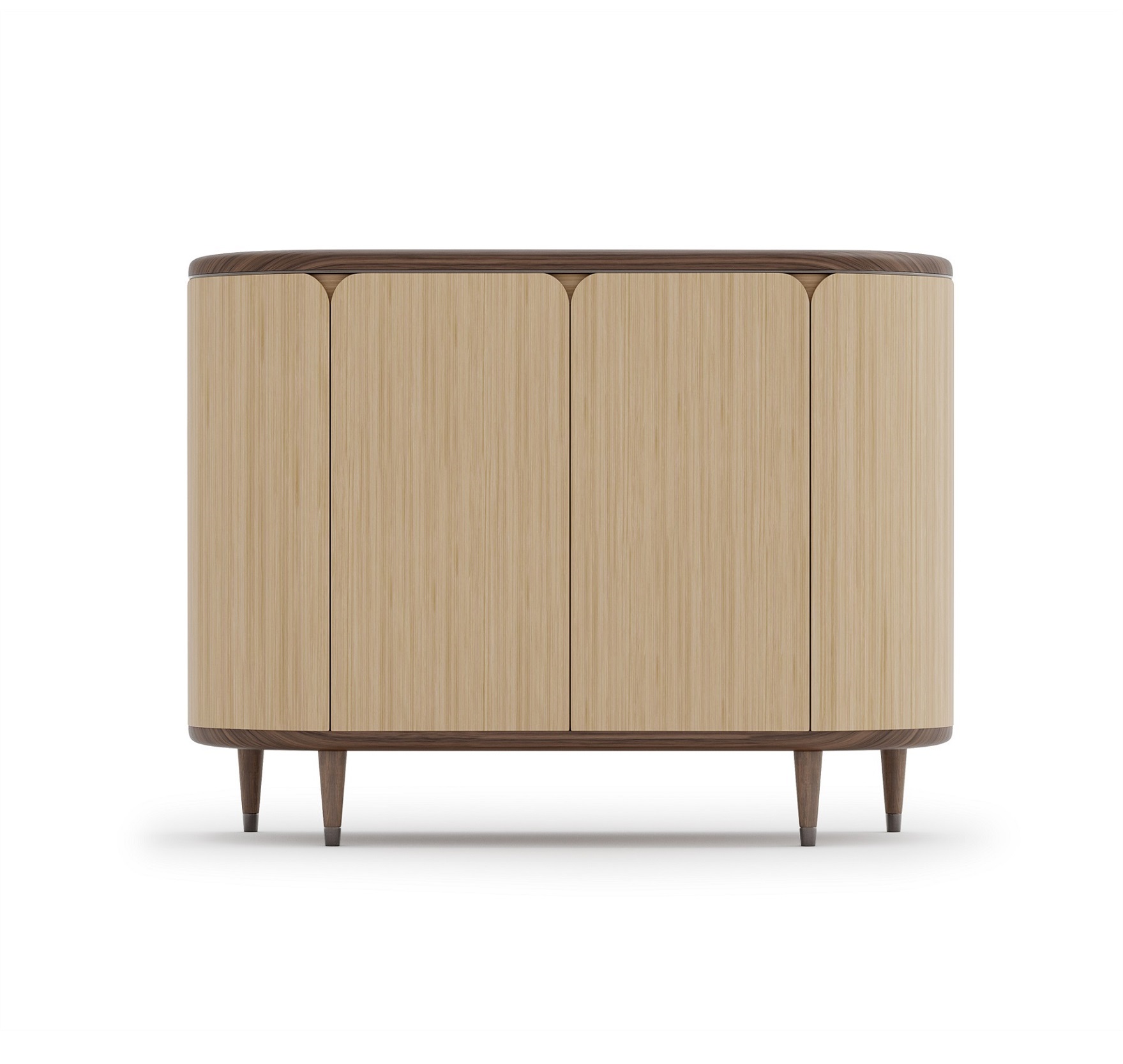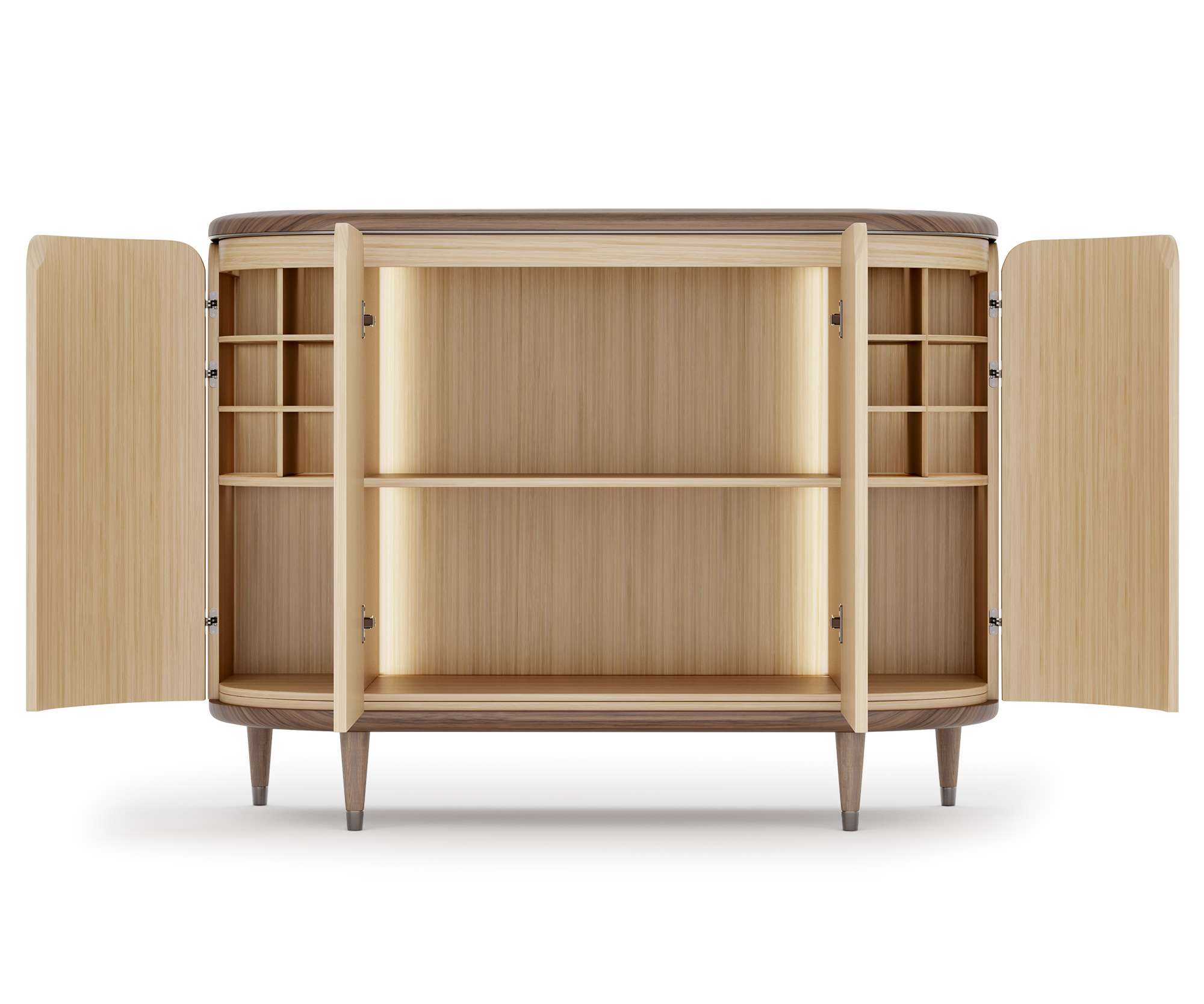 The GIRONDO Sideboard (W125cm*D50cm*H95cm) is one exquisite piece to consider especially for those who need decorative storage. Serves well as a decorum with unique arc-shaped doors opening at the sides for wider angles of access to your collection of wines and gadgets. This four-door large-capacity sideboard boasts ample storage for wine bottles, glasses and kitchenware, and is intuitively fitted with motion sensor LED lighting for your convenience.
But if ample storage is a priority, you should look for a tall bar cabinet, ideally between 60 to 75 inches in height (approx. 150cm to 190.5cm). Some tall bar cabinets have a space or a pull-down door that can be used as a counter—you should carefully assess the internal layout of a bar cabinet, to see if it can work well for your needs.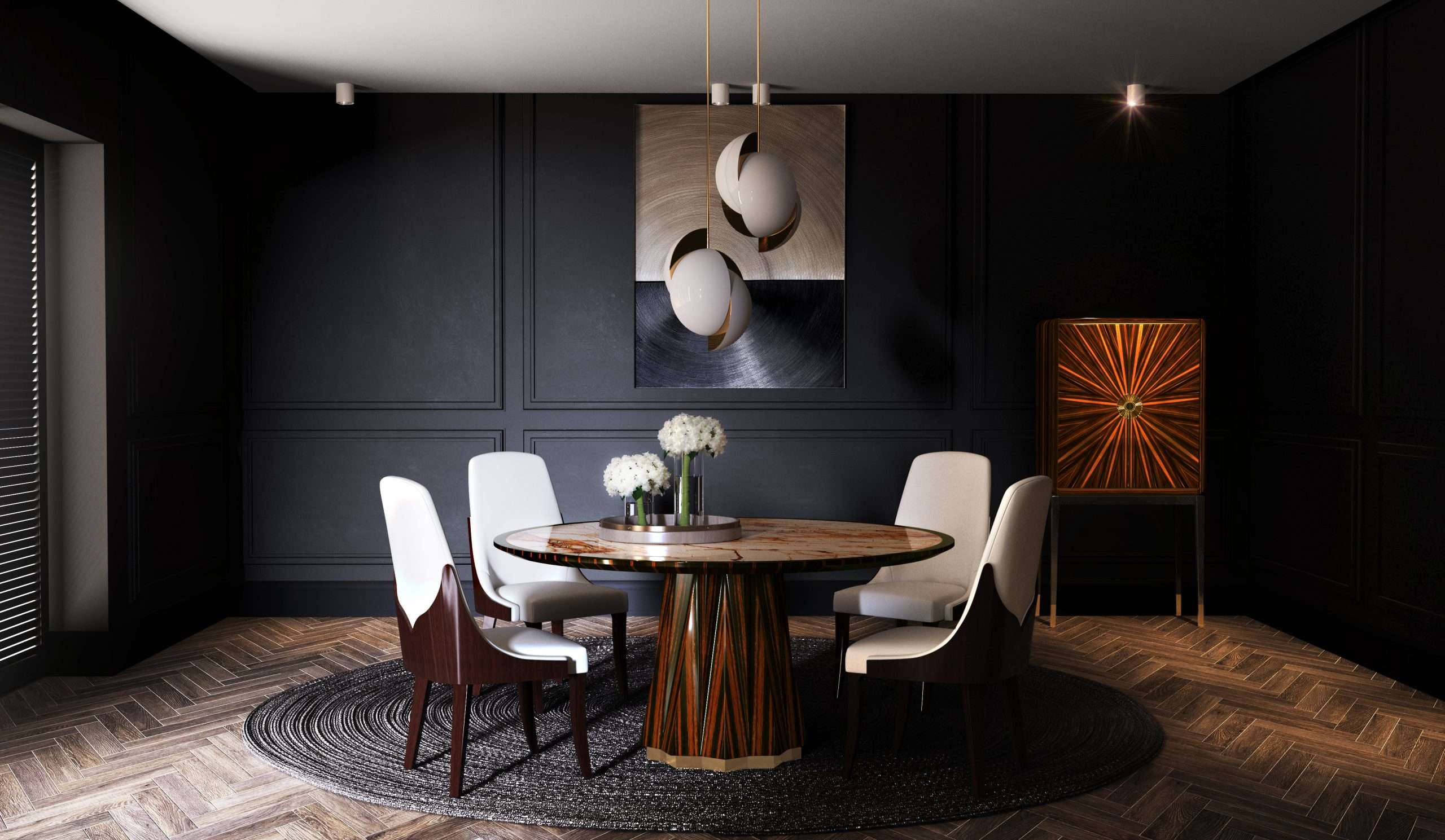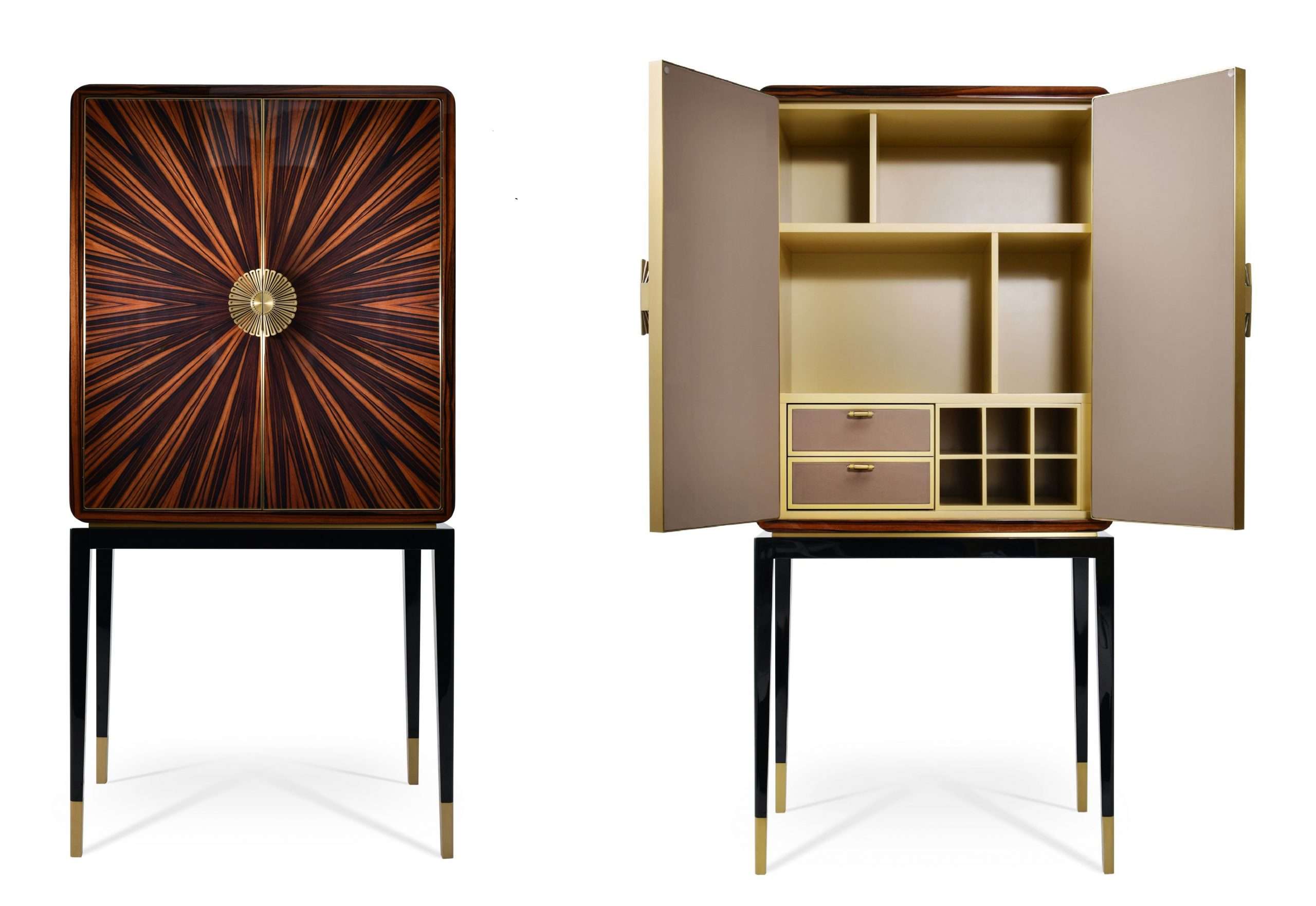 A fine example of a tall bar cabinet is the DOVICO Bar Cabinet (W82cm*D50cm*H165cm), an eye-catching piece that will lend a touch of elegance to any living space. The first thing you will notice about the DOVICO's handcrafted door panels is the ebony veneer and bronze hairline finish, complemented with metal handles shaped to resemble a radiant flower in bloom.
The DOVICO's interior is equally exquisite, as each of the compartments are lined with Nappa leather, a full-grain leather known for its superior quality. This provides protection for fine glassware, while exuding a sense of lavishness. It is the perfect piece for impressing loved ones, colleagues, or clients.
#3 Should you choose an open or enclosed bar cabinet?
Eager to curate and show off your entire bar collection? You can choose a bar cabinet where the shelves and racks are completely open to view. But do be mindful that over time, it may become challenging to ensure that your open bar cabinet is always display-worthy.
Prefer not to expend too much effort on the aesthetics of your wine and spirit collection? Opt for an enclosed bar cabinet with a unique design that fits in with the decor of your home, office, or recreational space.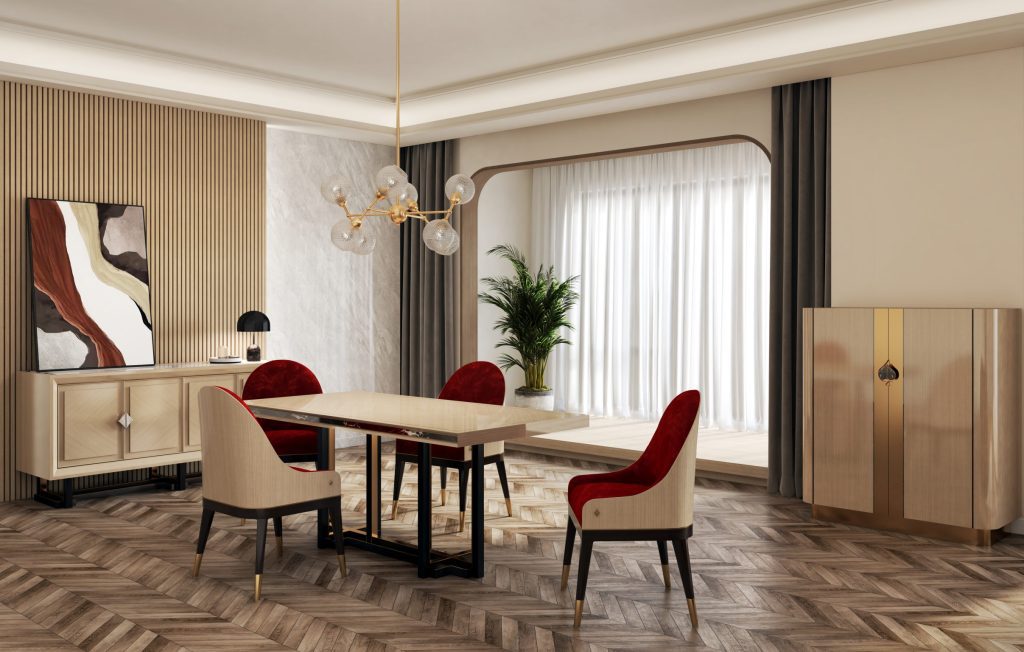 To make a bold statement, we recommend the enclosed BODD bar cabinet (W110cm*D50cm*H125cm), featuring a sleek hardwood veneer and stainless steel door panels, with striking handles inspired by the suit of Spades in playing cards.
Upon a swing of the doors, energy-saving LED sensor lights illuminate the interior, lined with premium Nappa cowhide—an intuitive finishing touch for an impeccable design. This is the ideal showpiece for a glitzy night of entertainment!
#4 Where should you place your bar cabinet?
Depending on its usage, a bar cabinet can fit nicely in any of these locations:
Dining room
Living room
Kitchen
Study
Office
Guest lounge
Staff recreation room
Hotel suites
One approach is to allocate an inconspicuous spot for the bar cabinet, which provides leeway to be adventurous with the space by adding colour and other decorative flourishes (see examples). Alternatively, choose a tastefully designed bar cabinet that can seamlessly blend in with your existing home or workplace décor.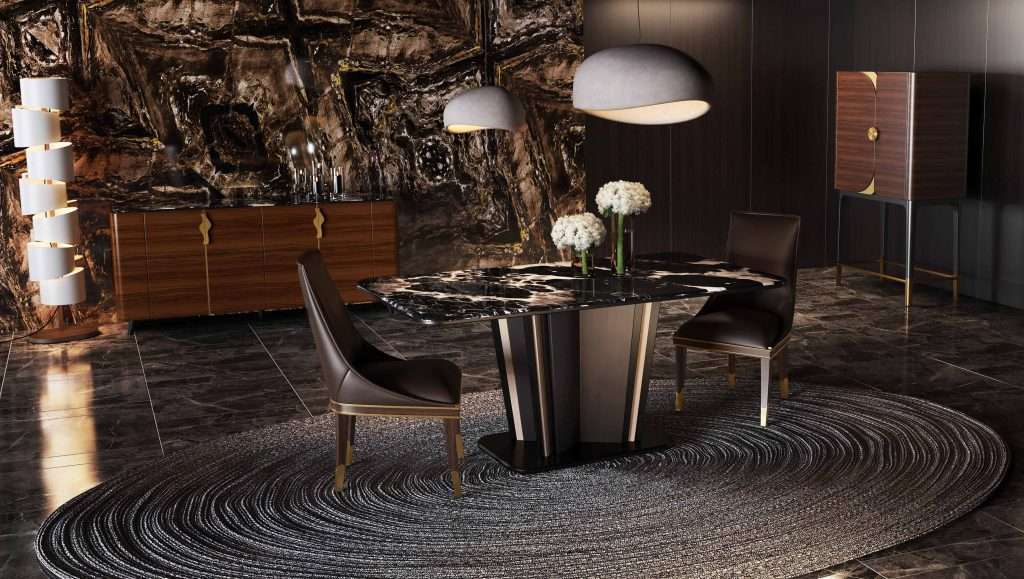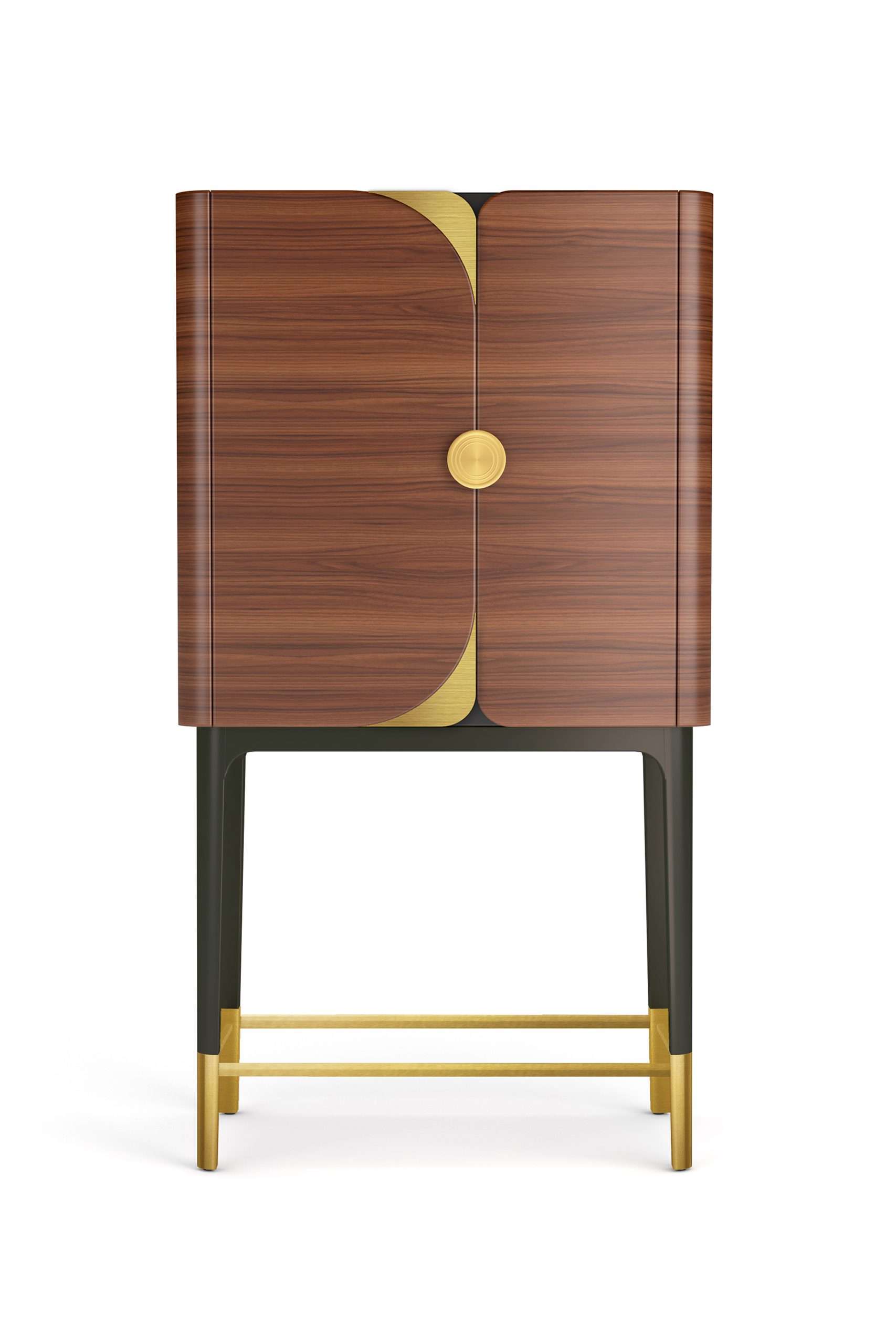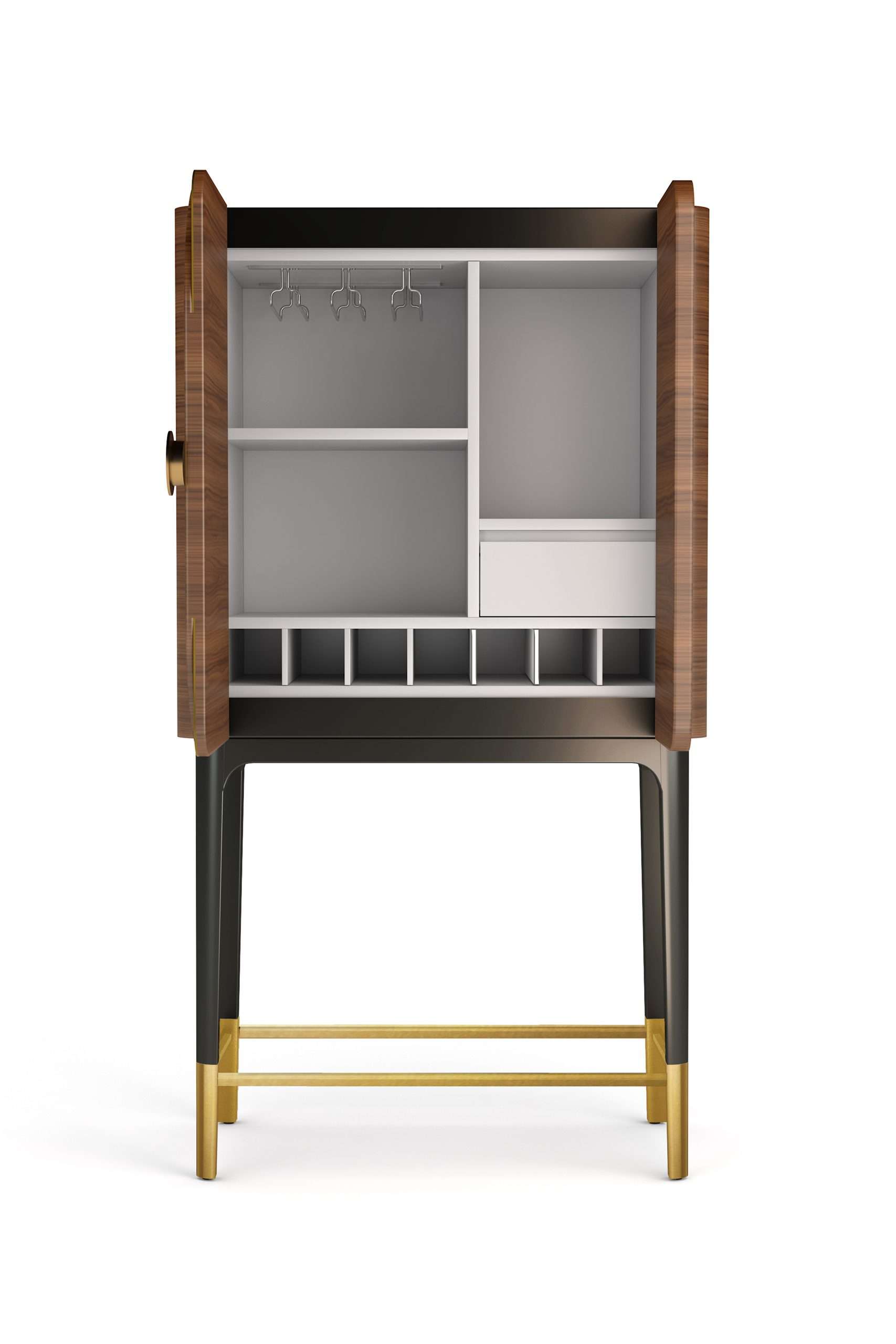 Need more bar cabinet ideas? For a look that is compelling yet versatile, we recommend the CARVA bar cabinet (W93cm*D55cm*H170cm), which showcases the contrasting colours of black, gold, and dark walnut. The CARVA's beautiful wood grain is reminiscent of the flowing contours of a mountain, and its interior features sumptuous compartments to house your bar collection.
Fancy a touch of dramatic flair for your furnishings? The BAZANI bar cabinet (W103cm*D50cm*H175cm) will be a dazzling addition to any space. Its exterior design consists of ornate gold lines and beads radiating from a gleaming nexus—a tribute to the glory of the sun—while its elegant interior features black panels and red Nappa leather of the finest quality.
Want more bar storage options? Browse Marano Furniture's full collection of bar cabinets and sideboards. Augmented Reality (AR) is available to facilitate you in designing and visualising it in your living space.