Shopping for furniture to set up your dream home? There is an art to choosing quality furniture, and the secret lies in knowing which materials are favoured by artisan craftsmen when creating luxury furnishings.
For furniture brands committed to making timeless designer pieces, such as Marano Furniture, great care is taken to select only the finest materials that are not only pleasing to the eye, but also safe and sustainable for homeowners and the environment. 
In this guide, we will highlight some of these quality materials, and show you how to:
Choose your upholstery well
Pick 'healthier' furniture
Select the right marble statement piece
Know the difference between solid wood and veneers
We hope you will find our tips useful when considering furniture for your home.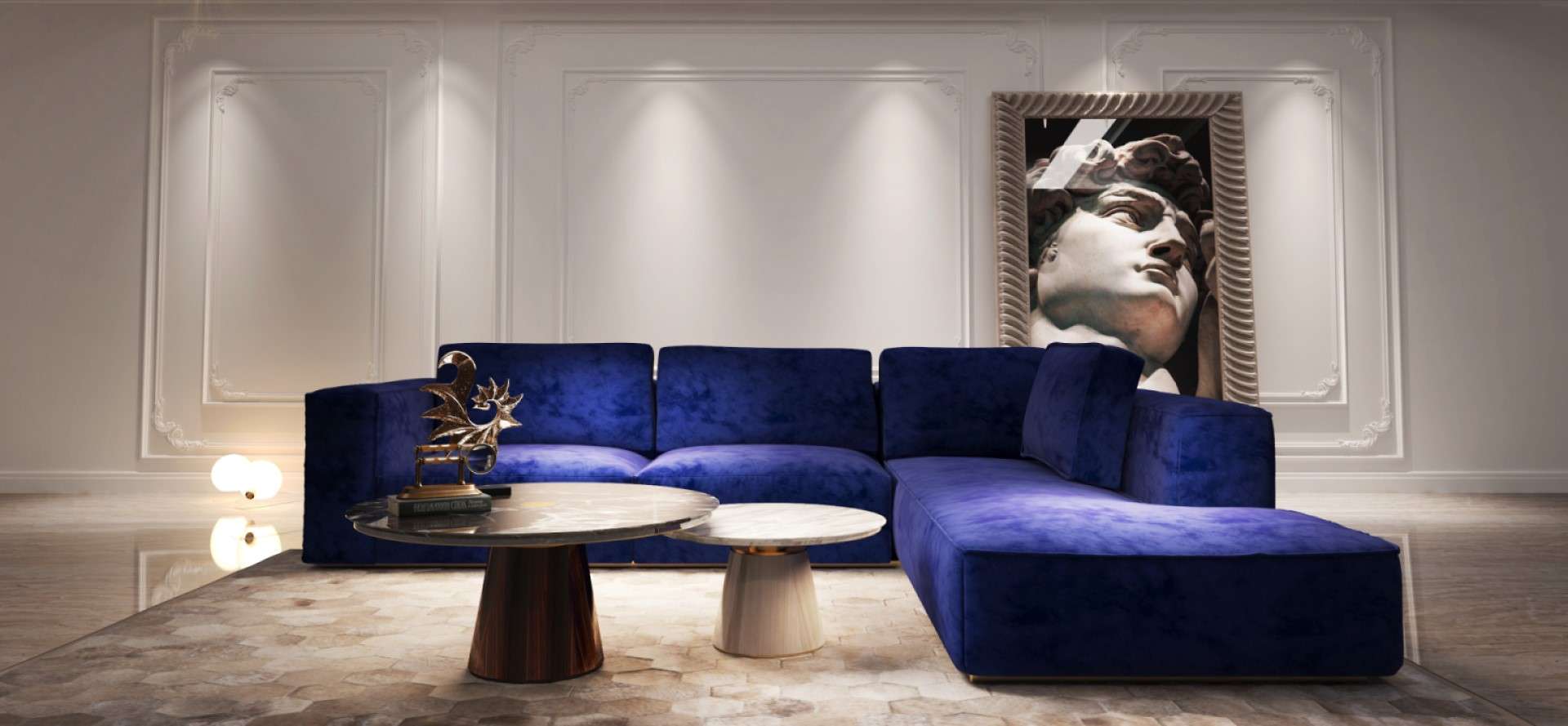 The Materials that Matter in Quality Living Room Furniture
What are the best materials for living room furniture, such as sofas, armchairs, and coffee tables? Here's what you need to know.
Choose Your Upholstery Well
Does 'upholstery' mean 'fabric?' Yes, it includes fabric, but also refers to all the materials covering the bare structure of a sofa or armchair, such as the foam padding. Together, these materials will determine how comfortable your sofa or armchair will be, and how well it will hold up against daily wear and tear.
Those in the know will ask about the Martindale test for fabrics, which is typically used on wool and natural fibres. A higher Martindale test result indicates that a fabric has better resistance to abrasion. For the home, one should choose a sofa or armchair featuring fabric with a Martindale value of at least 20,000 cycles, while furniture meant for public use should have fabrics with a Martindale value of at least 40,000 cycles.
For practical needs, a good sofa or armchair fabric should also be:
Easy to clean, using only water, or soap for stubborn stains
Liquid absorbent, so that accidental spills on the fabric can be contained on the surface, without seeping into the structure
As for the foam cushion of your sofa or armchair, it should be:
High density, with at least a 2.0 density value, to ensure a longer product lifespan
Able to hold its shape after compression—a sign of a good balance between softness and support
Looking for a sofa or armchair for your living space?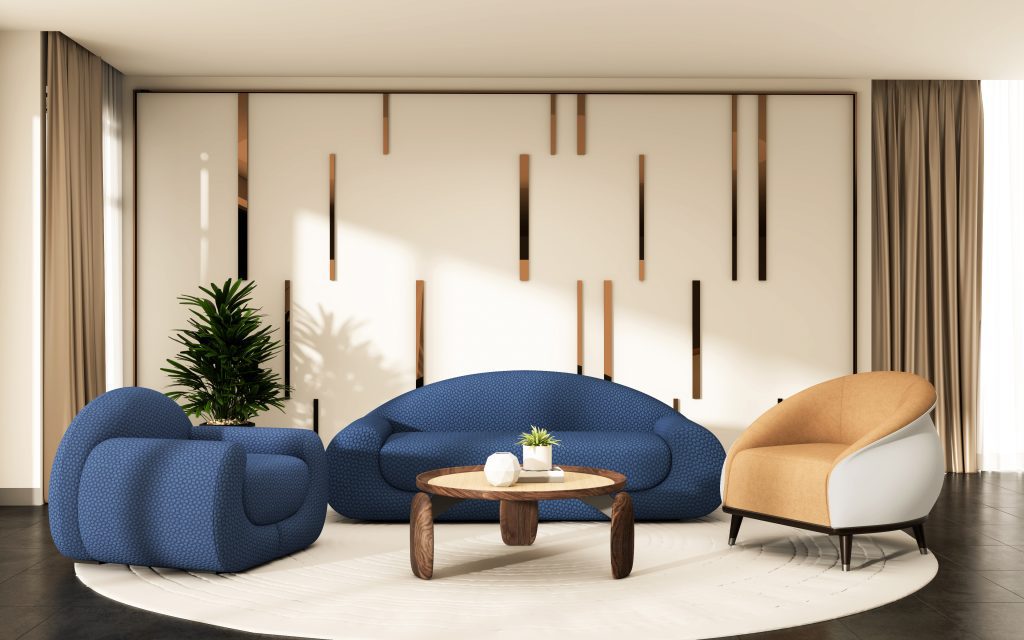 If you are looking for trending fabrics, check out ORSIN and TOLADO armchairs which uses Bouclé, a material that is woven with a looped or curled ply known for its softness. The latest in our additions will be the adorable, PANDILO sofa and armchair upholstered with Space Cotton, a new fabric endowed with softness, excellent elasticity and stretch recovery coupled with a three-dimensional tactile design.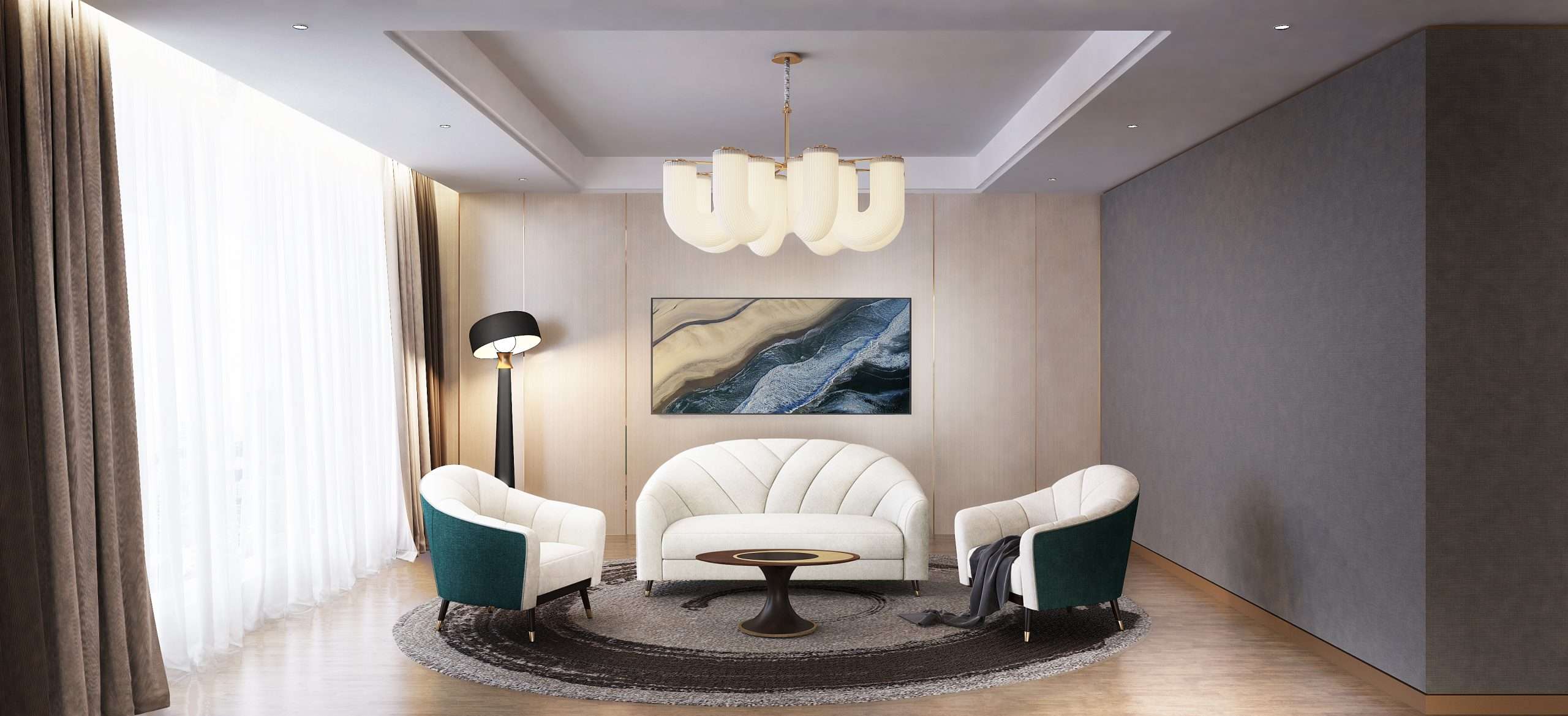 For high-durability selection, we recommend our DURAZ sofa and armchair, which are upholstered with FibreGuard, an abrasion-resistant cotton linen fabric with a top-of-the-range Martindale value of 100,000 cycles. This fabric is from the premier US textile brand Fabricut, which creates all of its products with stain-free and environmentally responsible technologies. 
Besides the DURAZ range, you can also explore our VEDRANO and KATTEN which boast an impressive 50,000 cycles. The VANNI, TIERA, OZZOLI, and VARO selections are above 40,000 cycles whereas our RANUCI and EMSTRA designs are rated at 30,000 cycles.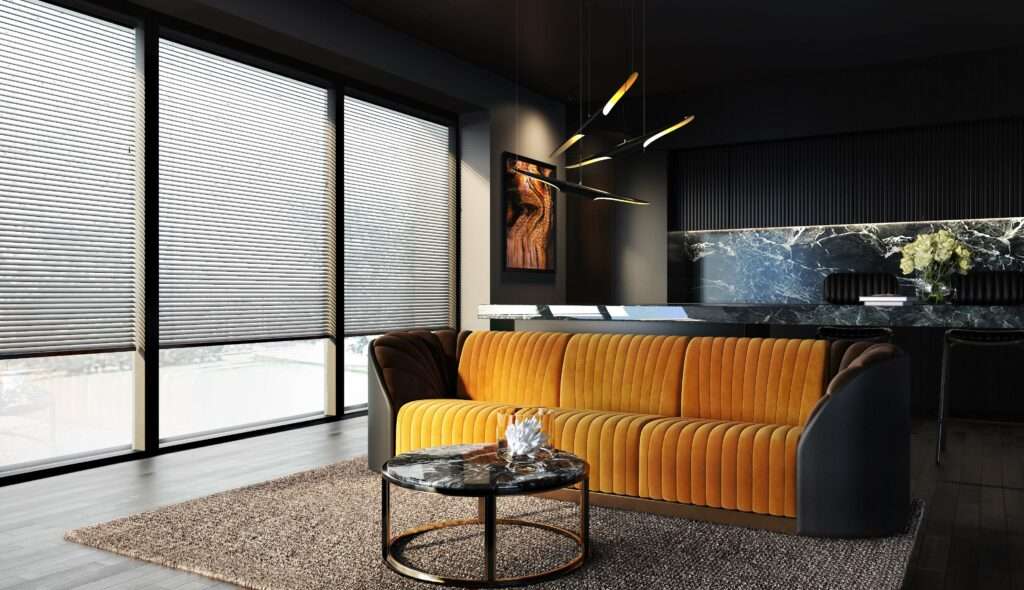 If you are looking for resplendent pieces that will elevate your interior styling like a luxurious centrepiece, sumptuous velvet and premium genuine Nappa leather selection like this VEDRANO 3-seater sofa (as featured above) and LIVISE sofa and armchair (as featured below) are some exquisite choices from Marano's novelty collections.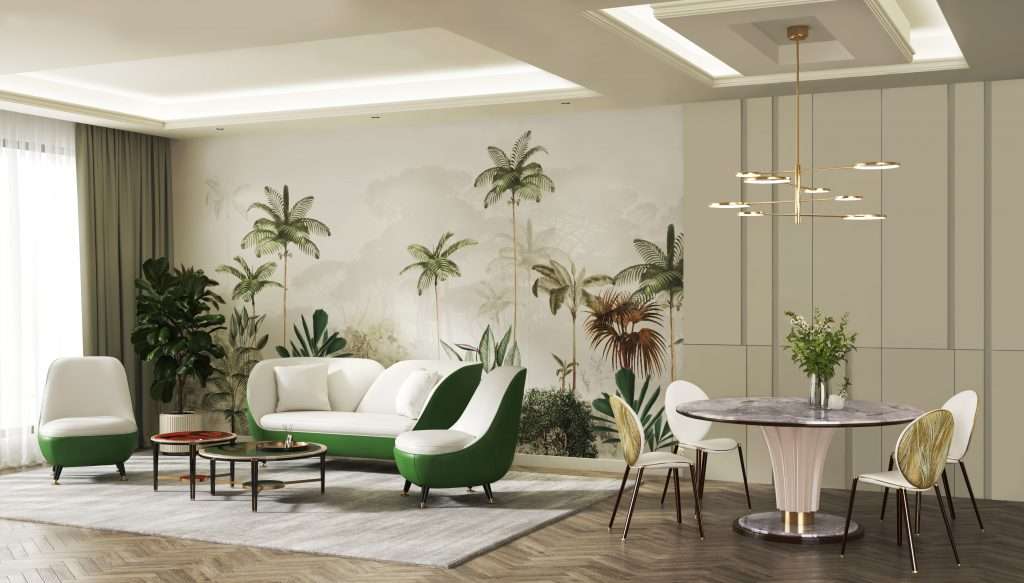 All of Marano's sofas and armchairs feature high-density foam with a 3.5 density value, which ensures they are made to last. In line with our commitment to sustainability, the foam is made from only recyclable or biodegradable materials. Learn more about Marano's selection of premium upholsteries at https://maranofurniture.com/materials-and-care/.
Pick 'Healthier' Furniture
With any piece of new furniture in your home, do ensure that you keep potentially harmful emissions to a minimum.
Chemicals such as paints and glues can produce gases that are unhealthy for us, known as Volatile Organic Compounds or VOCs. Where possible, you should choose furniture classified as 'low VOC' or 'zero VOC.'
If you are considering wood products, do be aware that they often release formaldehyde, a strong-smelling colourless gas known to cause cancer. To protect your health, look for products rated 'E0.' This means that the formaldehyde emissions are minimal (less than or equal to 0.5mg/l), and thus, these products are safe for interior use.
At Marano, we are committed to safety and sustainability, which is why we source and use environmentally friendly materials in our furniture production.
Want a vibrant coffee table as your living room showpiece?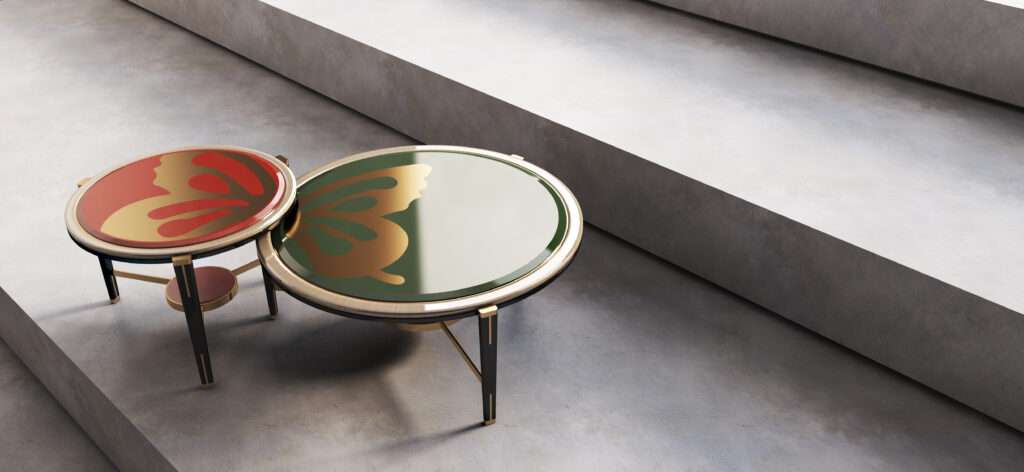 The LIVISE Coffee Table features a striking design of butterfly halves in gold, finished in vibrant red and green lacquer for a flawless look. Both ink and lacquer are eco-friendly and free from harmful pollutants, and the LIVISE Coffee Table is rated E0 and low VOC, so you can be assured that it is perfectly safe for any indoor space.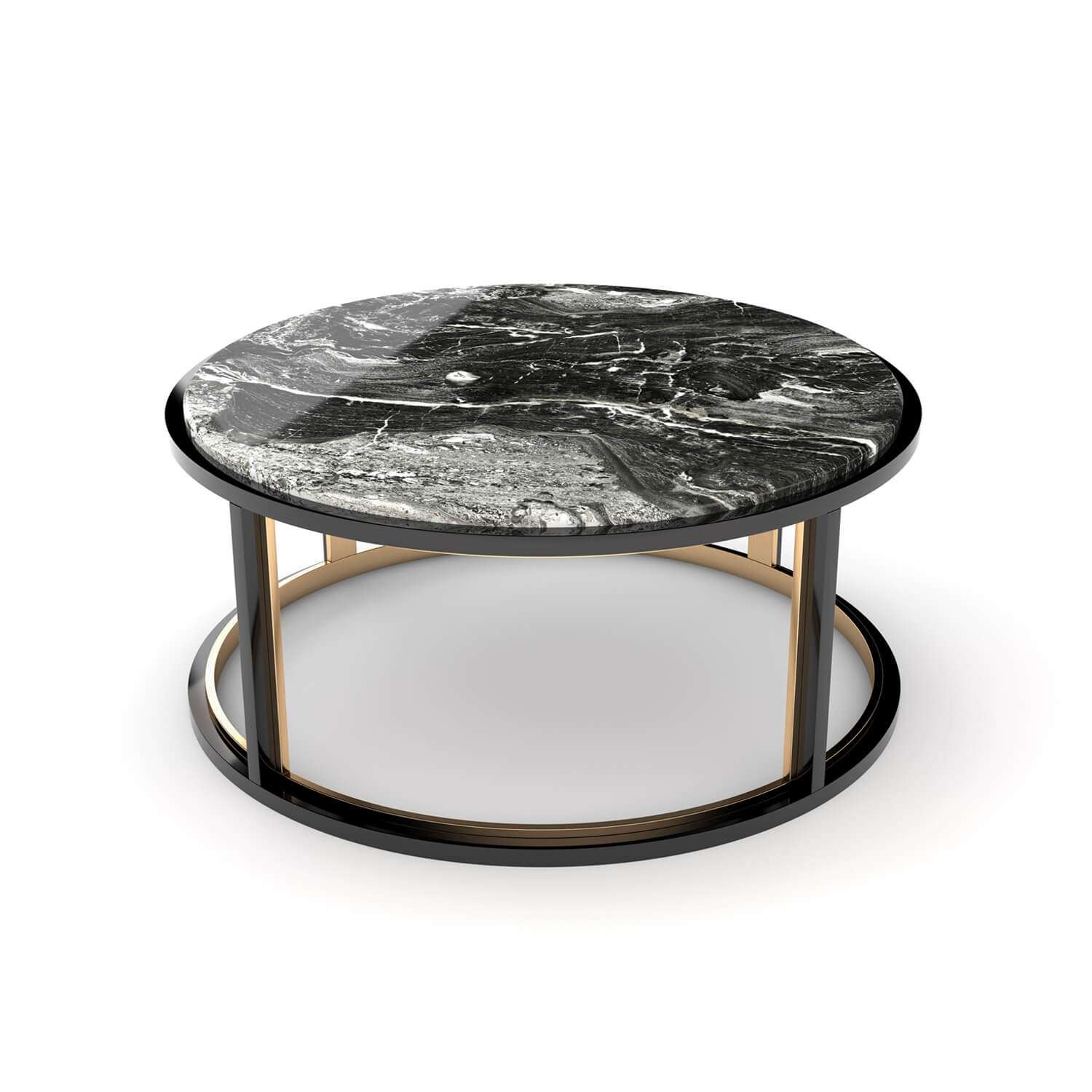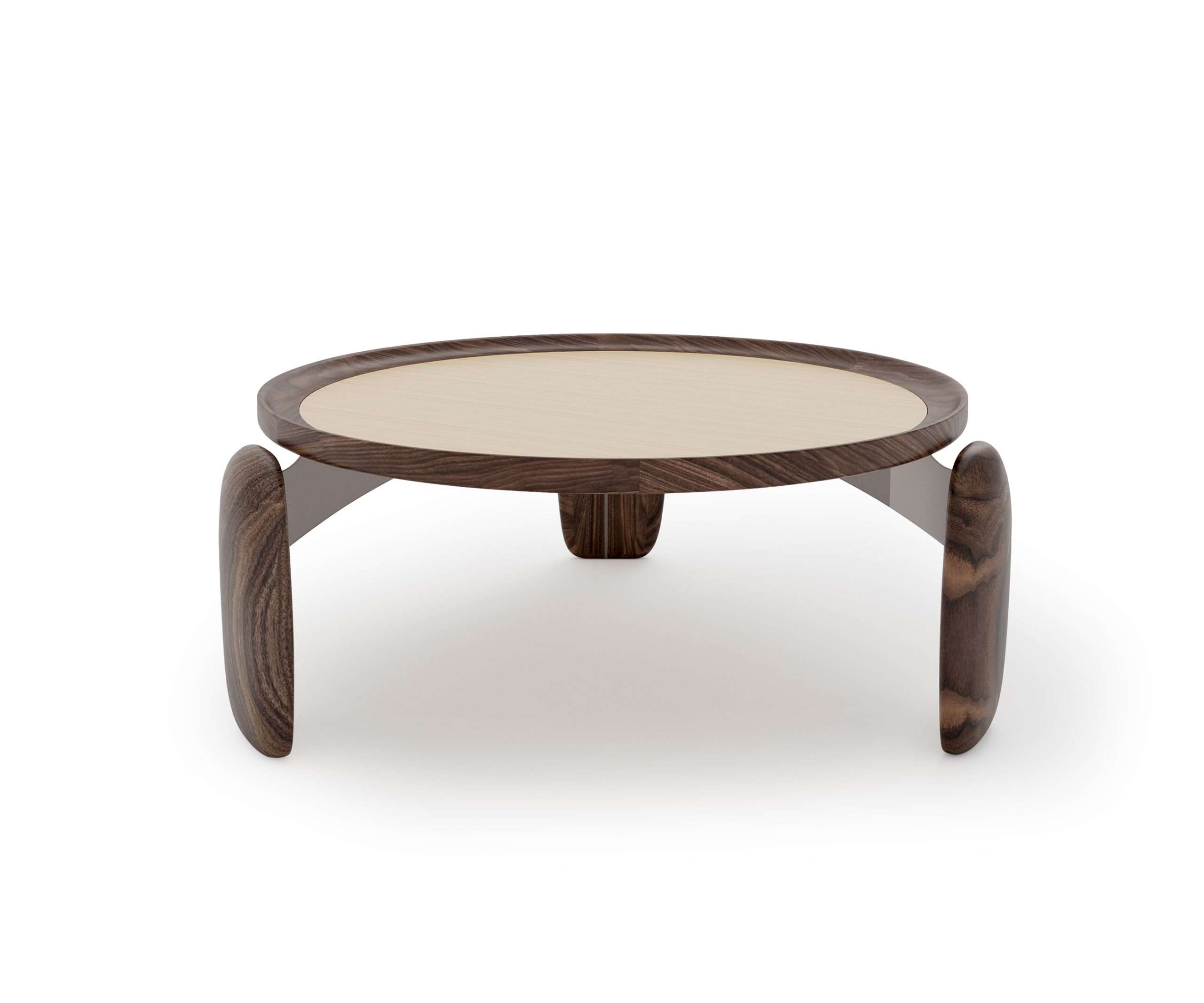 For something sophisticated and easy to match with any contemporary setting, OBEM Coffee Table is one that boasts elegance whereas the LORMA Coffee Table lends a surreal and sleek appeal.
Wish to create an inviting space for drinks? A bar cabinet may be just what you need.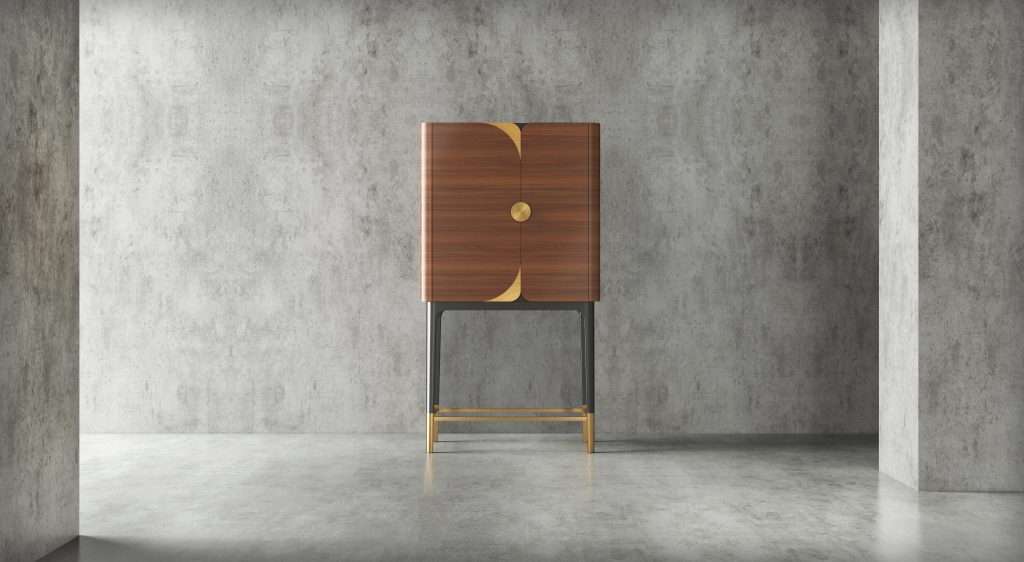 The CARVA Bar Cabinet is a sleek statement piece, in contrasting colours of black, gold, and dark walnut. It features E0 plywood—the healthiest and safest interior plywood, with no harmful emissions.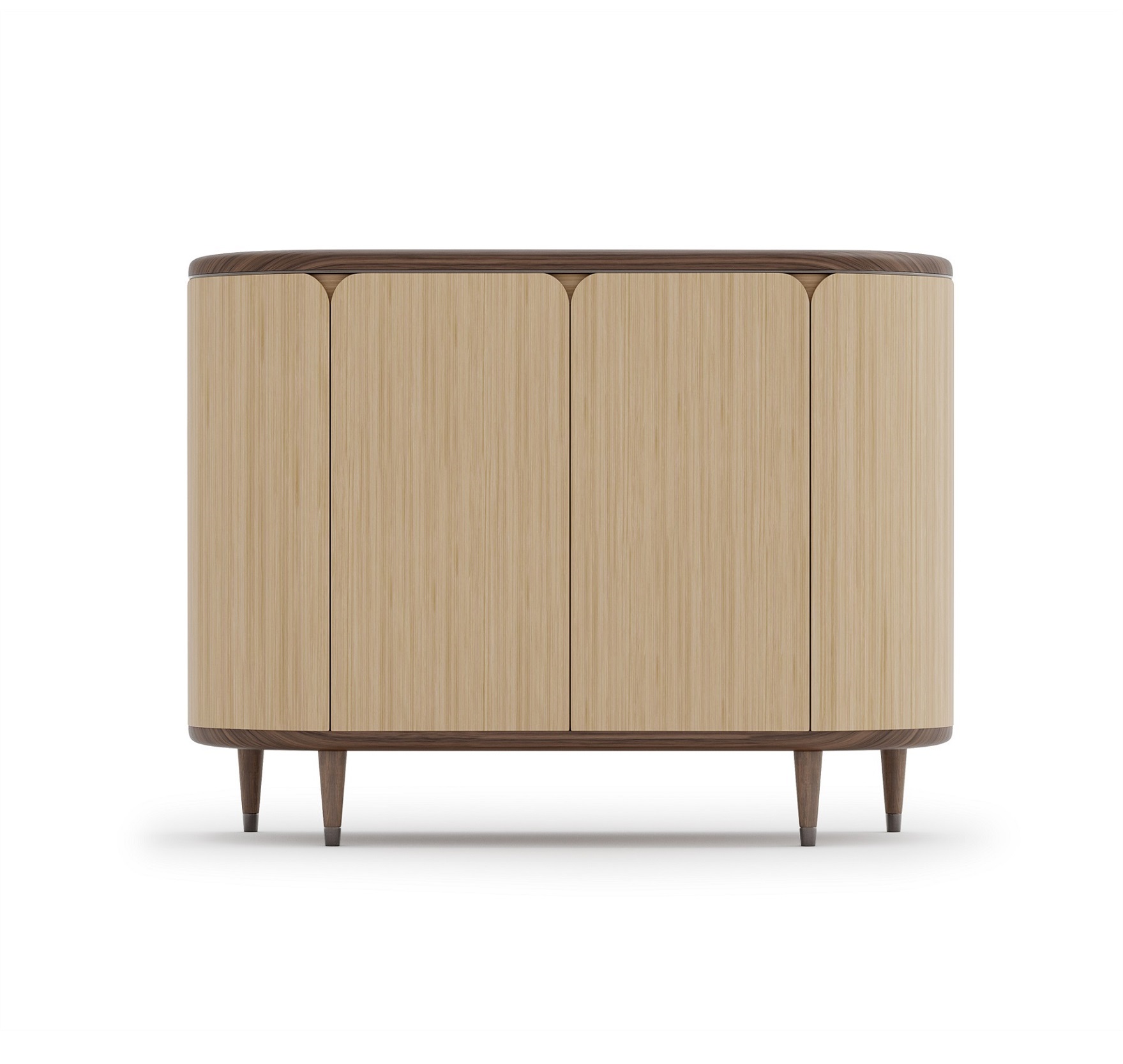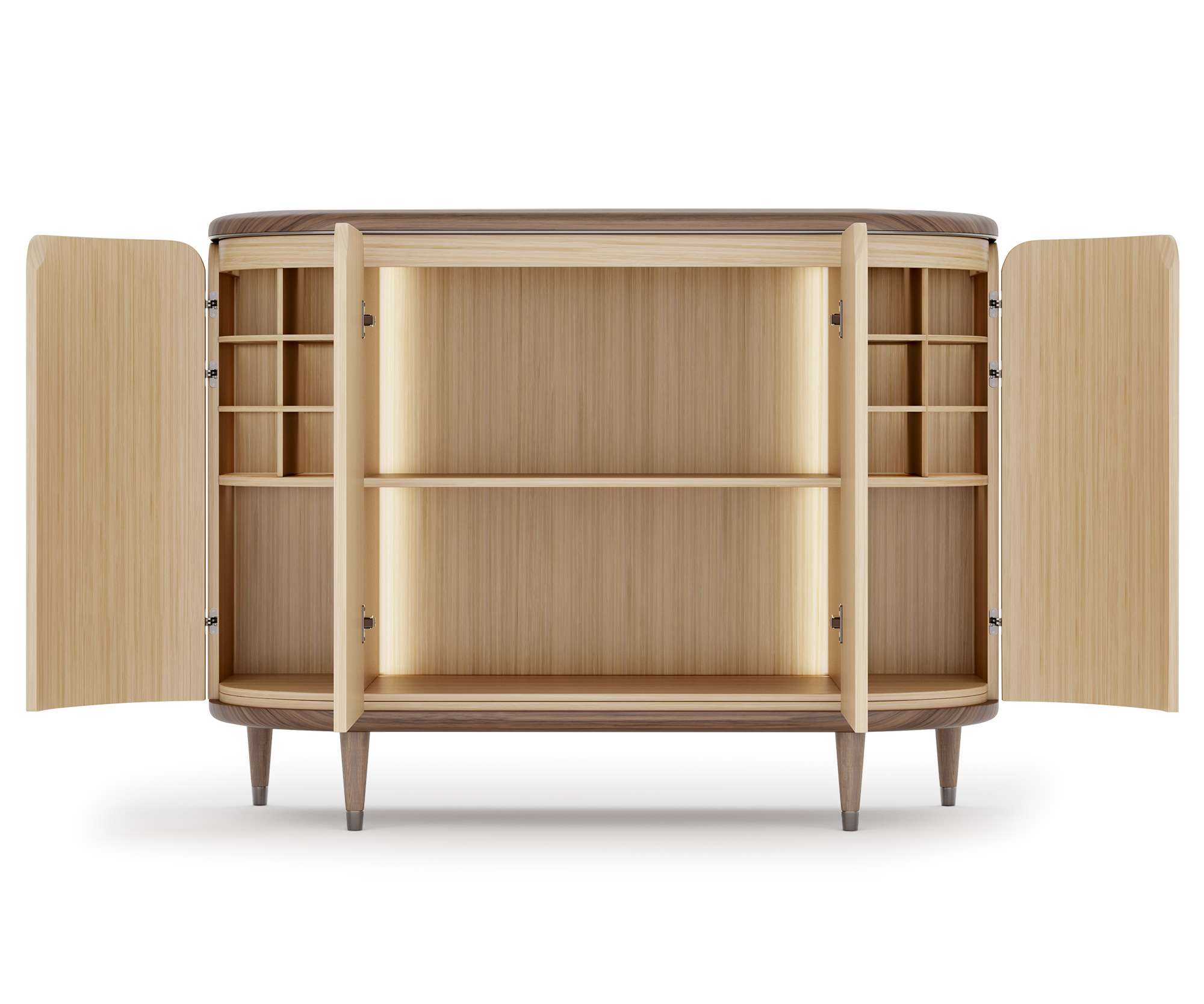 Searching for a cabinet that can accommodate your treasured wine collection without compromising storage for your delicate tableware, all within the constraints of your living space? The GIRONDO Sideboard offers ample storage for wine bottles, glasses and kitchenware. Designed with an arc-shaped frontage that creates a sense of fluidity and movement, it is suitable for family with the young and old with good stability and no sharp corners.
How to Pick Quality Dining Room Furniture
What should you consider in your dining room furniture? Well, the same principles (as above) apply when purchasing fabric- or wood-based furniture for dining spaces. However, if you are curious about less common—but trending—materials, such as marble and wood veneers, read on. 
Select the Right Marble Statement Piece
Marble is one of the most luxurious and striking materials used in furniture. A crystallised form of stone, raw marble is found in quarries all over the world. Because of the different composition of salts and minerals in each location, the appearance of marble will vary in pattern and colour, determined by its source.
It can be difficult for consumers to tell the difference between natural and artificial marble, but there are some simple methods that furniture professionals use to weed out fakes, which you can read about here. 
At Marano, we use only the finest natural marble for our furniture. Our marble is treated for scratch resistance, and to preserve its natural and beautiful patterns—this also makes the marble easy to upkeep.
Want the perfect marble dining table for your home?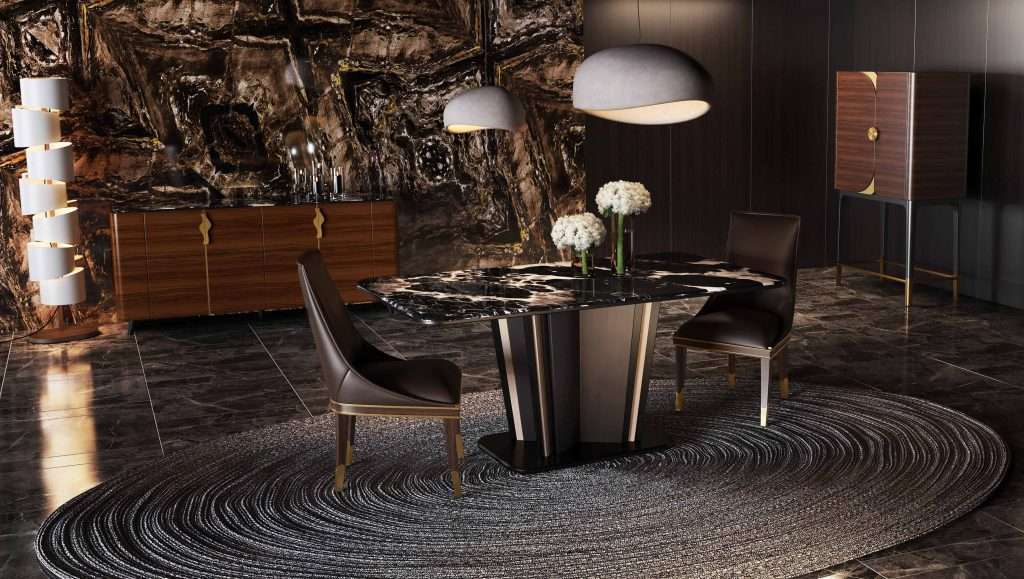 The MIRAN Dining Table features beautiful white grains on dense, black marble. The marble has been treated with an eco-friendly crystal surface finish, ensuring that the piece is wear-resistant for magnificence that lasts.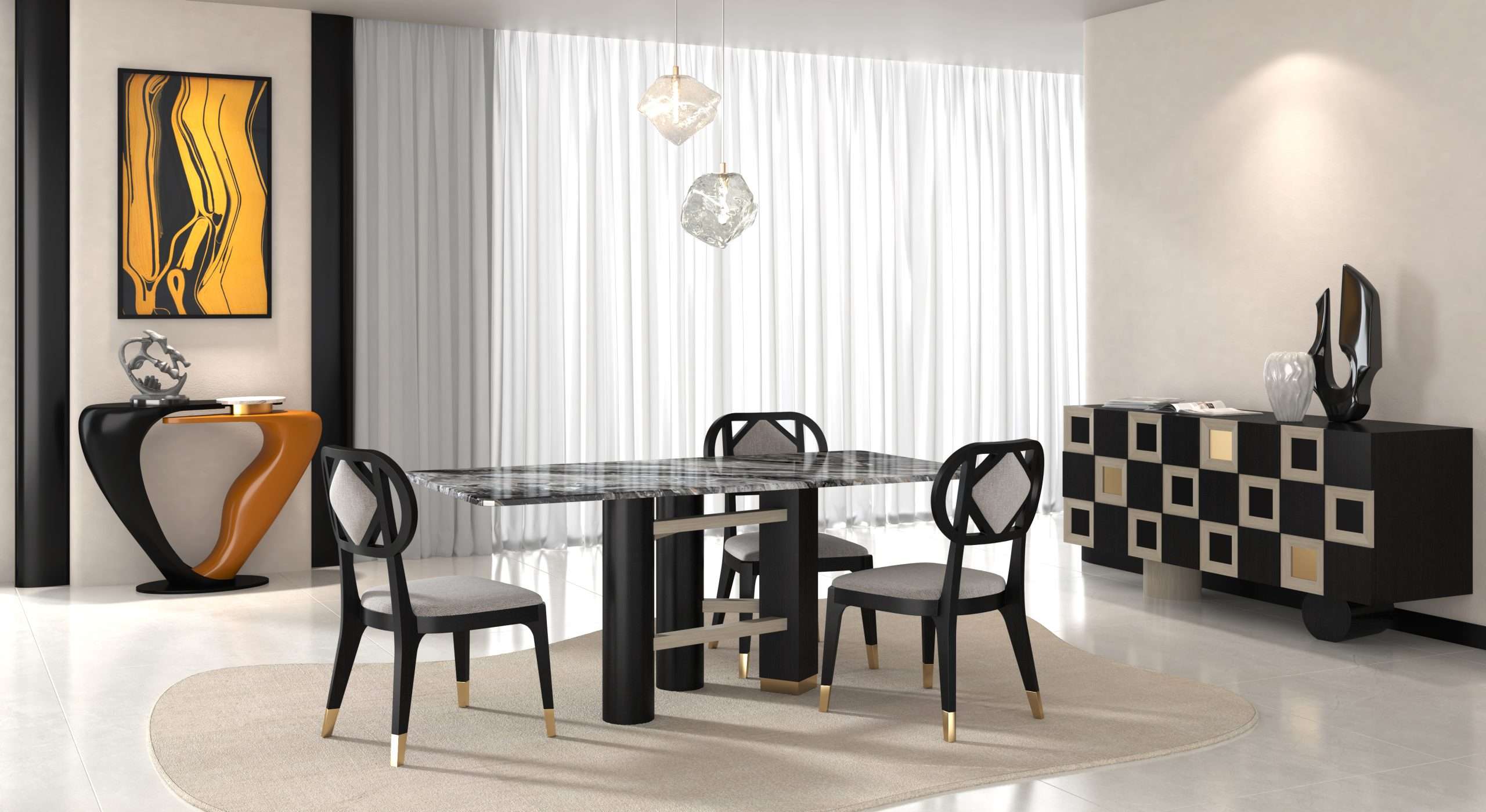 The BERINI Dining Table features Venetian brown natural marble top and a playful deviation from the norm, with a combination of cylindrical and cuboid legs, securely assembled via the tenon and mortise technique for stability, a product of fine engineering and artisanry. Make a statement of avant-garde with the BERINI sideboard inspired by Gustav Klimt's portrait "Adele Bloch-Bauer I".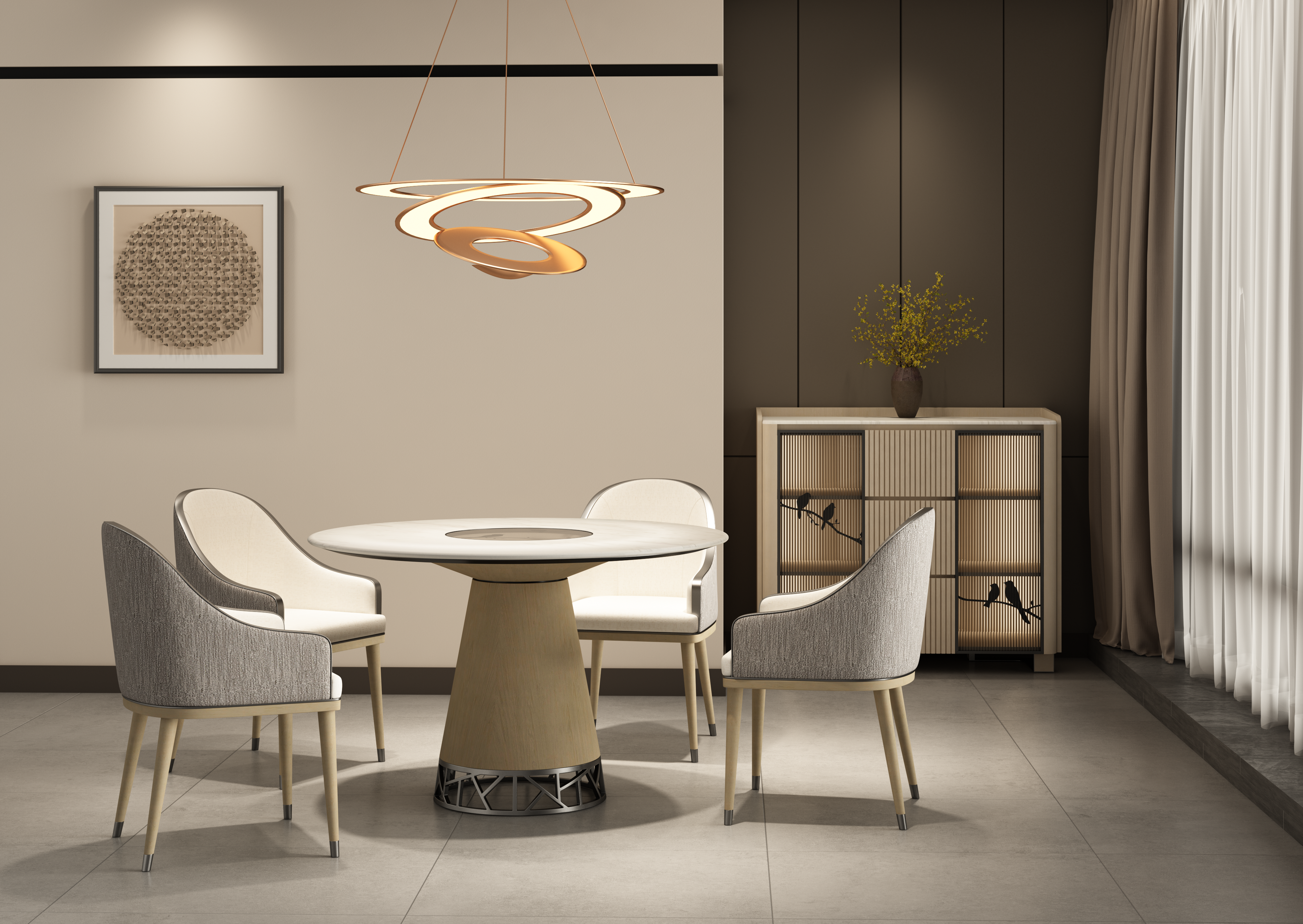 If you prefer a tranquil dining ambience, the BLOM Dining Table is a delightful choice featuring natural Volakas White Marble, toughened glass and ornamental grille inspired by light and shadow. Complete the mood with BLOM Dining Chair and VELASO Sideboard.
Know the Difference Between Solid Wood and Veneers
Solid wood furniture is crafted completely from a single block of wood. Furniture with wood veneers, on the other hand, feature a thin piece of natural wood attached to a fibreboard or particleboard panel.
Furniture made from wood veneers can be as durable as solid wood furniture—they may even outlast them! Eco-conscious customers prefer veneers, because this method of production helps to conserve our natural wood supplies.

For an exquisite piece featuring diamond motifs on a silver pearwood veneer—consider our MOROSI Sideboard. Its delicate texture is a result of artisanal cutting, polishing, and ironing to reveal a beautifully harmonious surface. The interior plywood is rated E0, the safest grade, to ensure your good health indoors.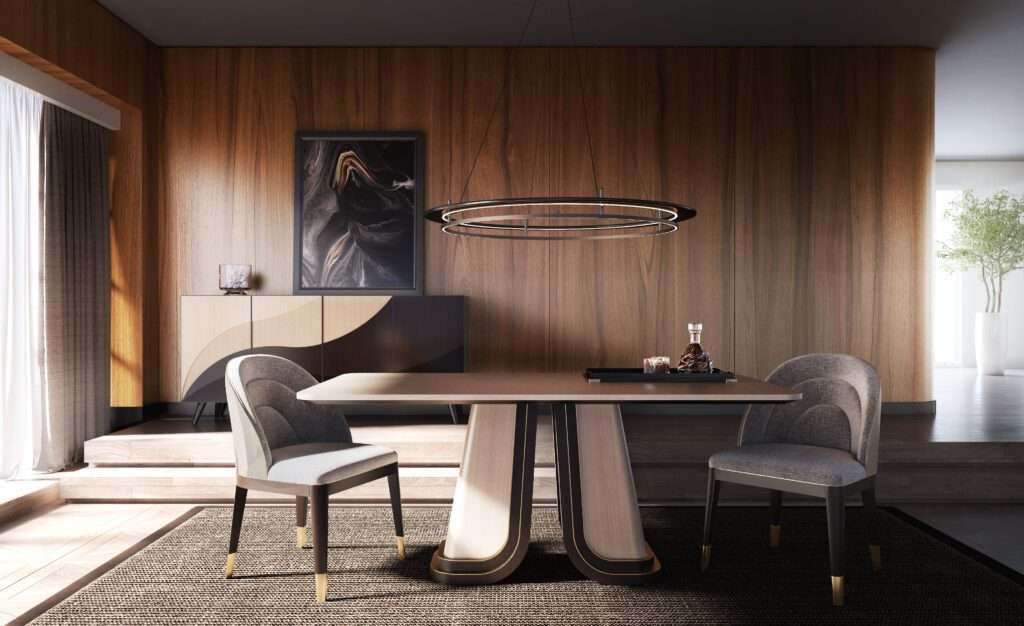 The PICCO Dining Table on the other hand, enveloped a calm and stately charm featuring an exquisite hand-crafted parquetry of willow solid wood veneer tabletop. Supported on an American knot-free beech solid wood base decorated with thick willow solid wood veneer, evoking impressions of the charismatic Jing character from Peking Opera in his impressive armour. Complete the picture of charismatic valour with matching PICCO Dining Chair and OLIME Sideboard.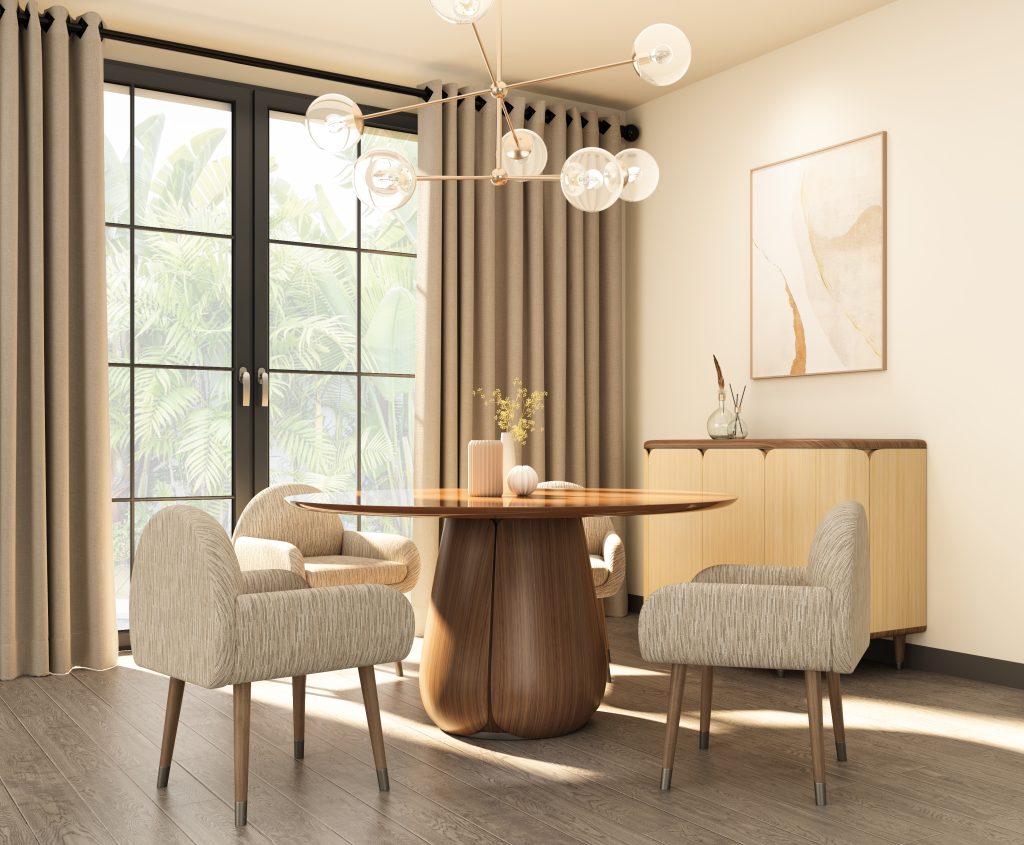 The GIRONDO Dining Table exudes an aura of harmony and balance with a design of sleek lines and exquisite curves. Matching GIRONDO Dining Chair and GIRONDO Sideboard draws a soothing picture of quiet elegance.
Visit our website to view Marano Furniture's living and dining collections, or book a showroom appointment with us.