If we could travel back or forth in time, we might change a few things to better our worlds and ourselves. But what is more important is the chance to live and breathe each era as the present. The Vienna and Lumi collections by Marano Furniture offer a glimpse into the past and the future, bringing you the best in essence and aesthetics from each to your now through these luxury furniture masterpieces.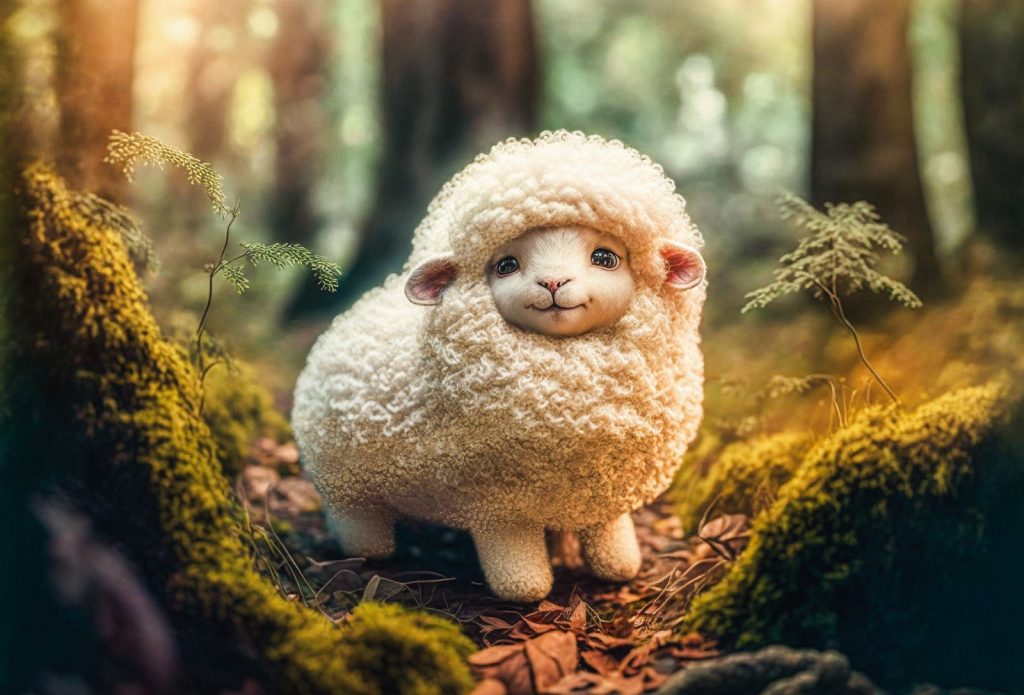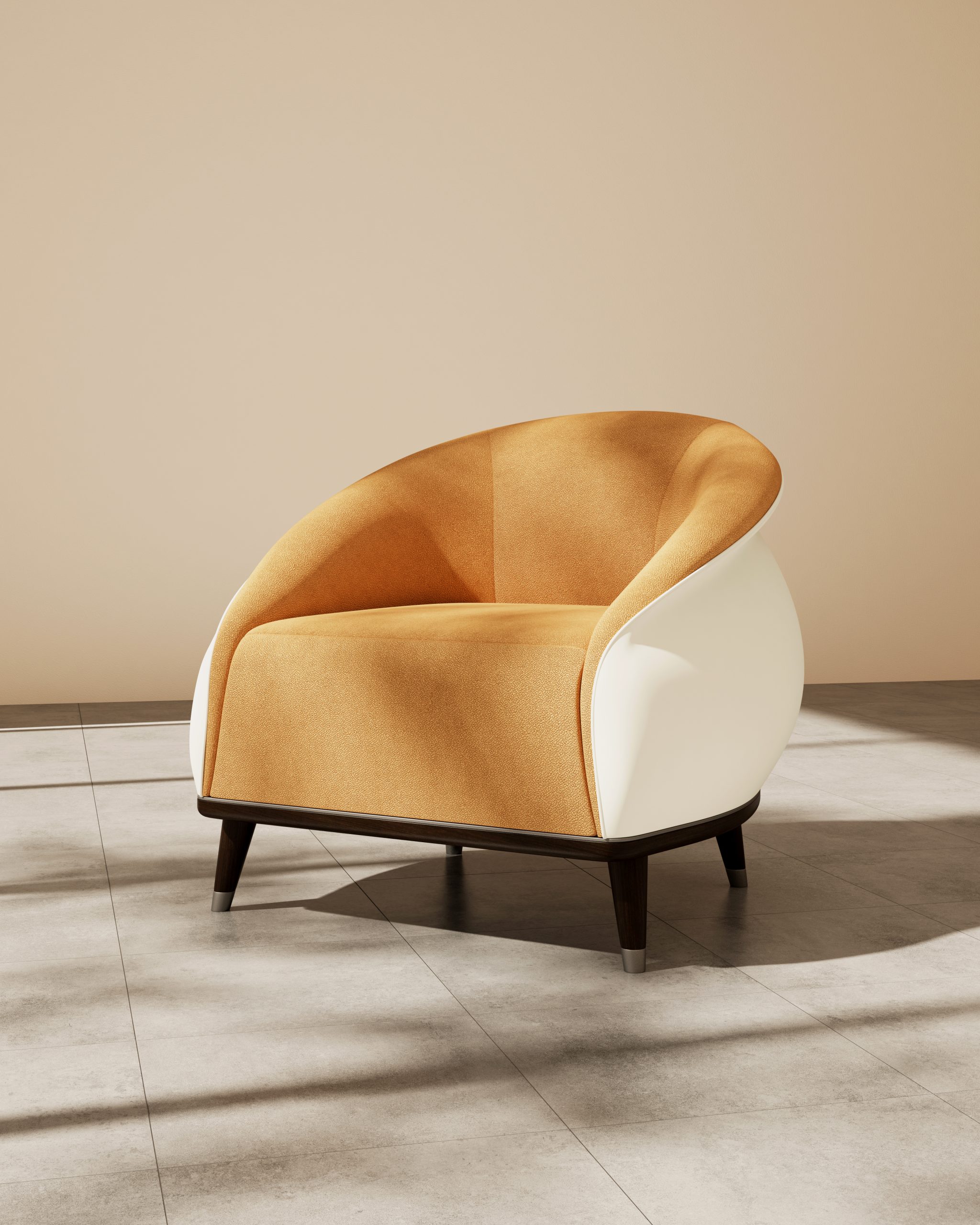 Sunlight filters through the windows, casting its golden hues upon all it touches. There it sits, poised in its charming ways and you approach, reaching out to run your fingers down the expansive curves, trailing along the exquisite upholstery of white and amber. The ORSIN Armchair is a promise of luxuriant indulgence in style with its delightful upholstery combination of bouclé fabric and supple Nappa leather, a sensory treat of exceptional softness and endless hours of enjoyment that is also easy to care for and durable, the perfect blend of avant-garde chic and functionality.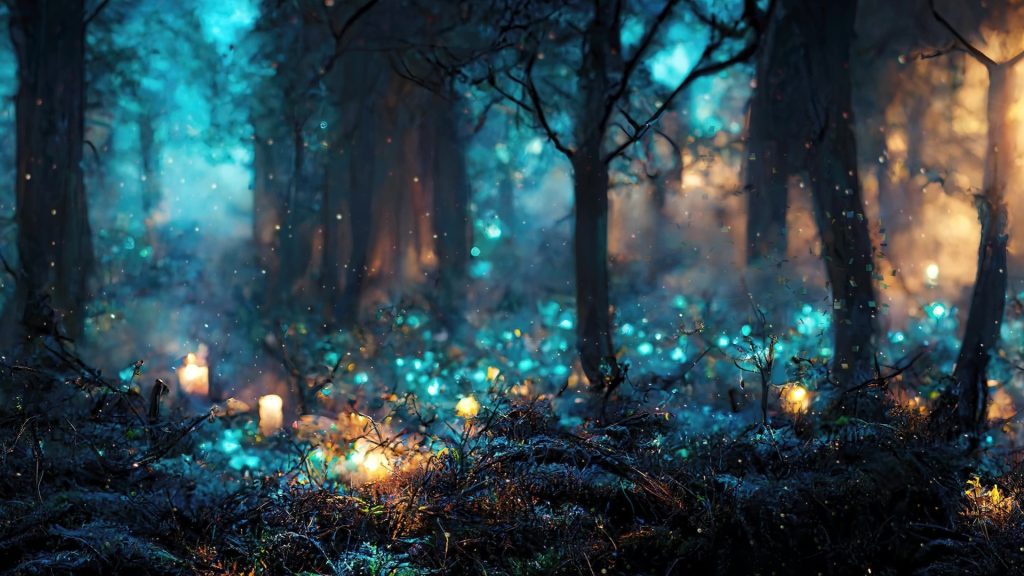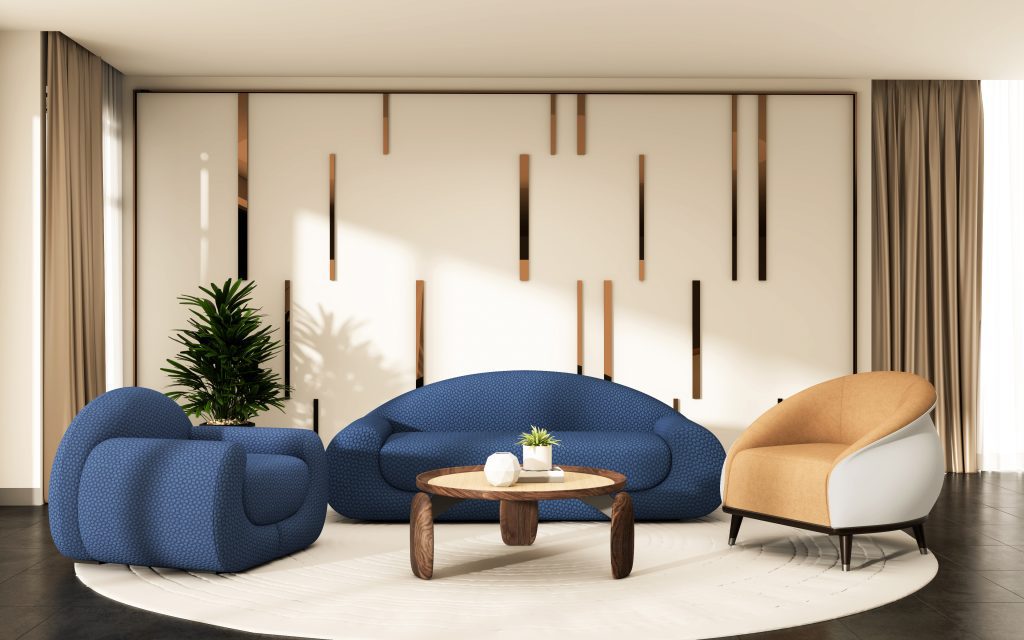 Cast your eyes on its companion, the PANDILO Sofa, gracing your space with a refined charisma, an offer of sumptuousness in its timeless design, where arcs and lines speak of mesmerising comfort that beckons your partaking. Sink into its tempting softness and come into perfect bliss as you admire its expansive curves, ergonomic armrests and generous seats. Upholstered with space cotton fabric, the PANDILO 2-Seater Sofa and armchair satisfy your lounging whims and entertainment needs while being the striking trailblazer of furniture style.
Perhaps you would like to relax and unwind with a favourite brew, and let its aromatic swirls enhance the visual pleasures of the LORMA Coffee Table, an alluring concoction of aesthetic contrast in a well-formed table top of oak veneer and solid walnut, set upon charming curved edge legs of beautiful natural walnut grains, a streamlined minimalist piece yet with a subliminal rustic charm, a timeless beauty in modern luxury interior design.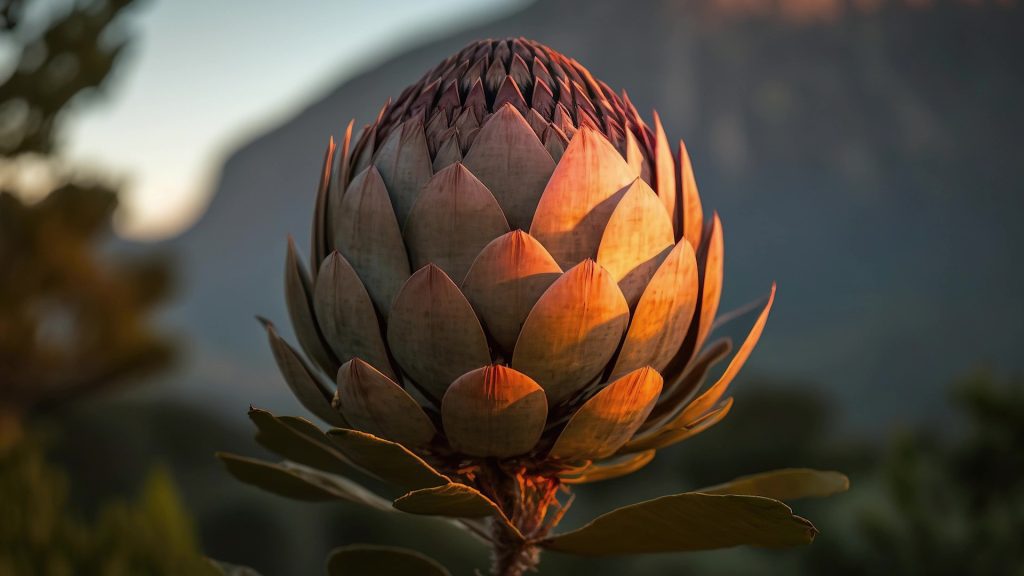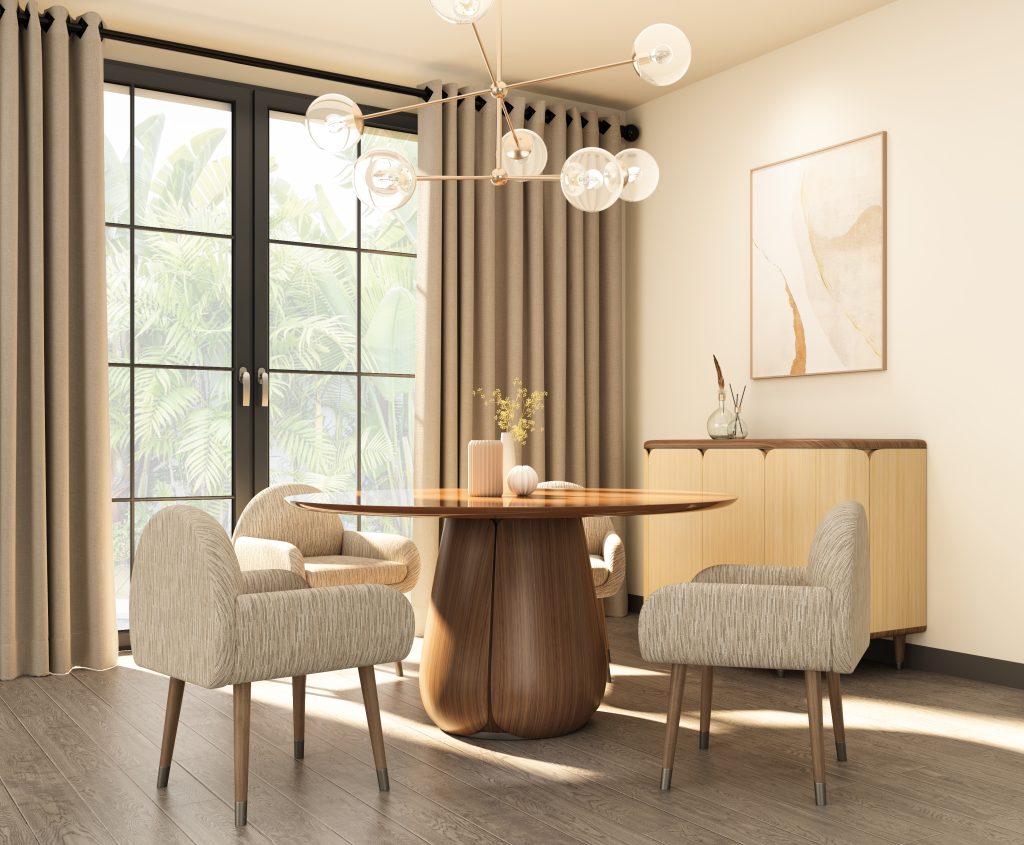 Would you adjourn to the dining room, where more than gastronomic pleasures await? Take your pick from the GIRONDO Dining Table or the BERINI Dining Table, each forming part of an exquisite dining table set with their complementing GIRONDO dining chairs and BERINI Dining Chairs, for both speak of mesmerising elegance with an aesthetic combination of smooth lines and alluring curves.
A soothing visual of harmony and balance, the GIRONDO Dining Table presents a single tapered solid walnut leg set upon a subtle base in elegant gun metal hairline finish, topped with an exquisite curved edge table top in mellow terracotta. This wooden dining table is made of solid wood composite board and coated with environmentally friendly PU paint, it is perfectly created for progressive and sustainable living. Finally, marvel at the meticulous handiwork behind its curvature and form, where natural grains of solid walnut wood conclude an impressive masterpiece with a quiet elegance.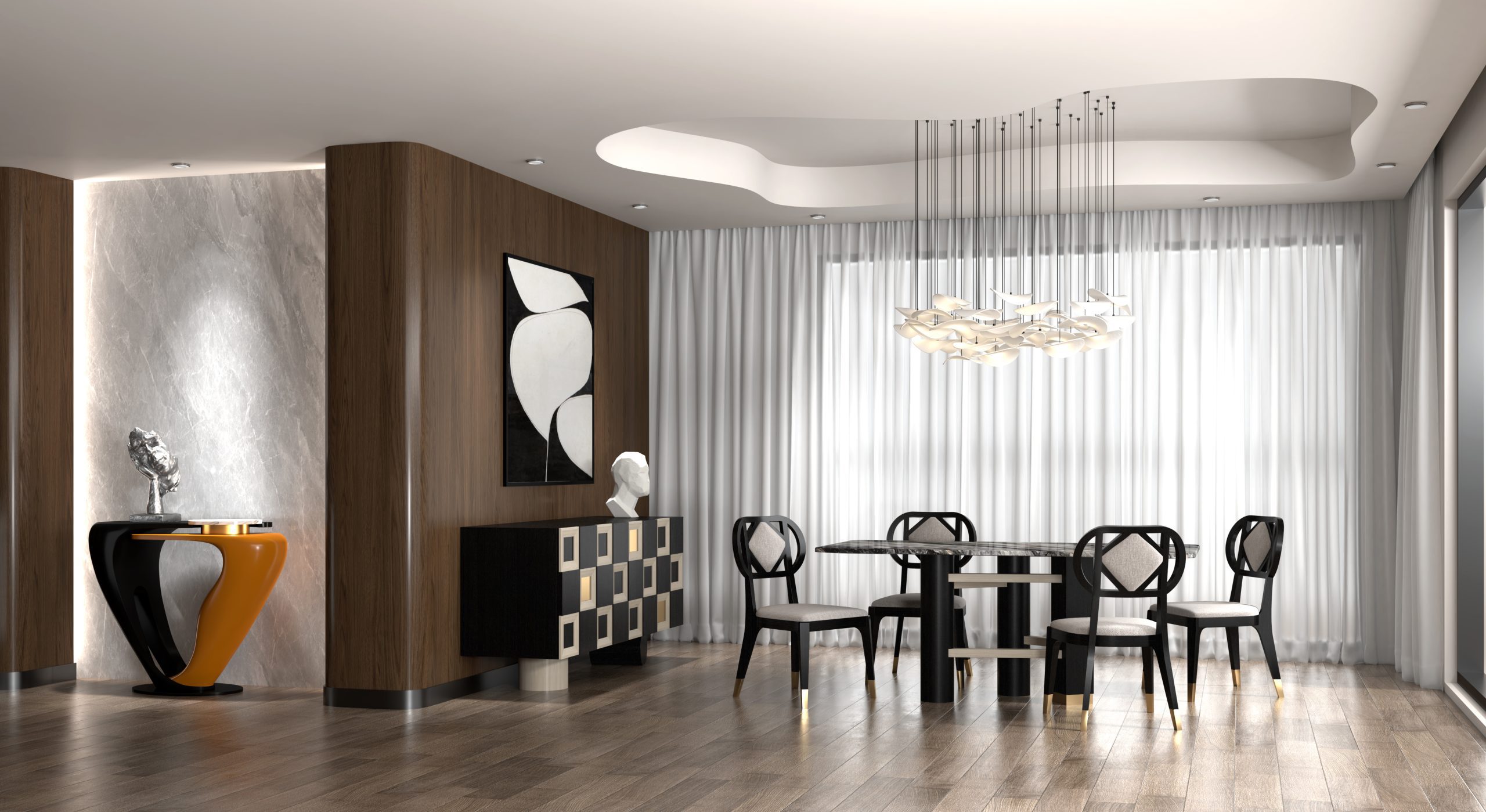 The BERINI Dining Table showcases a sophisticated elegance in its functional design, inspired by and reflecting the beliefs of Joseph Hoffmann, a leading figure in the Vienna Secession, who advocated the importance of utility and rationality in design. Reflecting austere and functional aesthetics, the magnificent marble dining table top rests upon sturdy oak legs, while the horizontal beams add a touch of avant-garde flair.  Do not simply marvel the resplendent natural marble top of this round dining table, meticulously treated to retain its natural beauty and enhance endurance, for its refreshing combination of cylindrical and cuboid legs, assembled through the tenon and mortise technique, lends a whimsical artsy touch to its otherwise stately presence.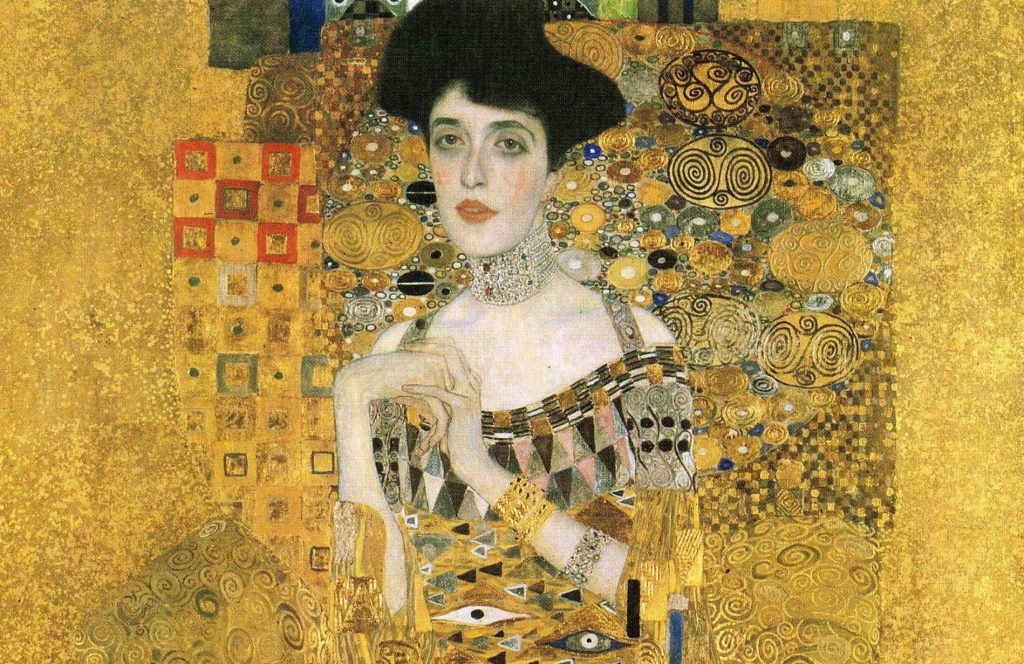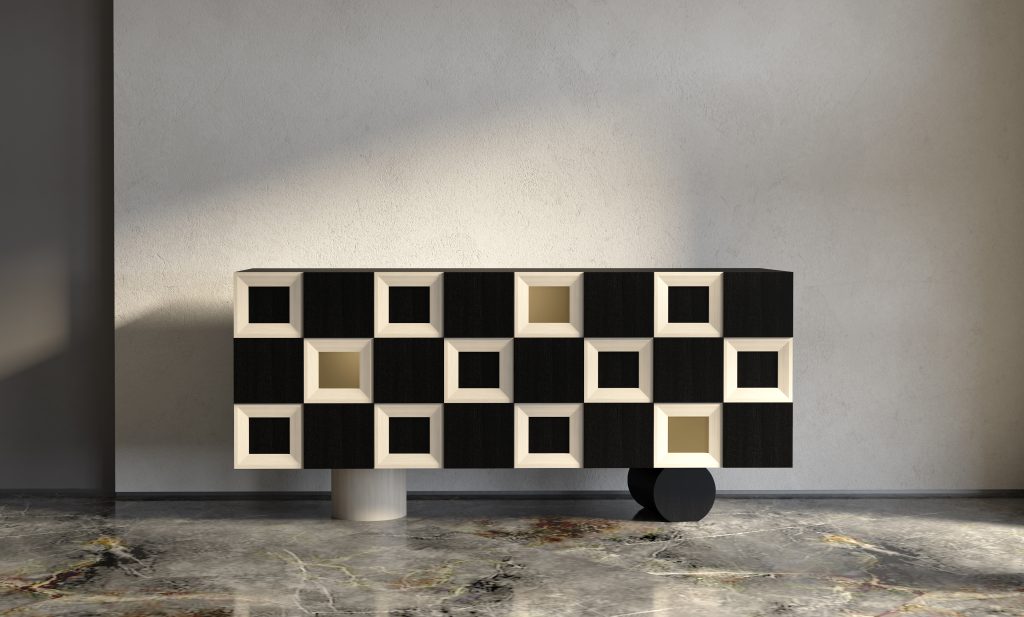 The complementing BERINI Sideboard might persuade your second glance, for it is a work of art in itself, worthy of the spotlight in one's living space. Inspired by Vienna Secession artist Gustav Klimt's portrait "Adele Bloch-Bauer I", the sideboard brings the painting's abstract squares to life in a striking display of coloured boxes, concluding with a similarly quirky leg design of two differently positioned cylinders, truly an outstanding piece of designer furniture. "The Kiss", another of Klimt's renowned and iconic masterpiece, inspired the LUDO Console in a two-piece embracing design, not unlike the two amorous lovers in the famous painting. Featuring table tops made of natural marble, set between black and amber fibreglass bodies, this creative interpretation makes an enthralling piece of luxury furniture to be included in your home decor.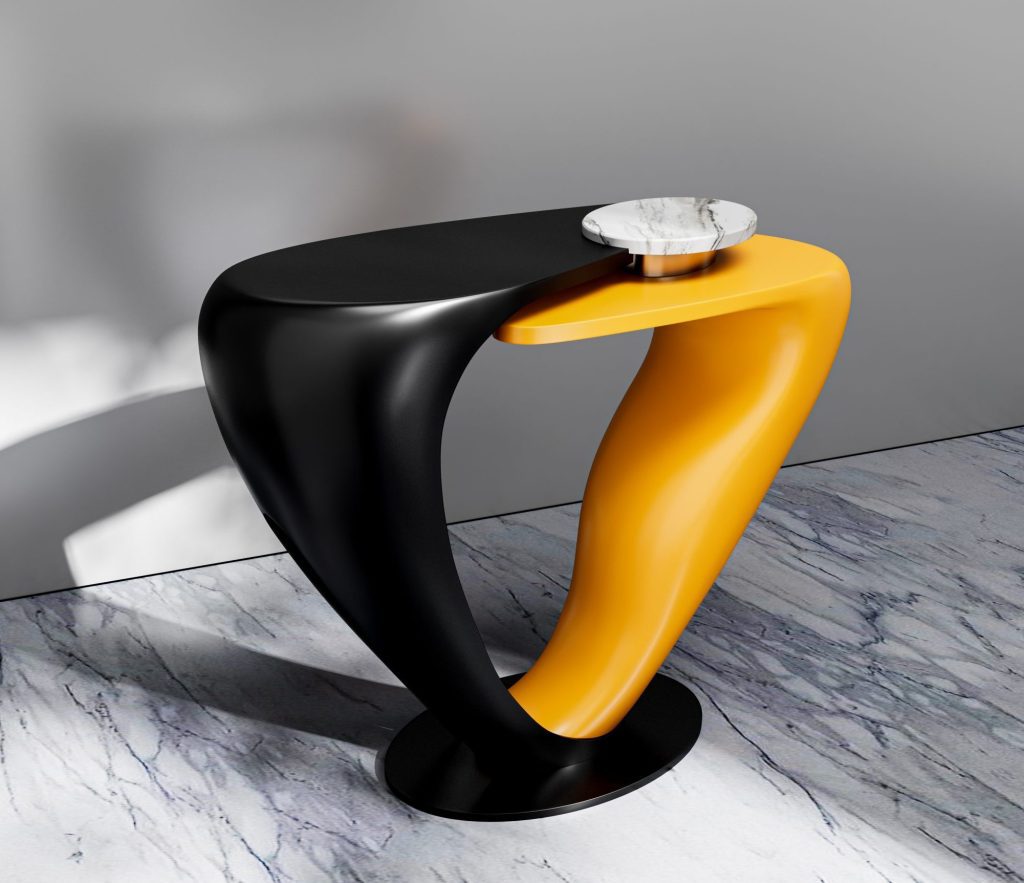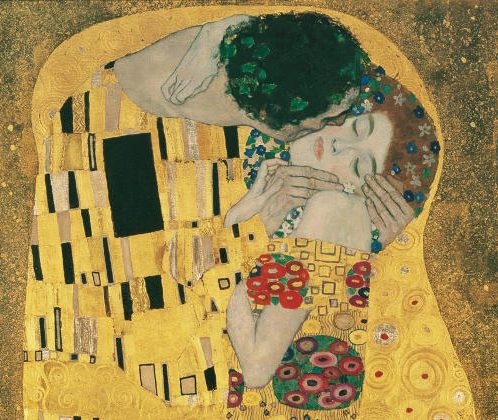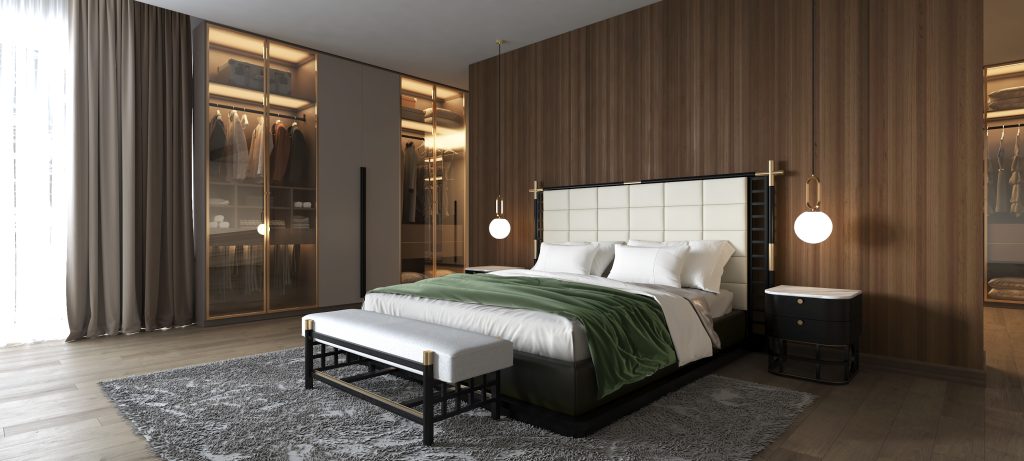 Towards the bedroom, our private sanctuary, where we spend much of our nights and sometimes days, one looks forward to curling up between the sheets in deep slumber, or with a good book, or simply to indulge in its salubrious ambience. The BENTI Bed and complementing BENTI Bedside Table and BENTI Bedside Bench will enhance your pleasurable experiences with exceptional comfort and beautiful composition.
The BENTI Bed catches your eye with an exquisite, tessellated headboard flanked by stylish columns of outlined squares, accentuated with striking gold decoratives, reminiscent of vintage Vienna Secession styles. Unpretentious and utilitarian, yet boasting of an understated elegance, the bed is the epitome of less being more, where bold lines meet novel colour contrasts, sturdy oak wood meets luxurious Nappa leather, a union of innovative design and aesthetic comfort.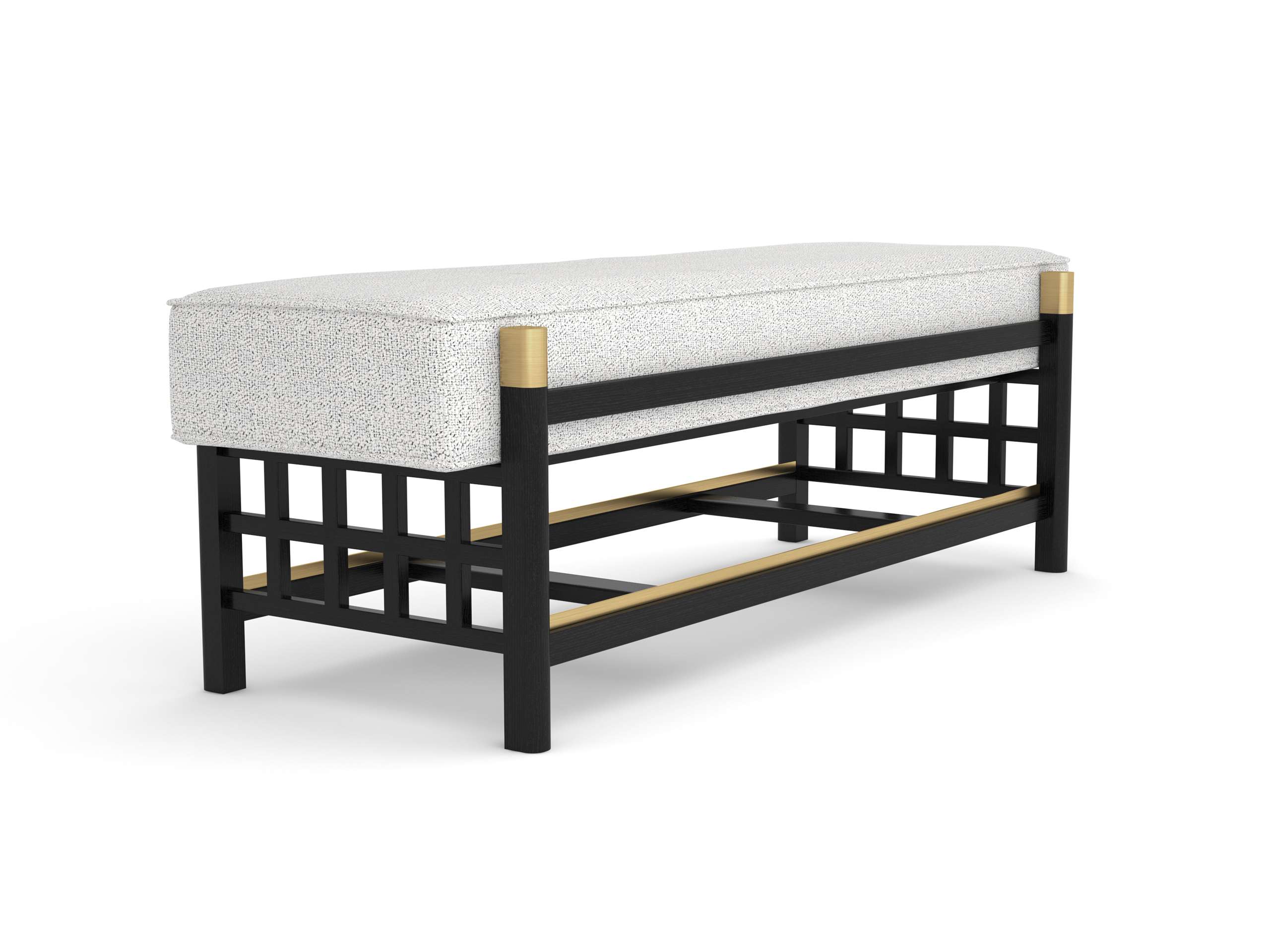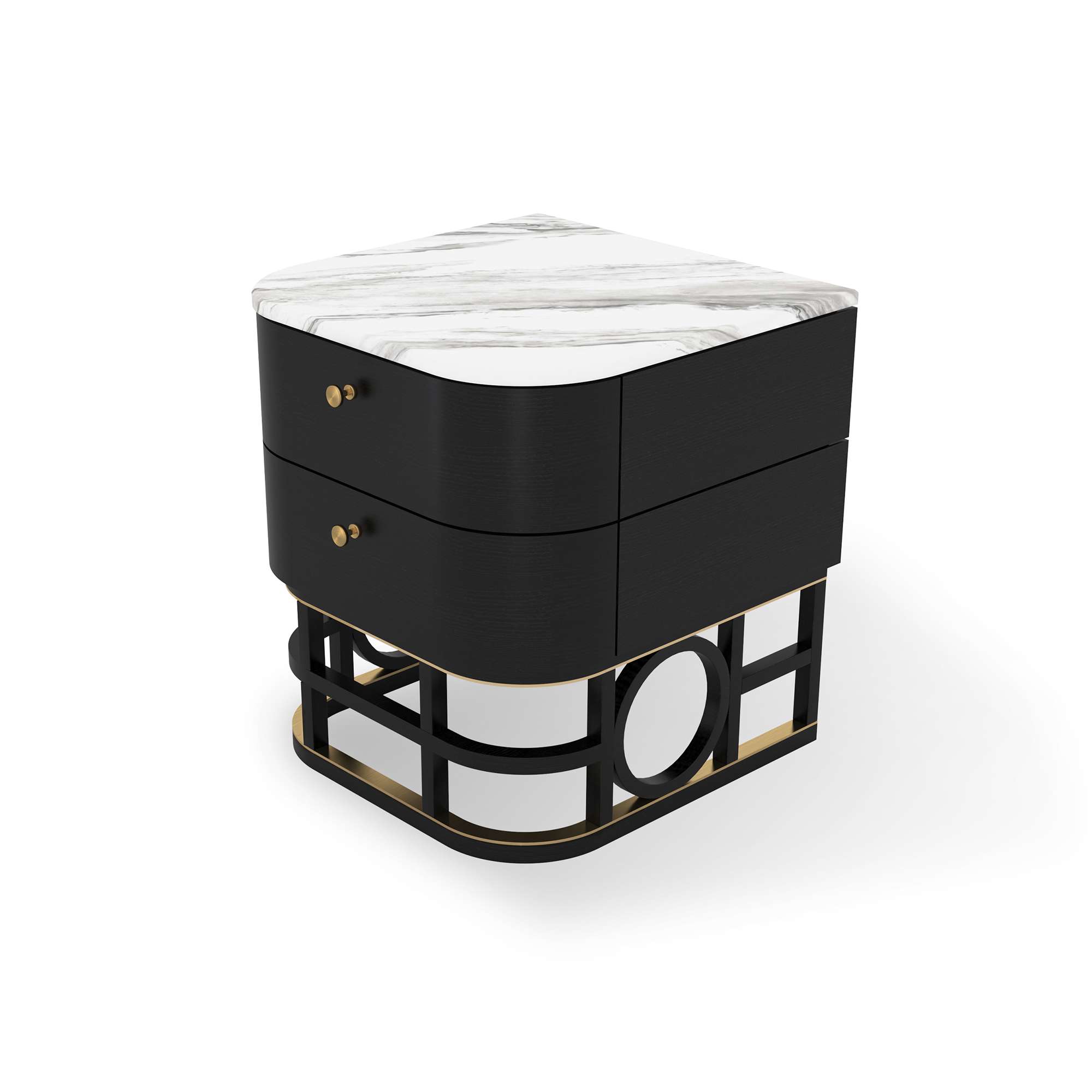 In a similar fashion, simplicity meets intricacy in the BENTI Bedside Bench, a rendition of geometric grids and classy lines. It is crafted using the traditional tenon and mortise joinery technique for sturdiness while reminiscing the timelessness of its classic design. Taking inspiration from the signature square motifs in the artworks of Gustav Klimt, the BENTI Bedside Bench exudes a rhythmic sense of harmony in symmetry, a refined piece of art worthy of your home decor.
That art not only reflects the life and times of an era, but withstands the passage of time from ancient to modern luxury interior design, as such are the designer furniture pieces from our Lumi and Vienna collections, seeking artisanal appreciation in your eyes.
Augmented Reality (AR) is available to facilitate you in designing and visualising it in your living space. To experience the two collections at our showroom, please book a showroom visit.