Press Release, Singapore, 19 October 2021
Singapore based luxury furniture brand MARANO Design Furniture, is launching two exquisitely designed furniture collections, paying homage to Southeast Asia's vast and rich forests and the region's favourite casual pastime. Launching on 19 October 2021, the Poker Fantasia and Rainforest Rhapsody collections have reimaged the elements found in a deck of cards and nature, respectively, to create a series of furniture that would fit right in any contemporary home. Exuding luxury and elegance, while emphasising whimsical creativity, MARANO Design Furniture's latest collections are the epitome of balance and beauty for the modern homeowner.
Poker Fantasia Collection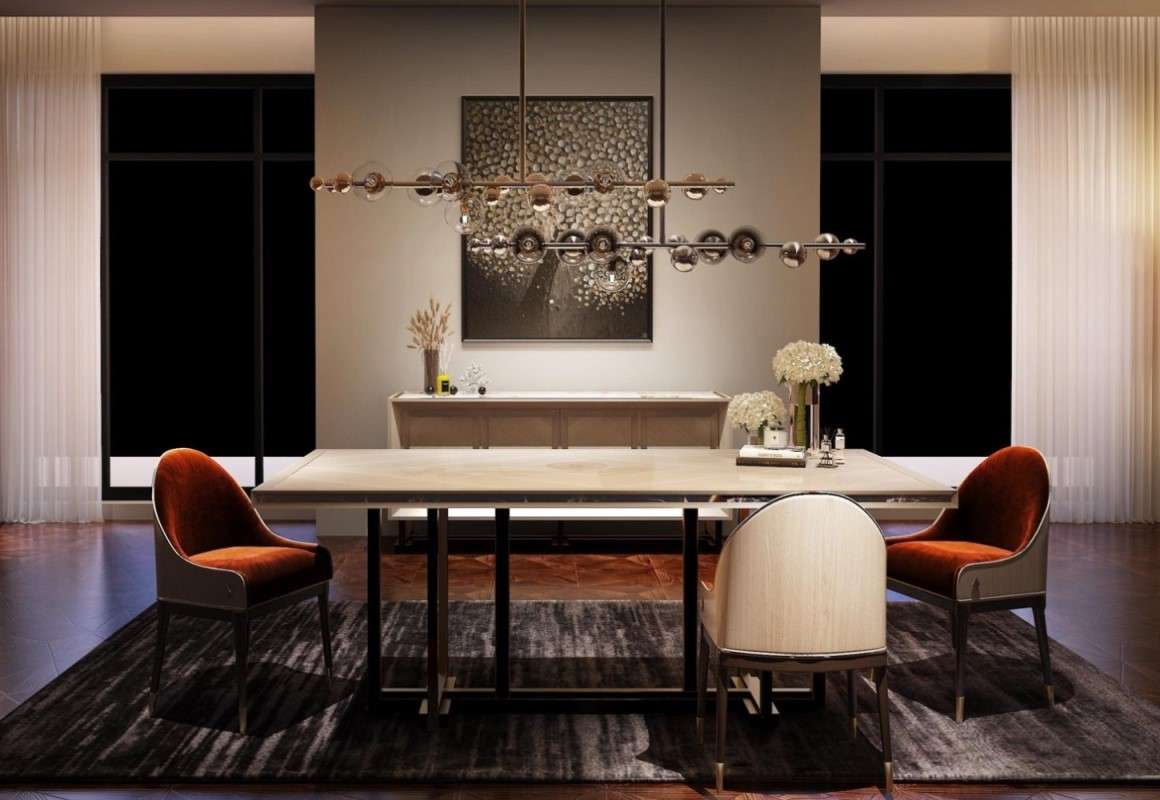 Poker Fantasia Collection
The Poker Fantasia collection takes inspiration from the lively card plays and card suits to create a bold and elaborate collection that will fit right into any intimate Poker Night plans. The collection evokes a sense of sophistication and grace, incorporating motifs found in a deck of cards, playing up the idea of contemporary yet striking luxury living. The collection's elements focus on re-imaging the four different card suits to create bold and elaborate designs that will look right in place at any home, whether for an intimate gathering or a tense poker night affair.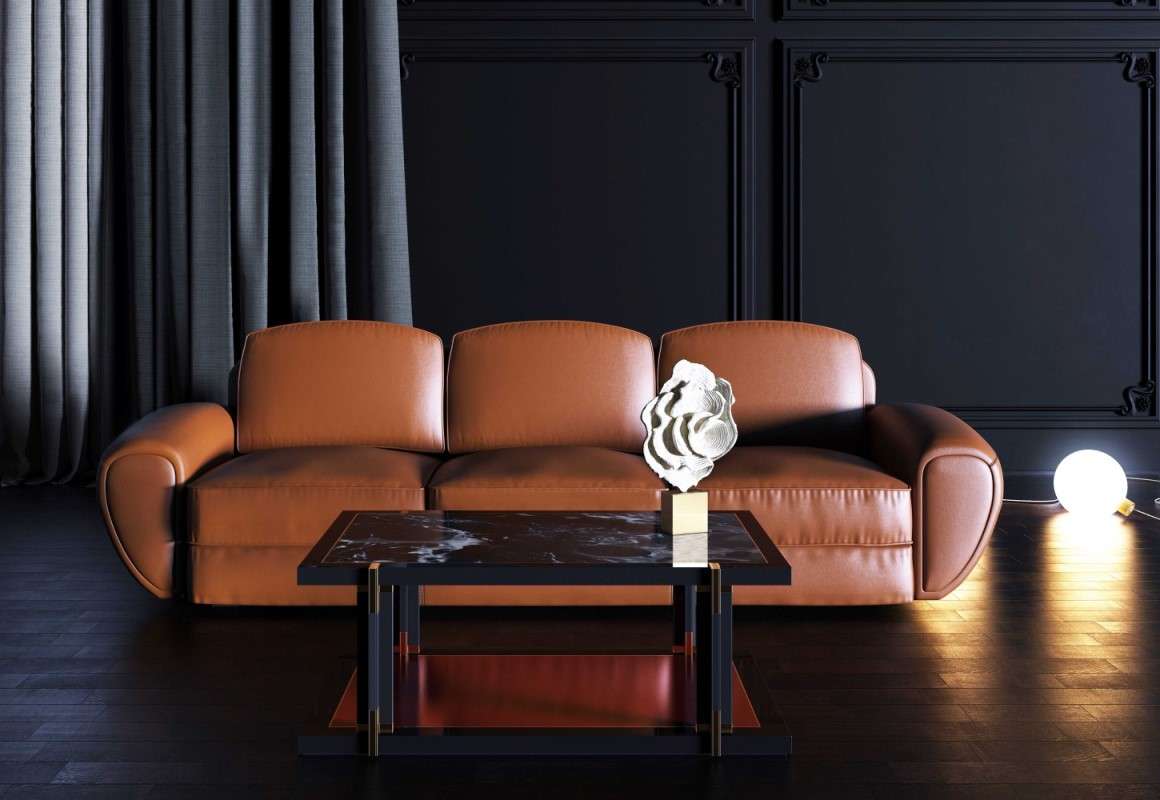 OLNA-3 Seater Sofa
The charming OLNA 3-Seater Sofa is fashioned from Nappa leather, in a litchi natural grain, with a solid pinewood and plywood frame, inspired by the curvature of the suit of clubs. The luxurious fabric is specially treated to highlight the leather's natural grain while being wear-resistant and breathable for our tropical weather. Just like the suit of clubs, the rising and falling of the curved edges give a voluptuous elegance that becomes a welcoming reprieve in any home. Imagine sitting on a buttery soft and supple seat that boasts an eco-friendly memory foam, sipping on drinks before beginning a round of games, elevating any poker night gatherings from the get-go.
RINGA Coffee Table
With a striking silhouette and a bold, angular presence, the RINGA Coffee Table is a perfect balance between a dark and inviting aura, against the backdrop of a serious and tense poker game. The natural black marble table top contrasts the bronze-accented steel frame beautifully to create an air of regal sophistication through its impeccable and meticulously detailed design.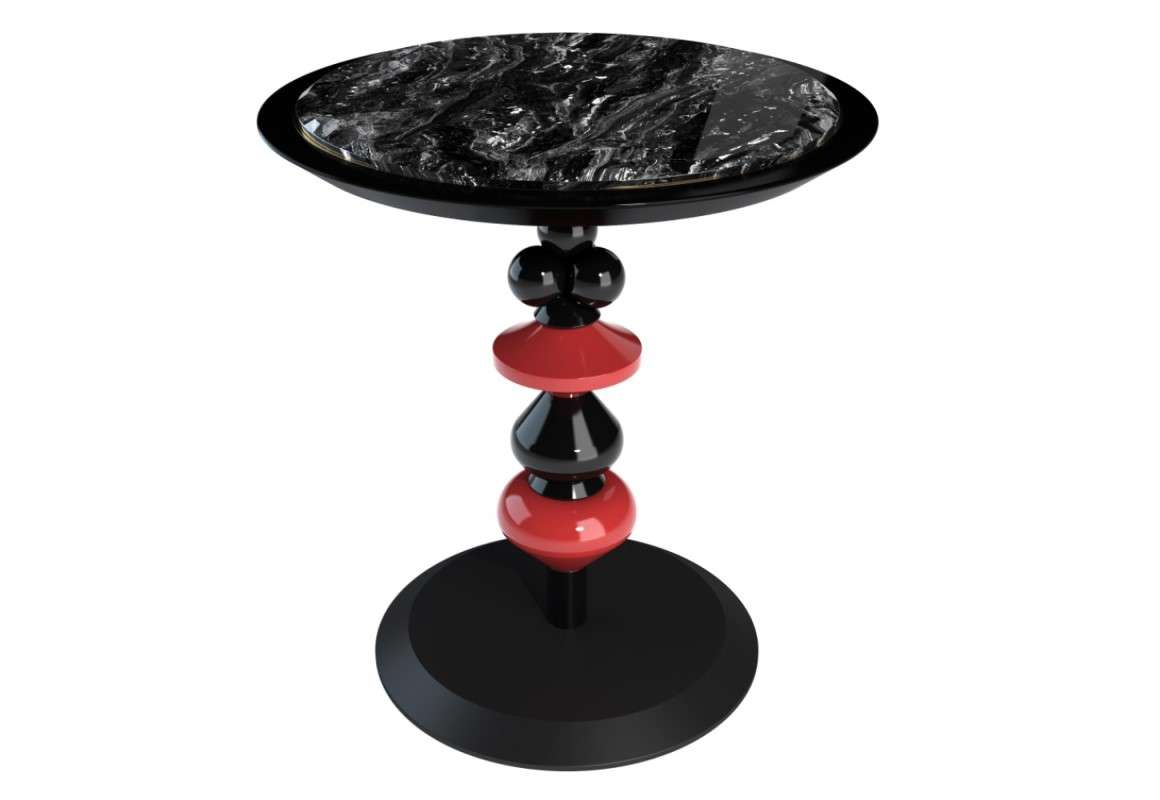 RINGA Side Table
A playful take on poker card suits, the RINGA Side Table features a contemporary take on a classic design, incorporating the four motifs from a deck of cards. A sensory contrast of textures, the elegant black marble table top juxtaposes the stainless steel frame of the table, set upon a stanchion of four poker suit symbols in black and red lacquer finish. The table top is poised on four poker suit symbols to evoke a deceptively spellbinding illusion of precarious balance that will take any poker session to the next level.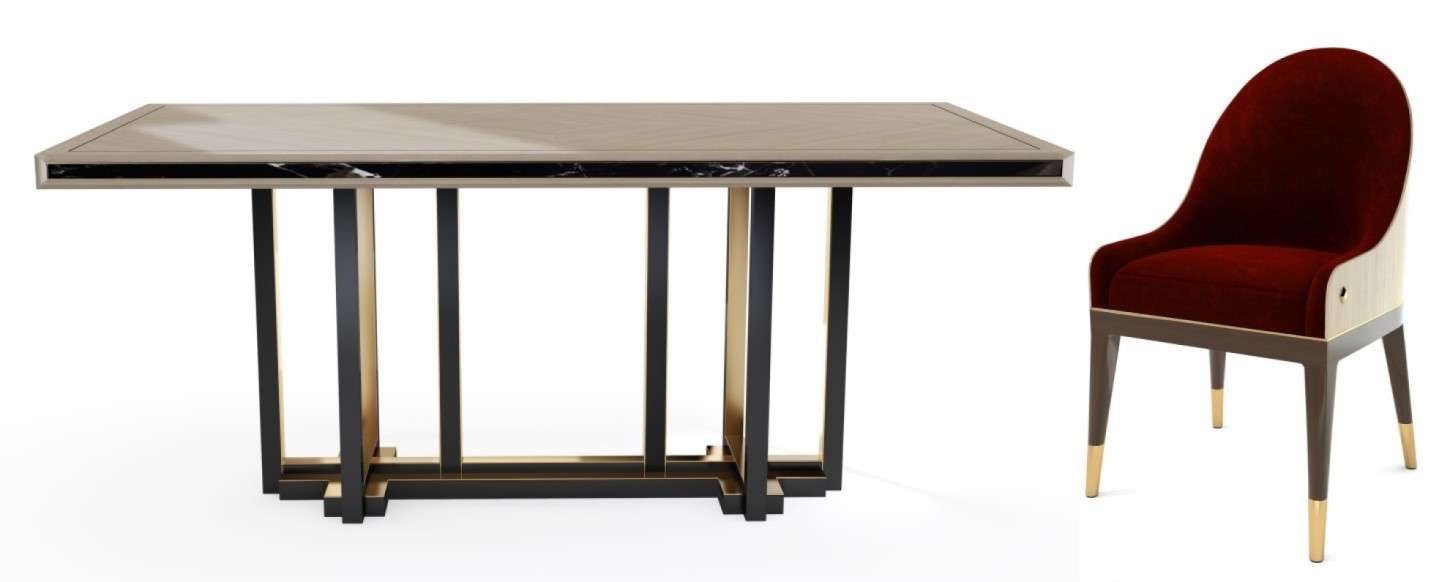 MOROSI Dining Table and Dining Chair
One of the two complementary sets that the Poker Fantasia includes is the MOROSI Dining Table, Dining Chair and Sideboard that will make any home look elegantly put together during a poker session. The MOROSI Dining Table features a diamond motif on its parquet veneer table top with a exquisite marble finish on the side, contrasted by a steel frame. The Dining Table's seamless finish, just like the others in the collection, is further heightened by decorative bronze strips that create the illusion of perfect proportions of wood, metal and stone elements
The MOROSI Dining Chair is an alluring contrast of smooth curves and clean lines, with a graceful arc that runs down the armrests, drawing attention to the single handcrafted diamond application. Made of a solid hardwood veneer frame and premium cotton velvet, a fabric perfect to keep cool during the tropical heatwave, with an eco-friendly memory foam filled seat that is wide and spacious, this chair is the perfect companion to any dining space.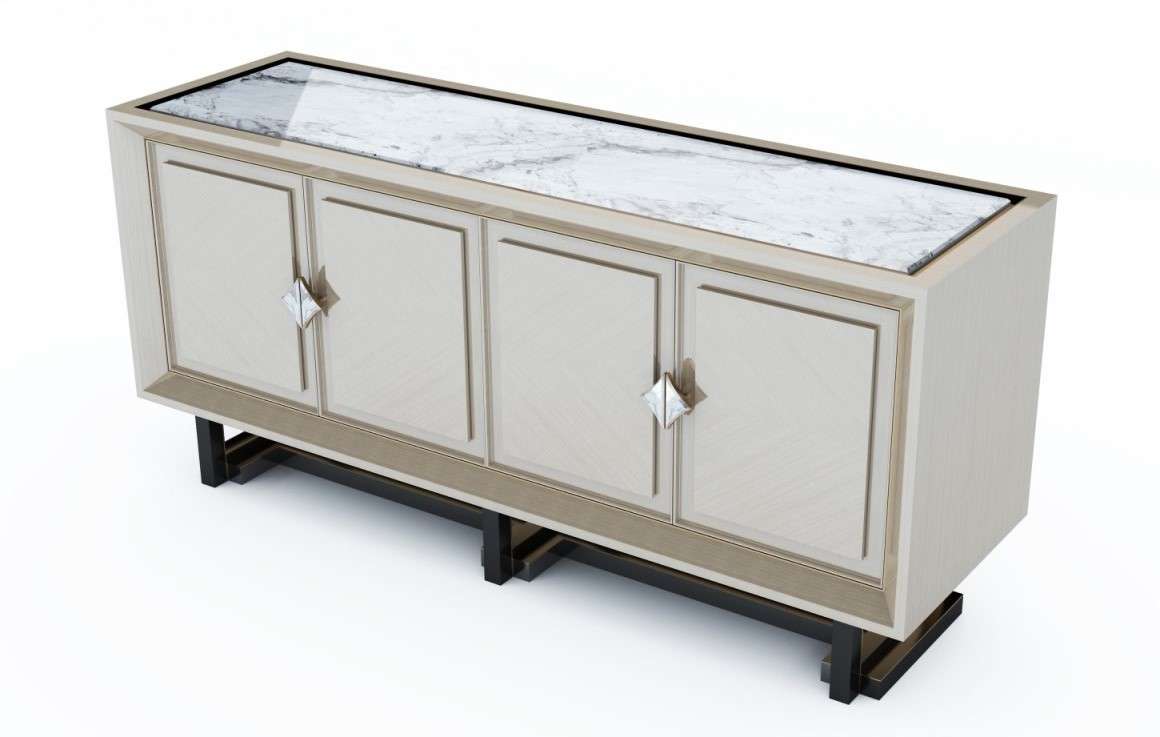 MOROSI Sideboard
Inspired by the suit of diamonds, the MOROSI Sideboard features exquisite ornate diamond motif handles with a natural ivory-hued marble top. Supported on a sleek metal base structure featuring contrast bronze and black hairline finish, the MOROSI Sideboard opens to reveal ample storage space with deluxe shelving of Nappa leather. Despite being a fashionable piece of furniture, the highlight of its design lies in its movement-activated LED sensor lights that conveniently illuminate the interior of the cabinet.
BODD Bar Cabinet
One of the most iconic pieces in the collection, the BODD Bar Cabinet is made of sleek hardwood veneer that emphasises the intricately handcrafted midnight-black marble handle inspired by the suit of spades. Lined with Nappa leather, its interior also includes a movement-activated LED sensor light that activates with a swing of the doors. This Bar Cabinet takes hosting Poker Nights to the next level with each drink served.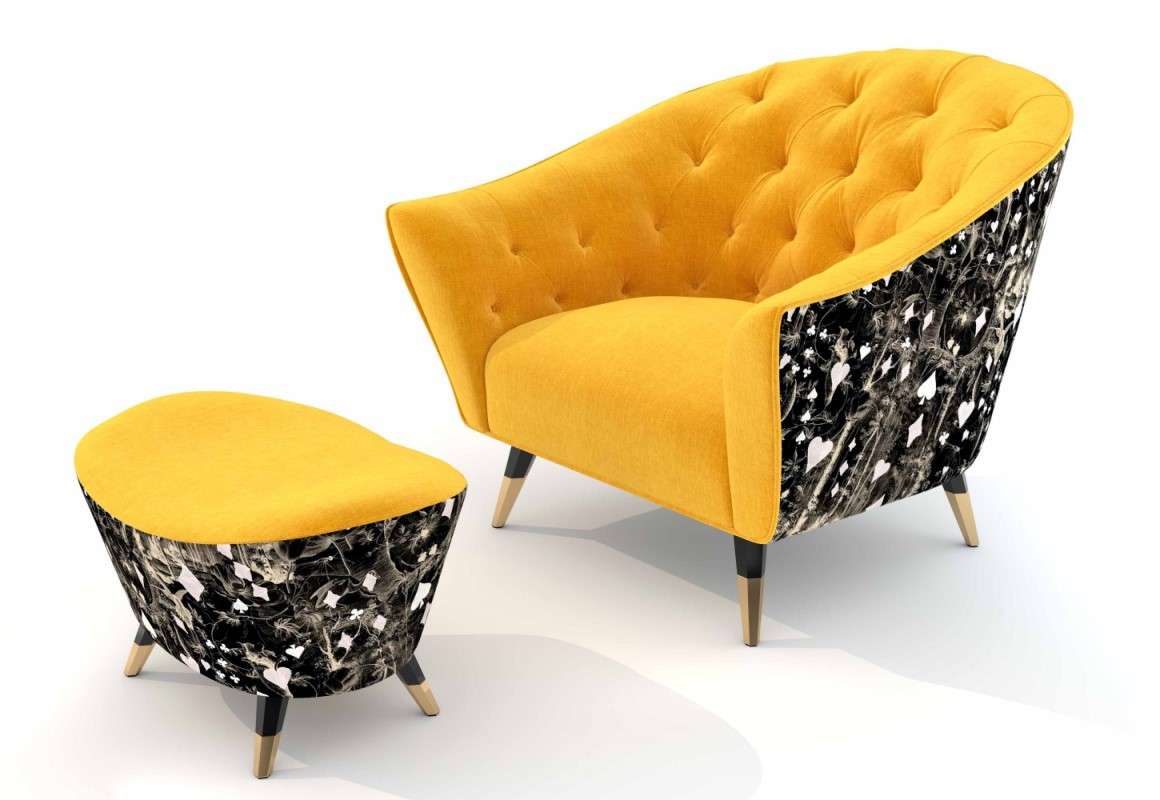 EMSTRA Armchair & Pouf
The EMSTRA Armchair and Pouf, a distinctly bold and bright take on the collection's poker inspiration, pays homage to the whimsical world of Alice's Wonderland. Taking cues from the playing cards featured in the narrative, the poker symbols and patterns on the black premium cotton linen are designed to show movement along the sides of both pieces of furniture. The contrasting yellow tufted backrest creates an inviting silhouette, emphasising the softness of this contemporary design. The EMSTRA Pouf completes the ensemble to provide ergonomic support and maximum leg comfort. Both the Armchair and Pouf are filled with eco-friendly memory foam cushions, and will perfectly complement and create a striking image in any intimate poker game setting.
Rainforest Rhapsody Collection
MARANO Design Furniture's Rainforest Rhapsody Collection takes strong inspiration from Southeast Asia's vast and species-rich forests. Featuring a collection of furniture aimed to create a sense of calmness and peaceful living, these vibrant and colourful designs reimagine the rainforest ecosystem for the contemporary home. As a whole, the Rainforest Rhapsody Collection is reminiscent of a walk through a luscious, garden paradise, where pristine greenery invites you to sojourn through its harmonious landscape of unadulterated beauty.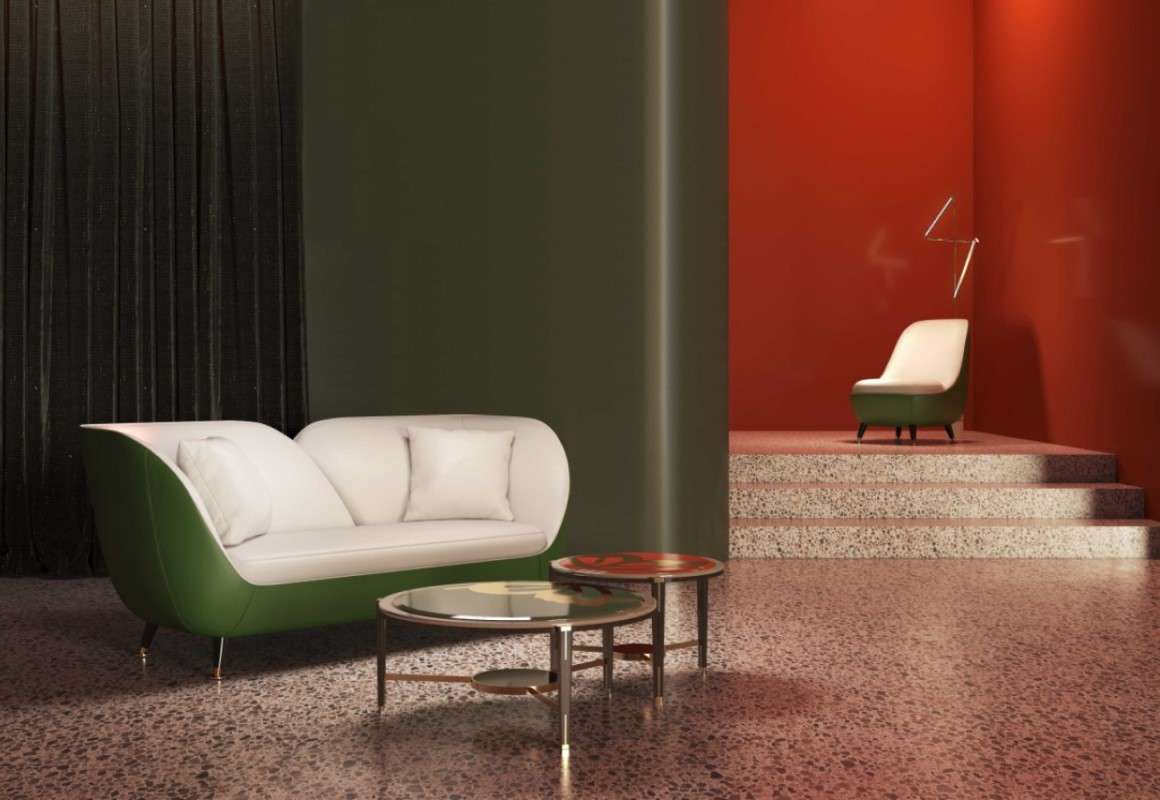 LIVISE 2-Seater Sofa, Armchair and Coffee Table
Inspired by lush rainforests and the exquisite curves of a butterfly, the LIVISE 2-Seater Sofa and Armchair are made of the finest Nappa leather that is breathable, light and wear-resistant. A graceful interpretation of a butterfly in flight, the wing shape seats are further heightened by their extended backrest design, mimicking the outstretched wings of the insect to bring individuals to a calming realm of poise and beauty. Both pieces of furniture are made of ivory leather, with a contrasting leaf green milled Nappa leather with a smooth and natural finish.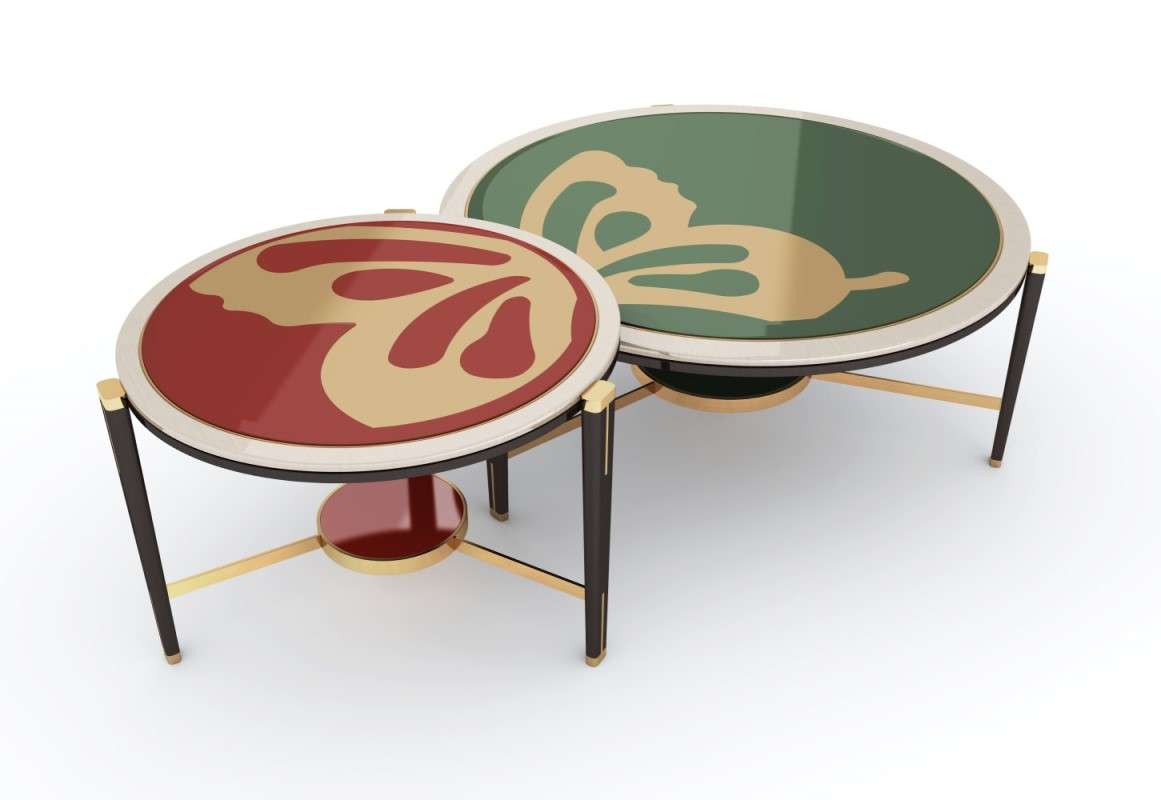 LIVISE Coffee Table
A charming and elegant take on the flitting forest beauties, the LIVISE Coffee Table features a pair of round tables in ruby red and deep green lacquer finish, that forms a butterfly when placed together. Each distinctive countertop showcases a unique and delicate gold UV air-painting to form two halves of a butterfly, set into a frame of stainless steel in bronze and black hairline finish with solid walnut legs. A unique interpretation of elements in nature, the sleek arcs of the tables allow it to look distinctly attractive either on its own or when placed together.
PORTICA Dining Table & Dining Chair
The PORTICA Dining Table and Chair, another set that perfectly encapsulates the collection's homage to nature, takes inspiration from the impressiveness of the rainforest tree. Just like the crown of a resplendent rainforest tree, the broad natural marble table top extends majestically to sit on a regal textured leg of oak resembling intricate trunks of yore, the broad white marble table top rests on gold balance that gives a subtle touch of natural decadence. An easy to maintain piece, the Dining Table is treated with a special stainless steel galvanised nano brushing technique for anti-fingerprint and anti-dust effect, making this an effortless and breathtaking sight to behold in any contemporary room.
Pair this magnificent Dining Table with the intricate PORTICA Dining Chair to recreate the images of the rainforest within the confines of any home. Playing with the same image of the canopy trees in a vast rainforest, these chairs are inspired by the foliage of the fan-shaped traveller's palm. The lush green premium Italian jacquard fabric pattern on the backrest calls to mind the endless canopies and dense thickets of great forests, while the ivory Nappa leather upholstery is breathable, light- and wear-resistant. When featured together, the PORTICA Dining Table and Chair make an enticing masterpiece reminiscing the melodies of the mystical rainforests.