The home is our sanctuary, our private space. A space to be ourselves and to spend quality time with our loved ones.
The living room is the most frequented space in the house, thus choosing the right sofa is of utmost importance. In this article, we'll highlight certain aspects to consider when deciding on the best sofa for you and your abode.
Functionality
Ferdinand Porsche, founder of the Porsche car company, once remarked that "design must be functional, and functionality must be translated into visual aesthetics". Not just cars, but also something closer to home – our furnishings, particularly, the sofa. Spending most of our time awake on this entity, lounging or entertaining, working or playing, one cannot be too frivolous about it.
Image: OZZOLI 3-seater Sofa from the Fireworks Collection – with upholstery of high Martindale value of 40000 for higher wear resistance.
Long-lasting comfort is one of the trademarks of a quality sofa. Other than a sturdy frame and reliable cushioning, upholstery determines its durability. Always ask about the Martindale value of the upholstery fabric when selecting a sofa. Obtained via the Martindale or rub test for abrasion resistance, it indicates the durability of your upholstery fabric, with higher values indicating greater endurance.
We recommend:
The RANUCI Sectional Sofa and OZZOLI 3-seater Sofa. These sofas feature solid walnut wood frames and are upholstered with premium Italian fabrics of high Martindale values of at least 30000, providing greater endurance and lasting rich colours than everyday domestic use upholstery fabrics. The RANUCI comes with metal base borders in noble brushed brass-capped finishing while the OZZOLI showcases a unique leg design in quality walnut with brushed brass-capped finishing.
Image: RANUCI Sectional Sofa from the Fireworks Collection – with upholstery of high Martindale value of 30000 and is water repellent.
More than ever, our homes are taking on greater roles as our home offices and entertaining spaces. Besides durability, sound absorption and water repellence are essential qualities to look out for in your sofas.
Soundproofing makes a huge difference to the ambience of your home, and can be achieved easily through quality upholstered furniture. For the audiophiles and music aficionados, a sofa featuring sound absorption upholstery would greatly reduce ambient noises and prevent reflection while you enjoy your favourite music, optimising the acoustic experience from your high-fidelity sound systems.
If you enjoy entertaining and socialising over intimate parties and gatherings at home, a sofa that is not only stylish but also easy to care for is a must, as occasional spills are to be expected. A sofa with water-resistant upholstery takes the stress out of entertaining so you and your guests can indulge with ease.
We recommend:
The MALDI and RANUCI sectional sofas. The MALDI sofa has a solid walnut wood frame and leg base, and features specially treated German upholstery fabric with sound absorption function, enhancing your private ambience beautifully. The RANUCI sofa showcases luscious Italian fabric with waterproof treatment, made for lasting enjoyment and indulgence.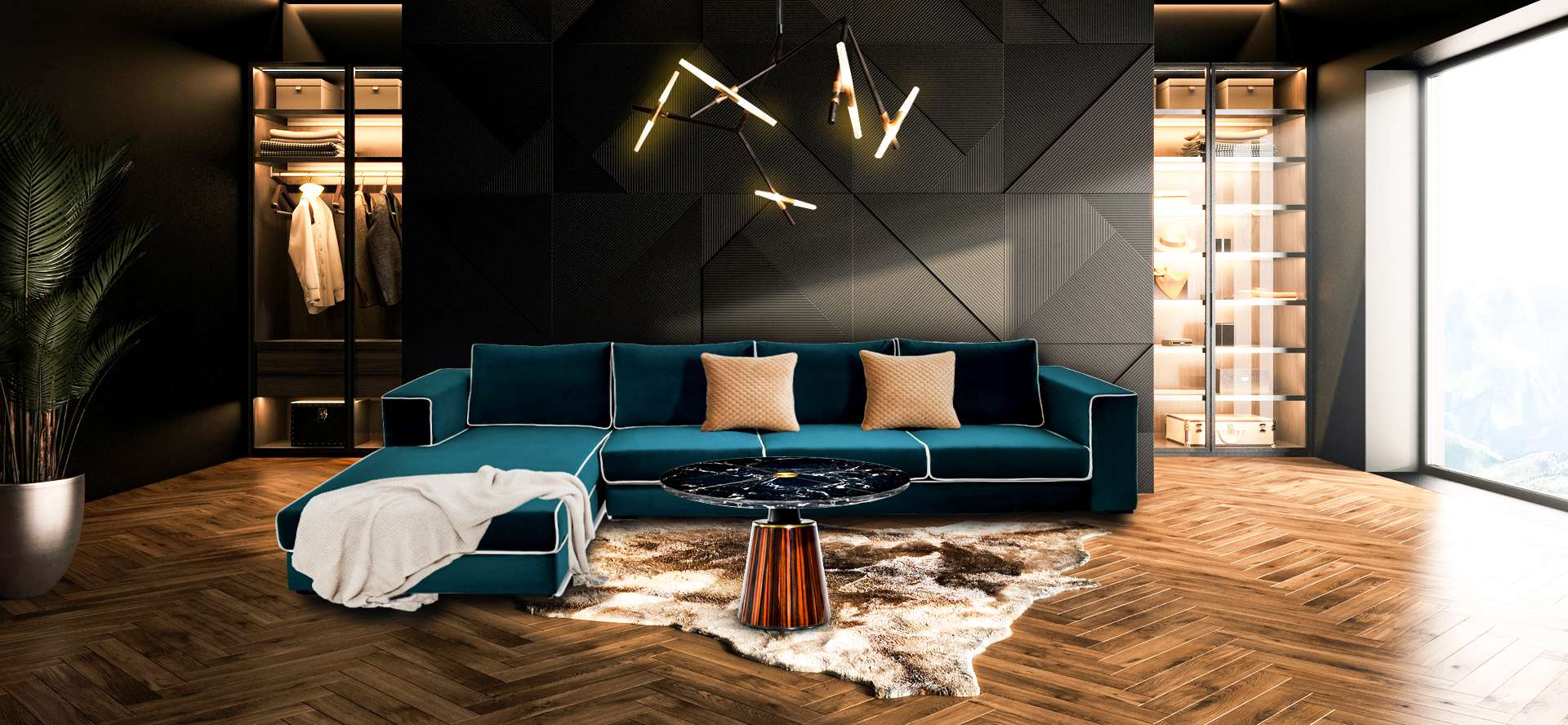 Image: MALDI Sectional Sofa from the Rose Window Collection – with specially treated sound absorption upholstery.
Design
Your sofa should complement, if not accentuate, the design of your home.
From the fluid minimalist to the raw industrialist, from lush country rustic to opulent glam, your sofa will be the centrepiece that conveys your chosen design style.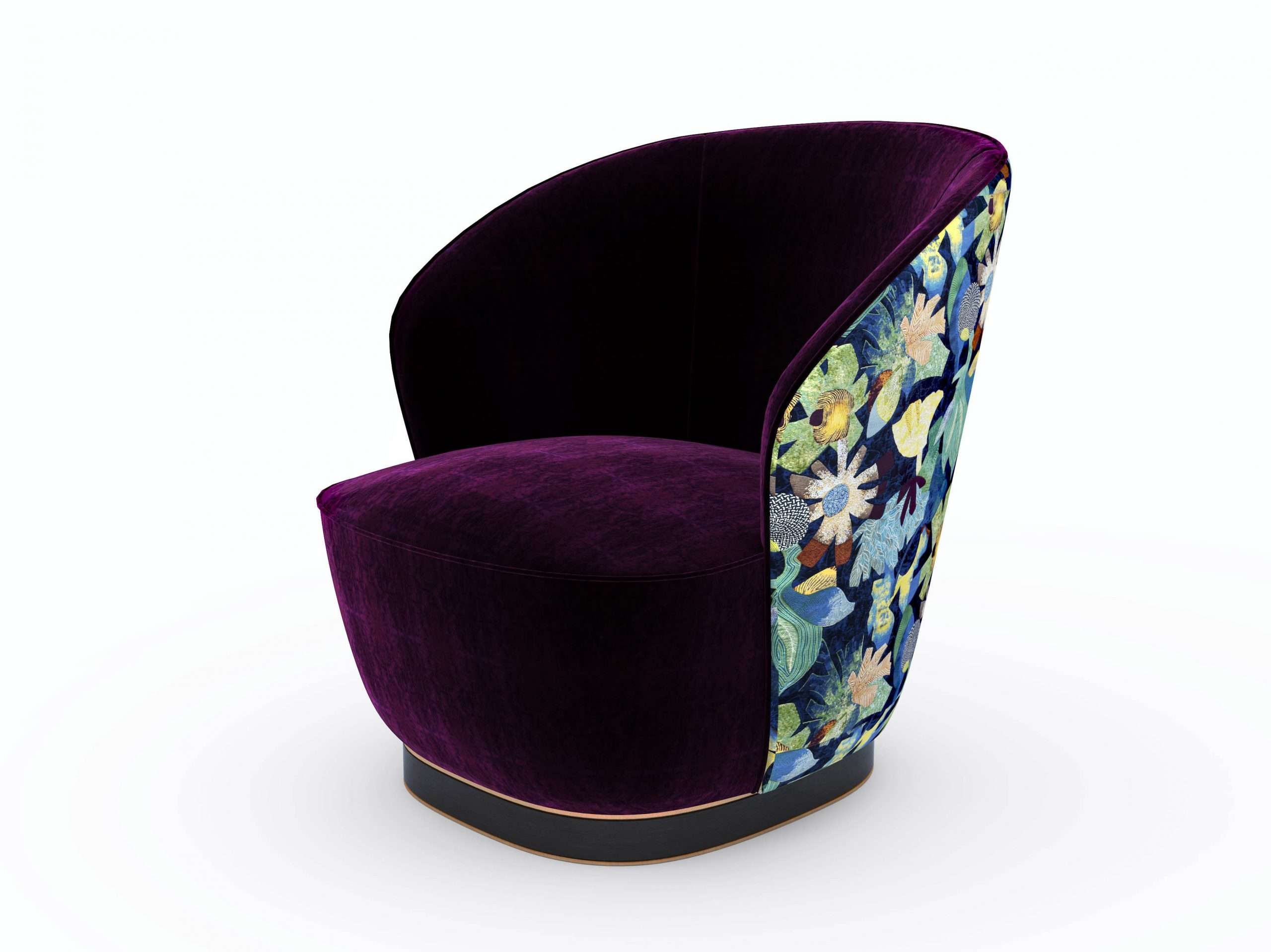 Image: MAURIS Armchair from the Rose Window Collection –a vintage-style print of nature's blooms.
Once you have decided on your style, select your choice of colour scheme, warm or cool, matching or contrasting. That narrows down your requirements for your sofa and paints a clearer picture of the ideal sofa for your living space. Sometimes, one may be inspired by the design of a particular sofa instead. We say, let your creativity take you on your personal home design journey!
We recommend:
The KOEN Sectional Sofa and MAURIS Armchair. The KOEN sofa showcases a modern design, featuring clean lines and earthy tones. It is composed of a durable solid walnut wood frame finished with first-class Nappa heavy leather upholstery, complementing piping and a unique leg design in quality walnut with brushed brass-capped finishing. The trendy MAURIS Armchair features striking printed velvet upholstery from France and a rounded design with a sturdy walnut wood frame and leg base with brushed brass-capped finishing, a delightful addition to any minimalist or rustic interiors.
Image: KOEN Sectional Sofa from the Fireworks Collection – with milled Nappa leather in natural grains.
Aesthetics
The aesthetics of your abode is an expression of your personality, your lifestyle and your philosophies towards life.
Your choice of sofa highlights the unique personality of your living room. Are you a connoiseur of expansive spaces? Pick a wider sofa with sumptuous seats to complement your spacious living room. Do you appreciate intimate and cosy settings with close companions? Choose rounded edges, warm colours and a soft touch. Are you a bold fashionista with an eclectic taste? Go for a splash of avant-garde and bold statements, contrast piping, striking prints or an edgy experimentation of colours.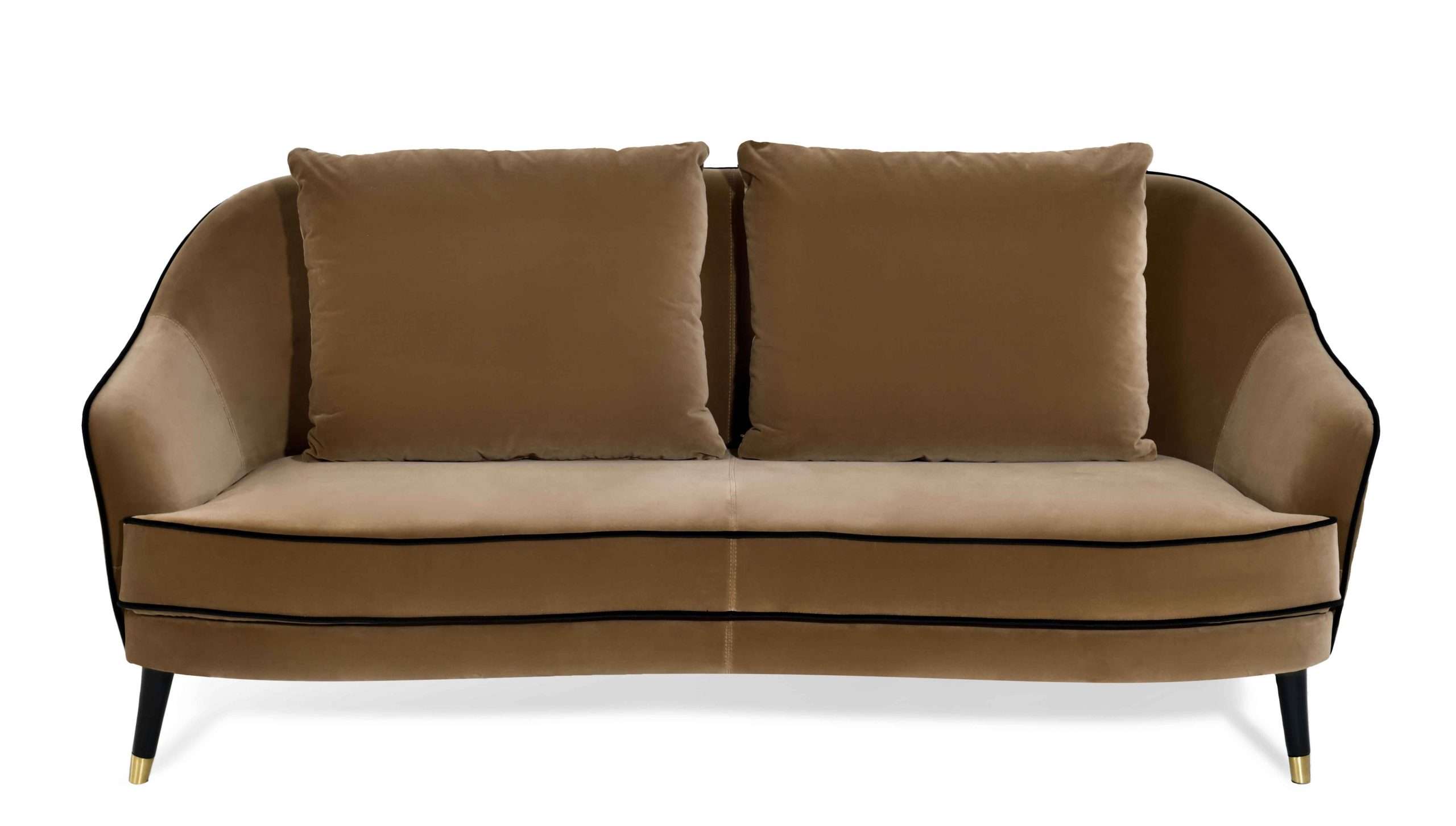 Image: BALDON 2-seater Sofa in immense depth of brown hues supported on beautifully crafted brushed brass-capped oak legs.
We recommend:
The BALDON 2-seater Sofa and DOREA Sectional Sofa, featuring solid pinewood frames and elegant brushed brass-capped legs. The quaint BALDON sofa is invitingly cosy, featuring light and soft cotton velvet upholstery, perfect for afternoon coffees and long conversations. Reminiscent of Hollywood glam, the DOREA sofa has a soft and breatheable cotton velvet upholstery finish, where one can lounge in regal style and comfort.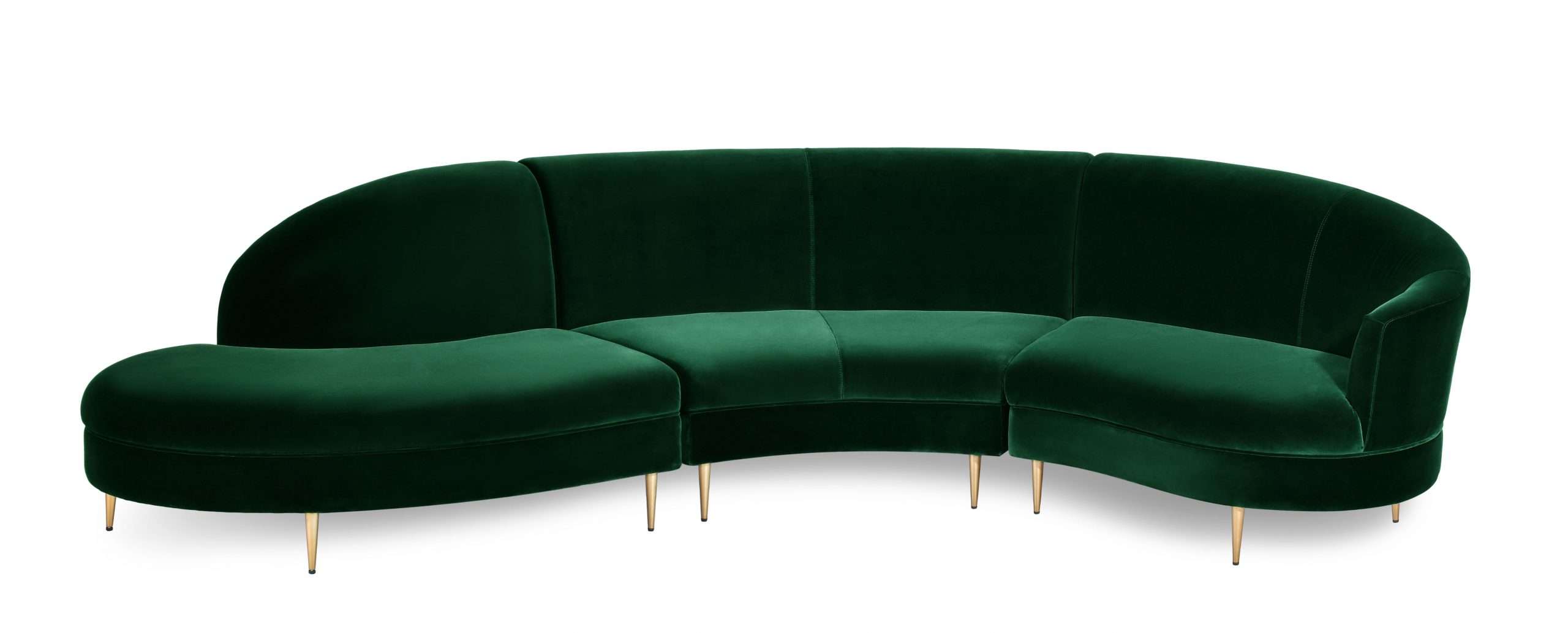 Image: DOREA Sectional Sofa in glamourous green cotton velvet upholstery.
A remarkable sofa that is both beautifully made and functionally efficient is irrefutably one of the best investments you can make for your home. Make your sofa the centre of attraction, the topic of discussion, and the lasting impression.